What is WinUI
WinUI is the latest Microsoft UI framework for building Windows apps across both Win32 and UWP. As the native UI layer in Windows, it embodies Fluent Design, hence making it the most modern UI framework for building desktop applications in Windows.
Microsoft released a WinUI 3.0 preview and is committed to making it the de facto standard for building Windows applications.
WinUI Benefits
Native Windows UI
Fluent Design
Use WinUI controls in Win32 apps such as WinForms, WPF, even MFC
Create new Windows apps with the desired app model (Win32 or UWP) and language (C# or C++)
Telerik UI for WinUI
Telerik UI for WinUI is an early experiment for the UI component suite, targeting WinUI 3.0. Its purpose is to make the development of modern and feature-rich applications faster and easier.
The first version of Telerik UI for WinUI features a powerful DataGrid component. The control ships with the following features:
UI Virtualization
DataBinding
Filtering, Sorting, Grouping
Aggregates
Compact (desktop) and standard (tablet) layouts
Row Details
Row Aggregates
Row and Cell Selection
Editing
Validation
Localization
Commands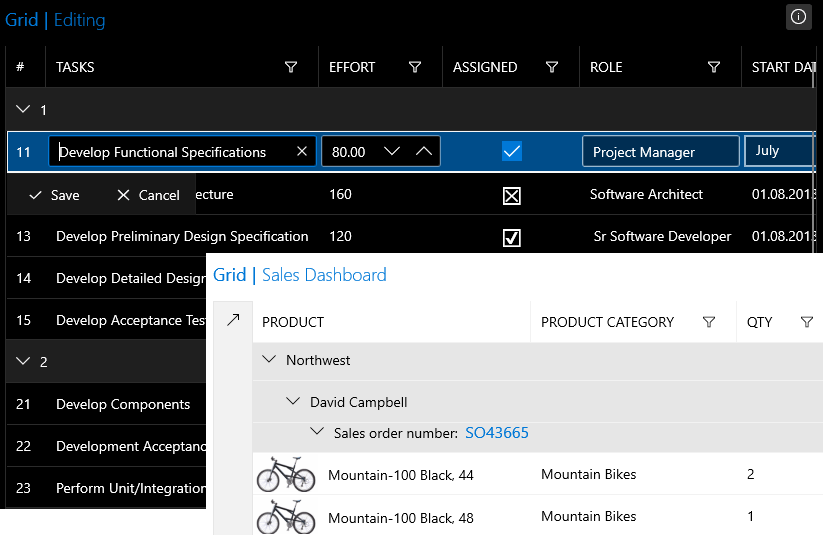 Experiment With Us
Delivering stellar products can only happen with your help. We invite you to become a collaborator - share your feedback and help us shape the future of Telerik UI for WinUI. Suggest or recommend anything you're missing and we'll use your input to add amazing new components and APIs to the roadmap.
During the experimental phase, Telerik UI for WinUI will be a free trial, and we hope you will continue sharing your use cases, experience and roadblocks with us.