Progress enables dev teams to create modern digital experiences with tools for improved performance, increased adaptability, efficient UI styling and customization and new high-value components.
Save your seat for the Progress Telerik and Kendo UI R2 2023 release webinars and learn more!
In today's digital age, businesses need to be able to deliver seamless and engaging digital experiences to stay competitive. This requires having the right tools and support in place to maximize digital impact with minimized dev time. That's why the Telerik and Kendo UI R2 2023 release (June 7) focuses on addressing the modern requirements enterprises face when providing the best possible employee and customer experience. 
Get ready for an exclusive sneak peek of our upcoming release and release webinars! We're thrilled to be sharing a preview of the latest features and improvements that our development team has been working on. In this blog post, we'll be giving you a glimpse of what's to come and a taste of the exciting new capabilities that will soon be available to you. Our upcoming release on June 7th promises to be a game-changer, and we can't wait to show you what we've been releasing.
Join us for our release webinars to see the new features in action and learn how they can help you achieve more. In the meantime, let's take a closer look at what's in store:
Improved Performance:  
Grid performance optimizations ensure that the right information is delivered without delay  
Support for .NET 8 Preview gives developers a running start with the new framework's performance improvements 
Increased Adaptability and Cross-Platform Delivery:  
A new Compact Grid option for Telerik UI for ASP.NET Core and MVC and Kendo UI for jQuery helps provide meaningful data views on small screens  
Adaptive mode for various components ensures mobile-friendly rendering  
Improved accessibility of Table item in HTML5 Report Viewer for easy report interaction
Blazor Hybrid official support gives developers the tools they need to take advantage of the newest web development technology  
Efficient UI Styling and Customization:  
ThemeBuilder support added for Kendo UI for jQuery and Telerik UI for ASP.NET Core and MVC helps developers modernize the style of their UI without tedious CSS work  
Brand new design system documentation gives developers the information they need to ensure their UI meets styling requirements  
New customization capabilities across the board ensure that no requirement is left behind  
Highlighted New Components: 
Conversational UI for Telerik UI for .NET MAUI helps bring the extremely popular chat interaction channel to cross-platform projects  
PDF Viewer with Kendo UI for Angular and Telerik UI for .NET MAUI helps developers display documents without extra tools  
A new KendoReact Spreadsheet component gives developers the unique ability to embed Excel-like functionality in their web apps  
Gauge report item in Telerik Reporting and Report Server
Find out what's new in your favorite UI component libraries and tools!
You can register for more than one webinar. (Hint: Find the details in the webinar pages linked below).
Progress Telerik .NET Web, Desktop & Mobile Products R2 2023 Release Webinar | June 8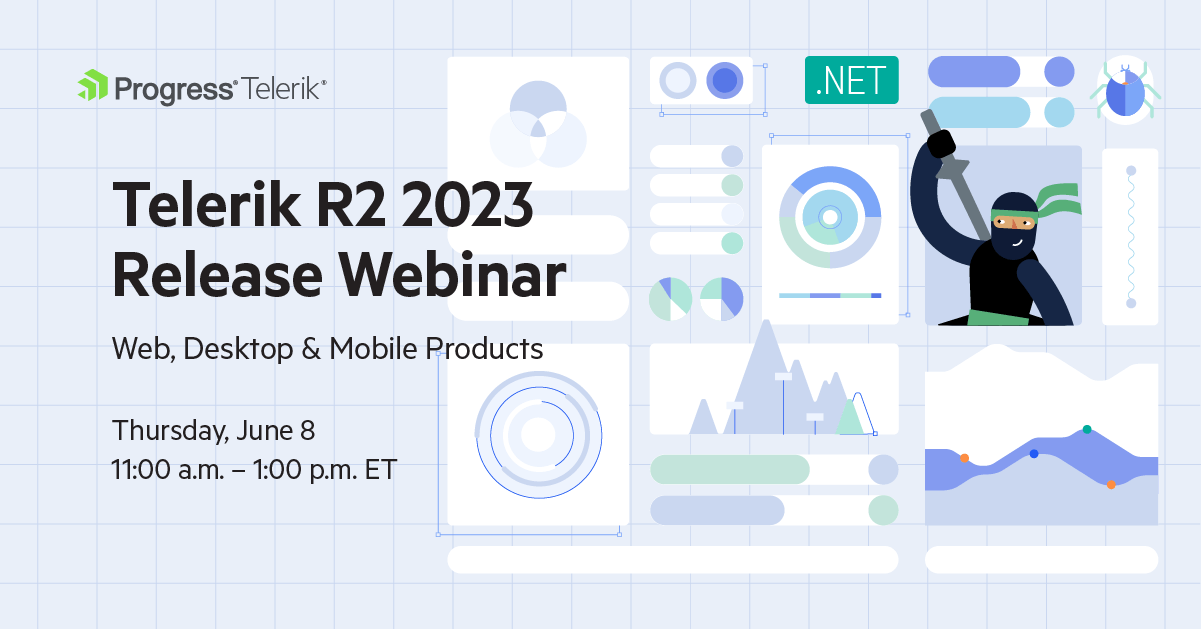 Discover all updates across Telerik UI for Blazor, UI for ASP.NET Core, UI for ASP.NET MVC, UI for ASP.NET AJAX, UI for WPF, UI for WinForms, UI for WinUI, UI for .NET MAUI and UI for Xamarin and ThemeBuilder.
Progress Kendo UI R2 2023 Release Webinar | June 9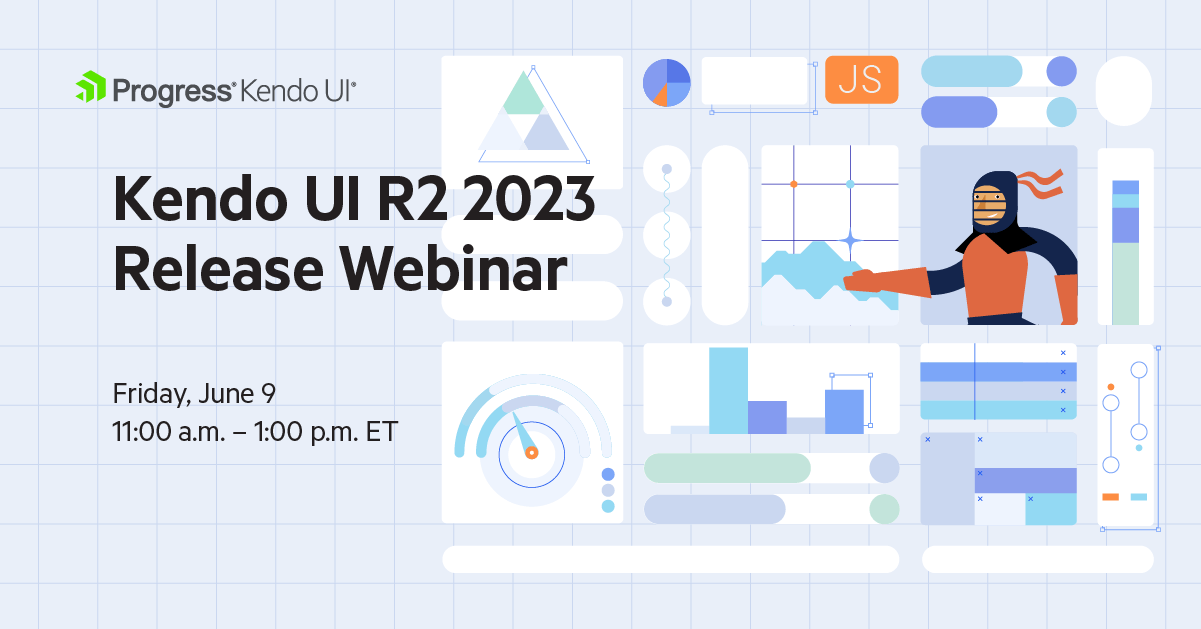 Discover all updates across KendoReact and Kendo UI for Angular,  Vue  and  jQuery, as well as ThemeBuilder.
Progress Telerik Reporting, JustMock and Fiddler Tools R2 2023 Release Webinar | June 12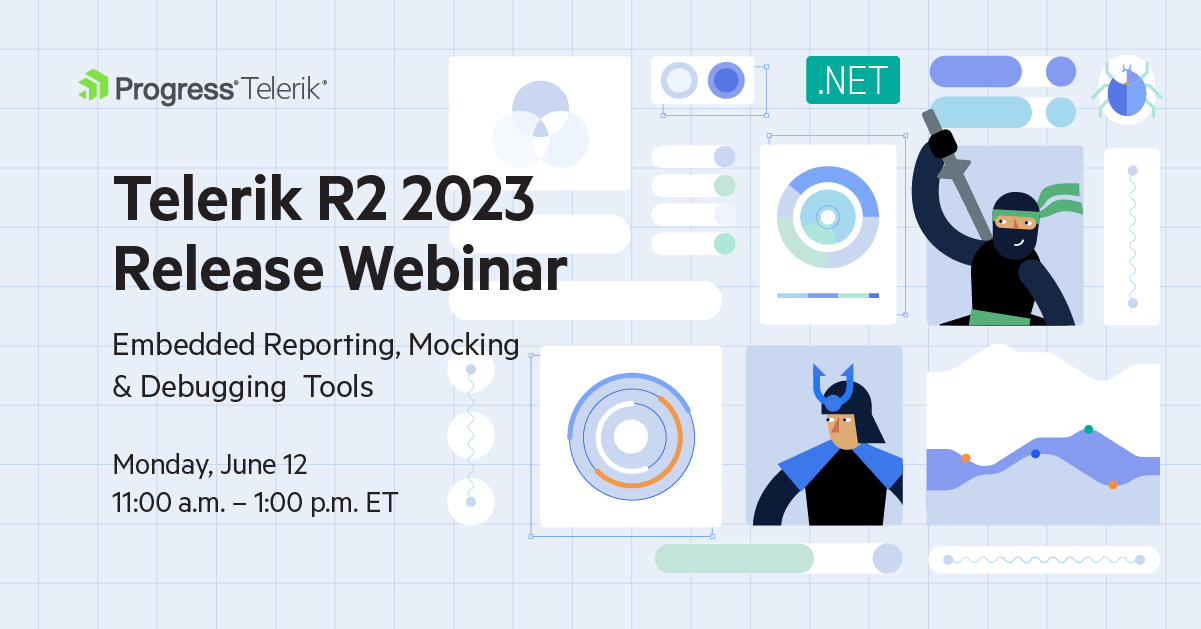 Discover all updates across Telerik Reporting, JustMock, Test Studio Dev Edition and Fiddler Everywhere.
Join Us on Twitch

Join the  Livestream Release Party on the release day June 7, 11 a.m. – 12:30 p.m. ET to hear the release news and hang out with dev friends.
And the Best Part About the Release Webinars?
The live webinars and Twitch sessions are a great opportunity for you to ask questions before and during the webinars. We'll be waiting to hear from you on Twitter—just use the #heyTelerik and #heyKendoUI hashtags. Another great option is the live chat during our release session on CodeItLive, our Twitch channel.
Sign up today to make sure you don't miss these great events with our experienced developer advocates and experts:
Ed Charbeneau, Microsoft MVP, speaker, author of "Blazor: A Beginner's Guide" and host of Blazing into Summer week of Blazor events
Sam Basu, Microsoft MVP, speaker, DevReach co-organizer and author of numerous articles on Xamarin.Forms
Alyssa Nicoll, Google Developer Expert and Angular Developer Advocate
Kathryn Grayson Nanz, Developer Advocate with a passion for React, UI and design
Rick Hellwege, Principal Sales Engineer, reporting guru and innovator with a passion for experimenting with the latest technologies and frameworks
Eve Turzillo, Strategic Awareness Manager, passionate about building relationships that grow and nurture the developer community.
Simona Yaneva, Product Manager Associate, passionate expert in all debugging tools
Can't wait to see you soon! 😊