With the latest release, the Test Studio team delivers some great, customer-requested features and focuses on making the product even more stable.
Test Studio R3 2017 has just arrived. The update adds some great new features and improvements for Web UI and API automated testing. Download a free 30-day trial of Test Studio and check out the new release for yourself.
"In Development" State
Enough with unfinished tests interrupting your test list or quick execute runs. Now you can flag a test or code file as "In Development," which will exclude them from project compilation and test list execution. So, if you have unfinished tests or tests that are being fixed, you can mark them as "In Development," and even if they are in a test list, they will be skipped and won't interrupt the run.
Support for the new WebExtensions in Firefox 57
As of this Test Studio release, new Chrome and Firefox extensions kick in, supporting the latest browser versions. It is important to know that the upcoming Firefox 57 transitions to a new framework for developing extensions, and only extensions built with this new technology will work in Firefox.
One of our most important goals is to support the latest browsers, which is essential for successful web automation. That's why the new extension is compatible with Firefox 57!
In addition the extension is now one per browser and contains the needed pieces for test recording and execution.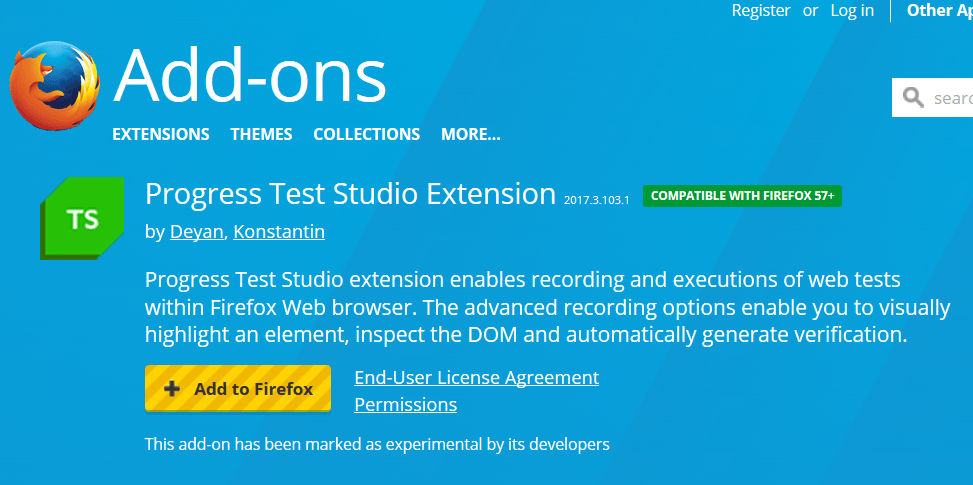 TFS 2017 Support
In addition to the VS 2017 support that we added in the previous release, Test Studio now supports Team Foundation Server 2017 for source control and bug tracking.
Test Ordering inside Test Studio for APIs
Test Ordering is now available in our API testing solution. You can order tests in the project and in the folders and they will be executed according to this order.
In addition there are many fixes and optimizations. For example, one key improvement to the Scheduling feature has been made so that whenever you change a test which is a part of a scheduled test list, Test Studio will update this scheduled test list with the latest changes upon save.
We would love to hear your opinion, so don't hesitate to let us know what you think. Happy testing!