R2 2015 is yet another milestone release for Test Studio where we are introducing Test Studio Mobile, a test automation solution for your mobile applications.
Testing is crucial to ensure success in the highly competitive and complex world of mobile apps. It is important to include testing as a part of app development, especially for agile teams. The earlier you test, the earlier you find faults—and the earlier you fix those problems and win the trust of users. However, testing mobile applications is a complex process. There are many common challenges that must be considered prior, for example, various hardware and software configurations, device fragmentation and various mobile gestures. Validating a consistent UX across devices is probably the biggest problem experienced in mobile testing today. With Test Studio Mobile, you will be able to solve these real-time issues, and develop features and functionality to help you deliver high-quality apps on time.

Download the latest release and check out the new features.


Here are some key highlights and features in this release:
Automate testing for native iOS: Run automated tests on real devices as well as emulators without writing a single line of code. Create the test once and run it on multiple devices. Available for Android in October release.
Without jailbreaking or rooting your device, you can automate your iOS mobile applications. Instrument your apps easily in Xcode, giving them unique identifiers, then install our Telerik Mobile Testing Agent from the App Store that connects your device to Test Studio solution, and you are ready to start automating!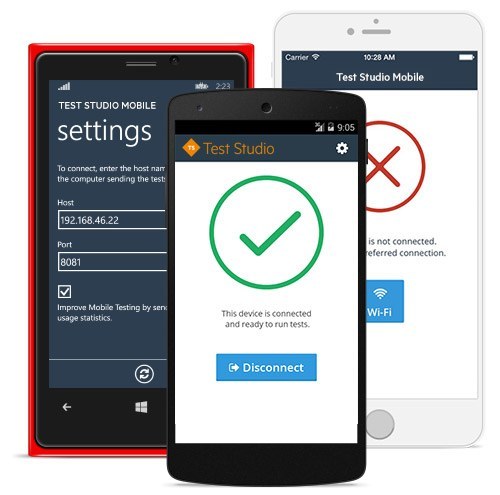 You can connect to as many devices as you wish, and, with a click of the mouse, start recording against any of these devices. Using the unique identifier, you can choose which application to automate, if you have more than one. Easily record many types of actions–tap, scroll, toggle button, type text, set date, set slider value and so on. Add different verifications and wait steps, or take a screenshot of a particular object. Your test is ready now and can be executed on any of the other connected iOS devices without any additional changes.
Record and test mobile gestures: Record and test multiple gestures such as scroll, zoom, swipe and pinch, and so on.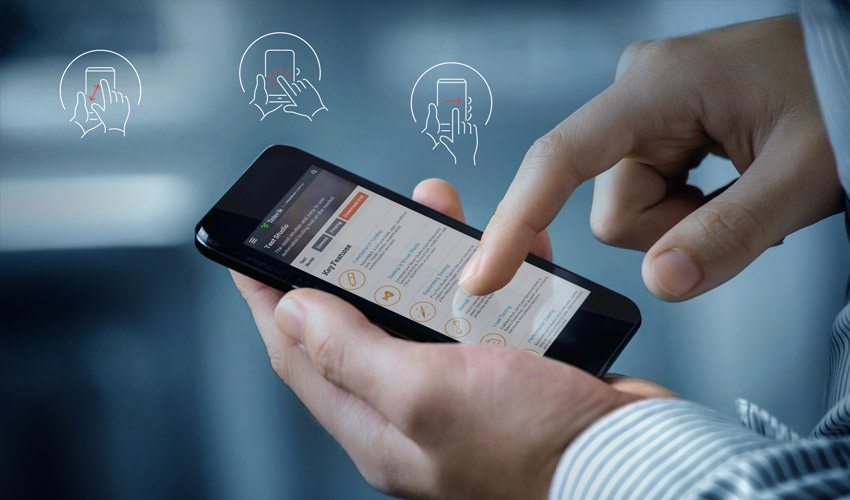 Update your automated tests quickly: For your mobile testing projects, test elements are stored in a shared Element repository on a project level, and the same element can be used across multiple tests by referencing it from the element repository. You can easily update an element's find logic at one location, and it gets updated in all the desired steps in the project.
Load testing for mobile applications: Connect your device(s) to Test Studio solution's built-in remote proxy to quickly capture scenarios for load testing. You can design a load scenario with that mobile device's traffic and see how your web app would perform under heavy load from hundreds or thousands of users.
Team collaboration: Intuitive UI with built-in IDE enables testers to craft automation and easily collaborate with SDETs and developers for long-term maintainability for your mobile application testing.
Scalability and flexibility: Enhancements for Test Studio Web and Desktop.

You can use three pre-built Test Studio UI layouts that are designed to boost your productivity according to your current work tasks–test automtion, execution, debugging

and so on

. The user can also save one custom preset.

Here are a few highlights and a sneak peak at some features that will be available for the next release of Test Studio Mobile in October 2015.
Automated testing for native Android applications.
"Test Studio Functional" is being renamed to "Test Studio Web & Desktop," and with the release of R2, Test Studio Ultimate will now have Web, desktop and mobile testing functionality. In addition, staring October (R3 release).


What Next?
To know more about this release, please register here for our upcoming release webinar, during which the product team will demo Test Studio Mobile and the new Record and Playback functionality for iOS native applications. There will be a mobile testing eBook published in July. Register to receive the eBook and product release announcements.