If you were following Twitter last this last weekend (4 and 5 May) you may have seen a number of Tweets tagged with #TelSum. That was the Telerik Testing Summit, a peer conference held in Austin, Texas. Telerik welcomed a number of thought leaders in the testing and software industry to Austin, Texas, for two days of discussions on the state of software development. More importantly, we as a group were focused on what we could do to try and improve things.
Telerik was represented by myself and Phil Sams, plus Holly Bertoncini, our event organizer. Joining us were Charley Baker, Jeff Morgan, Lanette Creamer, Lisa Crispin, Marlena Compton, Dawn Test Code (yes, that's her real legal name!), Matt Barcomb, Adam Goucher, and Chris McMahon. Austin locals Brett Pettichord and @rubytester joined us for various parts of the conference as well.
The summit was completely free-form in nature. We built the agenda Friday morning and adjusted it on the fly as we progressed. We had several hours of focused discussion Friday morning and afternoon, a site visit to Telerik's Test Studio office in Austin, open space discussions Saturday morning, lightning talks, two hours working on the Weekend Testing project for Wikipedia, and a few hours closing out to summarize and create action items. We also had some practical sessions on things like using GitHub (fork, clone, fix, commit, push, pull), and a number of folks paired up to solve practical problems for their "day" jobs.
I mention action items, because one thing we felt critical was to ensure we left the summit with some concrete things we could do to improve, change, or elevate testing and software development.
I'll be posting up more details on various things over the next few days, but here's the rough agenda as it shook out:
Brainstorming topics
Discussions
Whole Teams (Benefits of, how to get teams working better, etc.)
UI Automation 101 (why so many don't understand, what to do)
Big Frameworks (Why so many, how to understand differences)
Open Spaces
Data for automation
Visualizing QA activities
Page Objects
Spurring ideas for testing
Weekend Testing #27
Cheesy's GitHub walkthrough
Lightning Talks
Lanette on Agile/cultural antipatterns. Great humor!
Me on It's Not About You
Adam on Selenium v1 vs v2
Chris (and his ukulele) on getting folks moving as part of an icebreaker
Cheesy on requests for his Relish tool he's evolving to handle reporting for Cucumber suites
As I mentioned, I'll be posting up more details on all this over the next week or so. In the meantime, I thought it would be interesting to post up images of the sheets we used for brainstorming discussion topics. We took 20 minutes or so where each person wrote down items they were interested in discussing. Everyone had a few moments to describe their topics to the group, then we did a bit of consolidation. The group voted on topics to discuss, and off we went!
Without further ado, here's the pictures of our lists.
Page 1
Page 2
Pages 3 and 4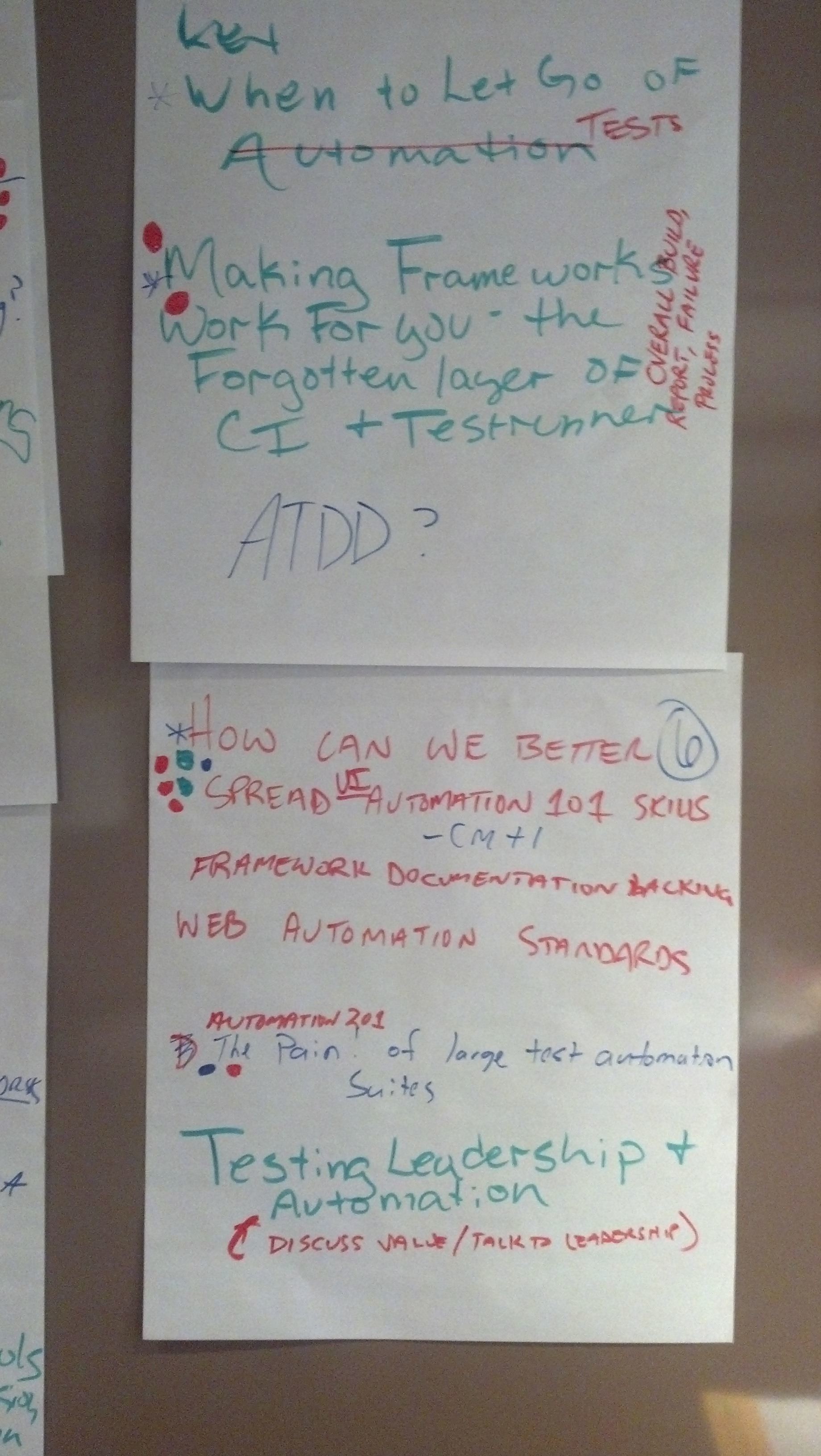 Pages 5, 6, and 7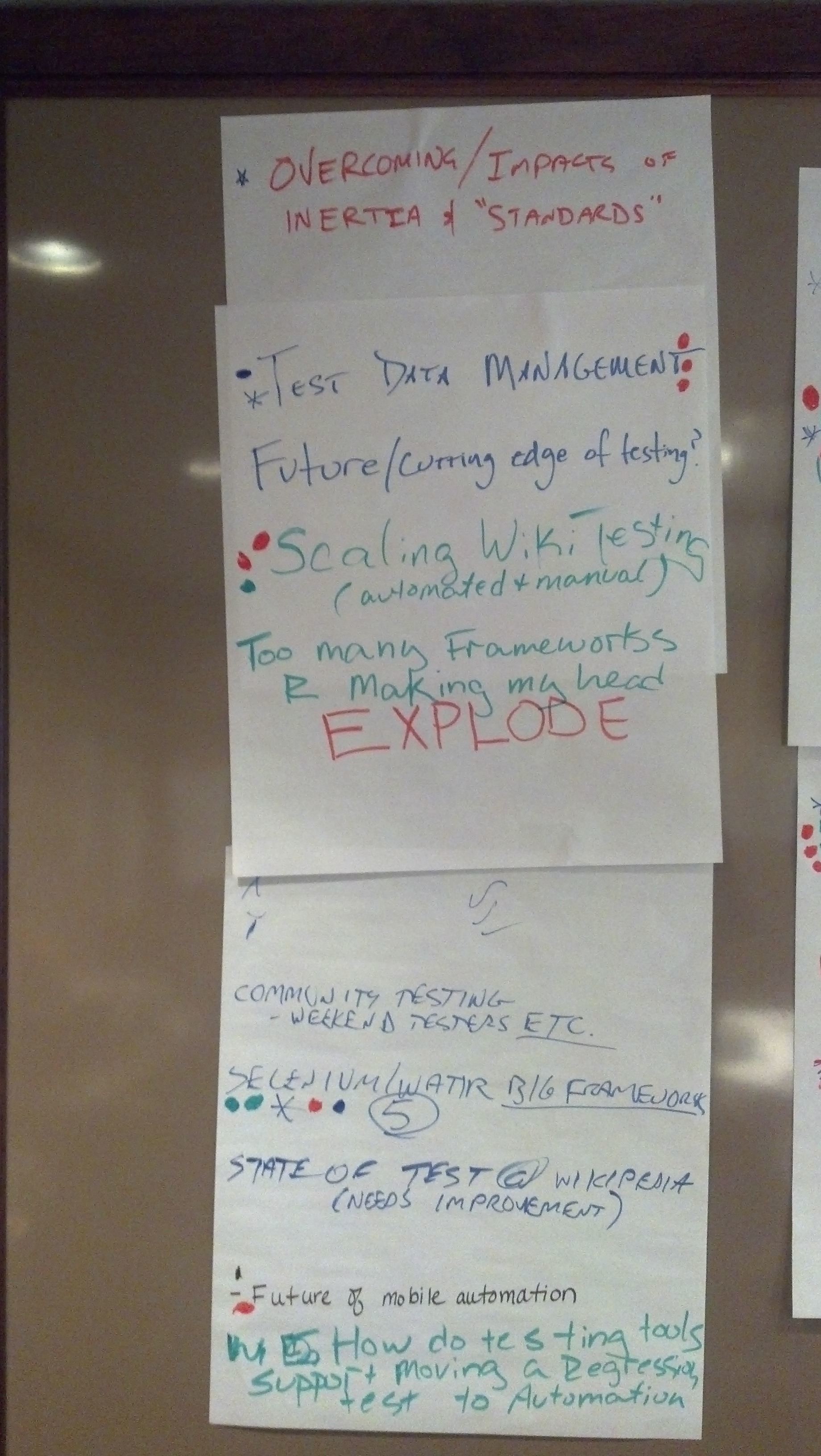 Page 8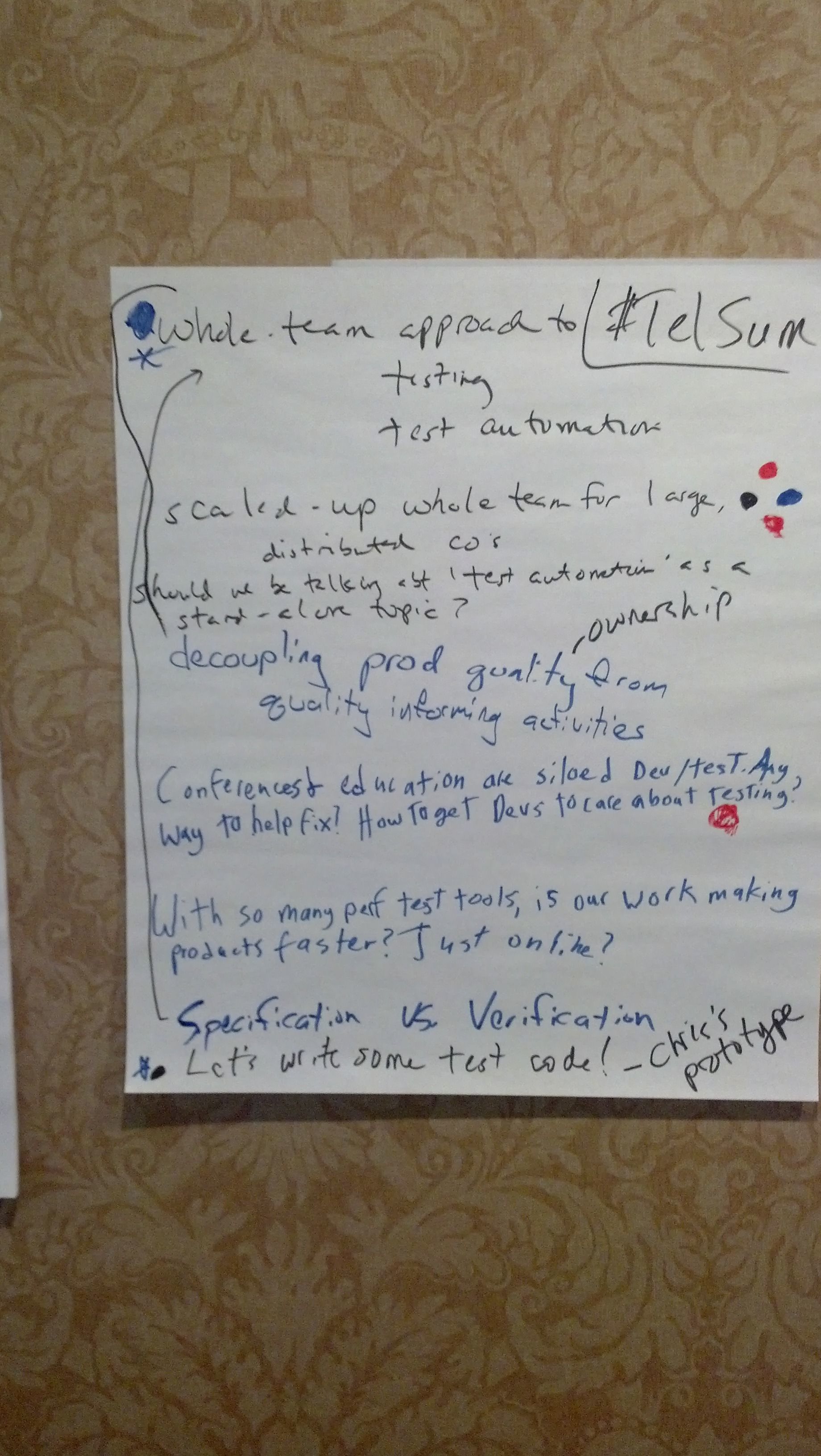 And finally, page 9, the last one.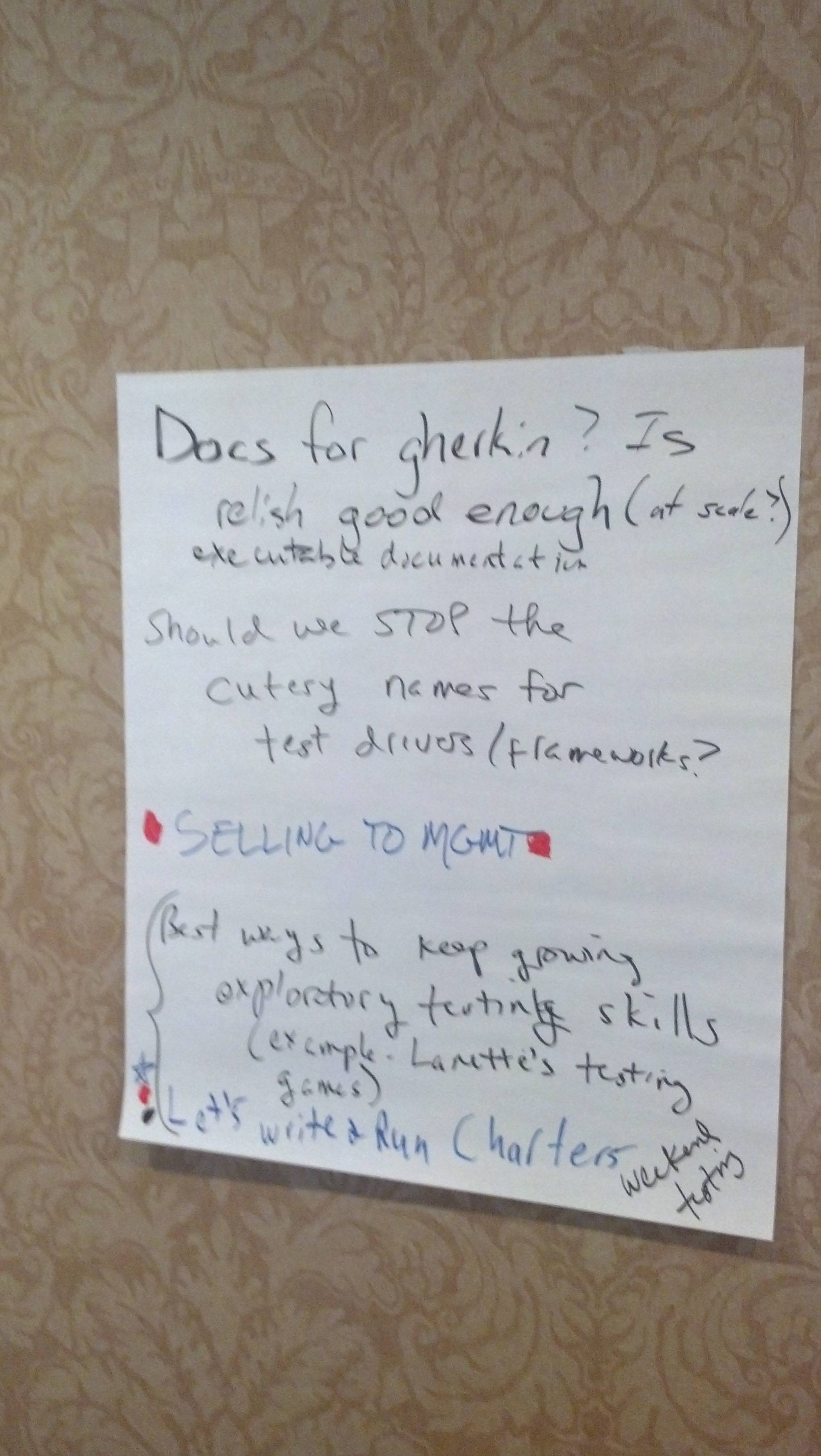 Chris McMahon was kind enough to post up his initial thoughts on the event here on his blog. He hits one thing that's central to why I came to work at Telerik: The company's culture of understanding we gain so much by focusing on industry-wide issues instead of just trying to push our products.
The conference/summit turned out extraordinarily well. We had some amazing discussions, everyone learned something, and we came out if it with many concrete things to work on over the next year. It's going to be very exciting to see how everyone approaches their various action items!