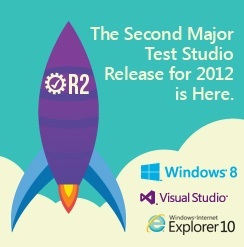 You've been waiting, we've been working. Now it's time to drop the curtains and get Test Studio 2012's R2 release out to you! We've got a number of great features that will help you focus your time and effort on critical factors in the systems you're delivering.
Here are my three favorite parts of the new release:
Gooooaaaaaaaal!
Got goals for your load testing efforts? Likely! (And if you don't, you should!) With the R2 release you can now add in specific thresholds in metrics such as response times, HTTP errors, etc. Load test runs will pass or fail as appropriate when these goals are hit.
You're also now able to compare results from different load runs to analyze any developing trends or situations!
Browser Configuration Woes? Exterminated!
Browser configuration is critical to smooth, stable playback of any automation tool's scripts. Previously you had to run through a multi-step configuration process for each browser type on each system. With the R2 release you can forget about all that! We'll handle configuration for you. You're then able to validate browser configuration at any point in the future via the project Settings menu.
Data Driven Find Logic Powers, Activate!
Data driving your tests is an incredibly powerful way to get tremendous coverage across your system by reusing tests. We've always had a wonderfully simple experience for creating complex data driven scenarios; now we're taking that another notch higher by enabling you to data drive find logic for your element locators. Got an interesting scenario where controls appear on the page based on other actions? Data drive those locators and automate flipping those switches!
But Wait, There's More!
There are many great other features and bugfixes in this release – including a few really nice additions:
Full record and execution support on Windows 8
IE 10 record and playback support
Seamless integration in to Visual Studio 2012
What are you waiting for? Go download the just released version of Test Studio!
And if you want to see all the new features in action, sign up for our upcoming release webinar!