Stop me if you've seen or experienced this before: a chaotic project environment is leaving your team missing critical ideas from customers or stakeholders. You're unable to get good discussions around what you want to build, how you want to build it, and how you're planning on testing it. You can't keep an eye on the status of your automated tests – oh, wait. You don't have time to write them, much less track their status, and how those tests tie to the particular features you're building and maintaining.
Let's not even bring up bug tracking, shall we?
I've been there, I've seen it, you likely may have too—but there's help available!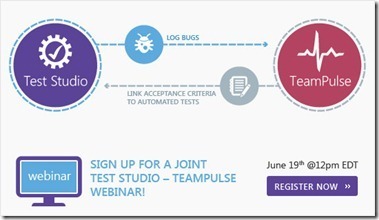 Please join us on 19 June at 12pm (noon) Eastern US for a great webinar "Order from Chaos." This webinar will be co-hosted by our TeamPulse and Test Studio teams, and we'll be showing you how rein in these sorts of runaway projects and turn them in to smooth operations!

You'll learn how to quickly and effectively sort through ideas and move them in to actionable work items. You'll also see how easy it is to collaborate on things like work item break down, acceptance criteria, etc. You'll also discover how to create tests in Test Studio and link them to acceptance criteria in TeamPulse for quick traceability. You'll explore how easy it is to create detailed, useful bug reports and file them in TeamPulse. Along the way you'll learn how to effectively manage your project's entire lifecycle in a lightweight, clear fashion.

Why wait? Go register now!

(Did you know we've got some great videos on TeamPulse and Test Studio integration on Telerik TV? Here's one on our latest integration enhancements which you can watch in just a bit over five minutes!)