Real Life Guidelines that Deliver Results
Congratulations! You're reading the first post in a series that's intended to get you and your teams started on the path to success with your UI test automation projects.
Important note: After its completion, this series will be gathered up, updated/polished and published as an eBook. We'll also have a follow-on webinar to continue the discussion. Interested?
Chapter One: Introduction
The goal of this series is to help you understand the right questions to ask of you, your team and your organization. There won't be any Best Practices; there won't be any silver bullets. What we hope is to convey the right information to help you get started on the right foot and get through some of the most common problems teams hit when starting out with UI test automation.
This series will walk you through what we think are the most critical aspects of getting a successful, maintainable, valuable automation effort in place. The chapters/posts will include:
Before You Start: What are the most critical things you need to think about before starting? We'll walk you through some of the questions to answer as you head off on this journey.
People: You need a great team with specific skills to succeed. We'll help you understand how to build that team.
Resources: Automation requires tools and infrastructure. We'll help you identify things to address as you move forward.
Look before You Jump: Test the assumptions you made during your planning phase by working a prototype, spike or pilot project. Make sure the toolset, skills and process are close to what you need--and adjust.
Automation in the Real World: Now it's time to put things into your real delivery pipeline. You'll read tips for easing your testing process, learn how to really collaborate with developers, and find how backing APIs and creating testable UIs can head off long-term pain.
Improving Your Success: You've headed off on your effort. Now, how can you make it even better and guarantee your long-term success? We'll walk through how to create useful feedback loops that will help you smooth out any rough spots and leverage what's going well.
Here's a mind map of the chapter/post sequence including some of the topics discussed in each.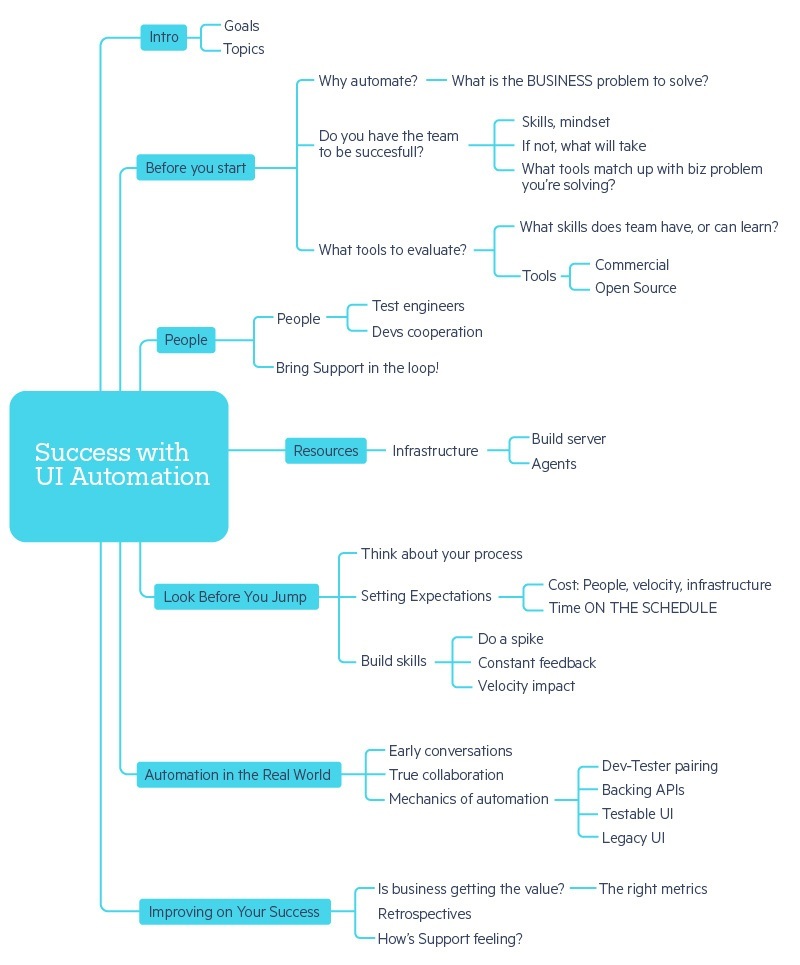 We hope this series will help you plan for your own UI automation projects, or potentially help you identify ways to improve projects on which you're currently working.
Are there specific things you'd like to see in the series? Let us know in the comments.
Next chapter # 2: Before you start. Keep reading