Save your seat for the Progress Telerik and Kendo UI R3 2023 release webinars to learn more about what the next major release means for you.
Progress' newest release will enable developers to modernize applications faster than ever with leading component libraries for .NET MAUI and Blazor, new line of business controls, expanded UI design support, elevated reporting experience, accessibility and security compliance, and so much more. Save your seat for the Progress Telerik and Kendo UI R3 2023 release webinars and learn more!
What Will Come in R3 2023?
Wondering what pumpkin season brings? Prepare to harvest the latest updates available to you with the Progress Telerik and Kendo UI R3 2023 release on October 18, 2023.
This release focuses on enabling developers to build engaging and highly functional digital experiences with the most comprehensive toolsets. Whether modernizing legacy projects or building new applications, developers will find the solutions they need for UI customization, robust feature requirements, meaningful data visualizations and even updated debugging technology to ensure a smooth development cycle.
We're thrilled to be sharing a preview of the latest features and improvements that our development team has been working on. Our release on October 18 comes prepackaged with all you need to build "modern" into every app, and we can't wait to show you what we've been cooking.
Tailored UX with Efficient Styling and Customization
Expanded Design System support: Building on what began earlier in the year, more components are meticulously detailed in the Design System documentation.
ThemeBuilder integrations: New components are supported in the unique and powerful Progress ThemeBuilder app, covering more UI styling and customization use cases.
New customization capabilities across the board: Multiple new appearance options ensure that no requirement is left behind.
UI Components in the Spotlight
DockManager for migrating from desktop to web: This vital component will help developers recreate experiences their desktop users expect in ASP.NET Core/MVC or jQuery applications.
Spreadsheet functionality for Angular: New for Angular, improved for React, developers can add robust Excel-like functionality to their web apps.
New data visualization components: New Trendline, Pyramid, KendoReact OrgChart and various other chart types that can standalone or integrate with other UI components give developers what they need for stunning web visualizations.
New editor and navigation controls in Blazor: ListBox and DropDownButton are some of the newly added components that shape Telerik UI for Blazor into the only Blazor library you'll ever need.
Scheduling capabilities in .NET MAUI: A new Scheduler component offers an in-app calendar experience similar to Outlook or Google Calendar while ensuring full-feature parity with Xamarin for those planning a migration.
New Controls for Desktop Apps: SlideView, SVG control and Chat (Conversational UI) are some of the new components for advanced desktop capabilities.
Productivity Boost with Robust Features and Support for the Latest Frameworks
Continued industry-leading support for Microsoft's newest frameworks: We are always looking to enable developers to work on the latest Microsoft platforms with support for .NET 8 RC2.
Modernized reporting experience: An Angular Report Viewer, SkiaSharp-based graphics library enabling Linux deployment of .NET 6+ applications and built-in support for Linear gauges are some of the enhancements to help developers uplevel their reporting efforts.
Updated debugging technology: The popular Fiddler debugging solution helps developers stay on top of their troubleshooting efforts with HTTP/2 support, updated UX and more.
Compliant and Highly Accessible Applications
Strict CSP Compliance: Telerik and Kendo UI libraries ensure secure user experiences, targeted for organizations that need to follow strict security standards like financial institutions.
Improved accessibility: We continue our efforts to provide accessibility compliance in accordance with the latest WCAG standards.
Sign up for Release Webinars
Join us for our release webinars to see the new features in action and learn how they can help you achieve more. You can register for more than one webinar.
Progress Kendo UI R3 2023 Release Webinar | October 18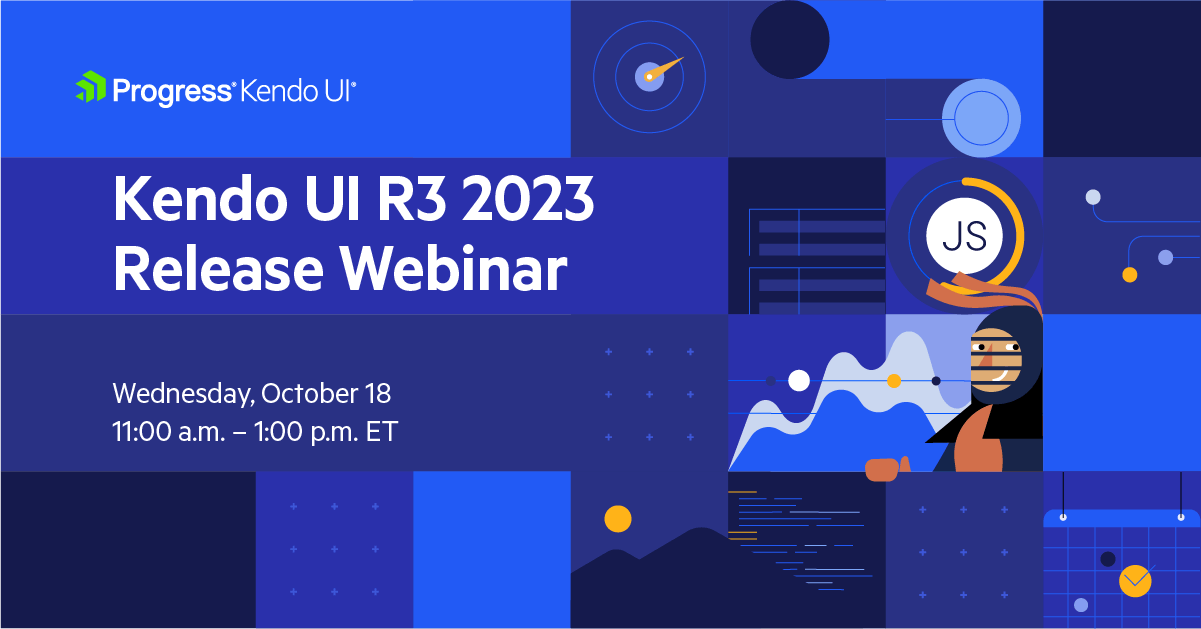 Discover all updates across KendoReact and Kendo UI for Angular, Vue and jQuery, as well as ThemeBuilder. Tune in 11:00 a.m.–1:00 p.m. ET Wednesday, Oct. 18.
Progress Telerik .NET Web, Desktop, Mobile & Cross-Platform Products R3 2023 Release Webinar | October 19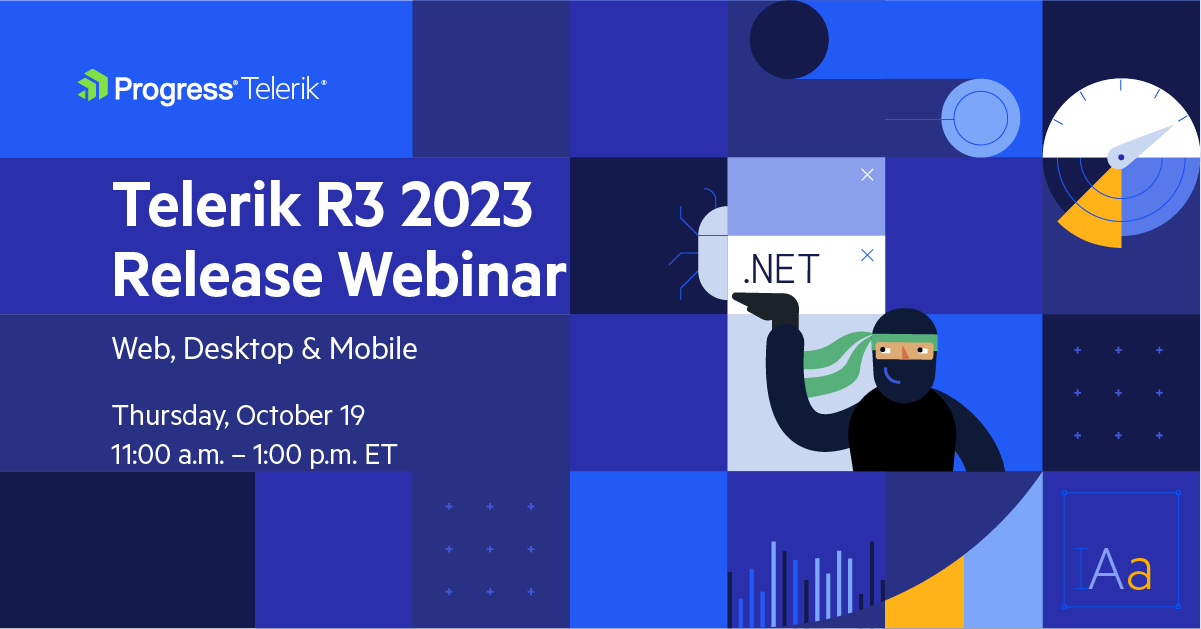 Discover all updates across Telerik UI for Blazor, UI for ASP.NET Core, UI for ASP.NET MVC, UI for ASP.NET AJAX, UI for WPF, UI for WinForms, UI for WinUI, UI for .NET MAUI and UI for Xamarin and ThemeBuilder. Tune in 11:00 a.m.–1:00 p.m. ET Thursday, Oct. 19.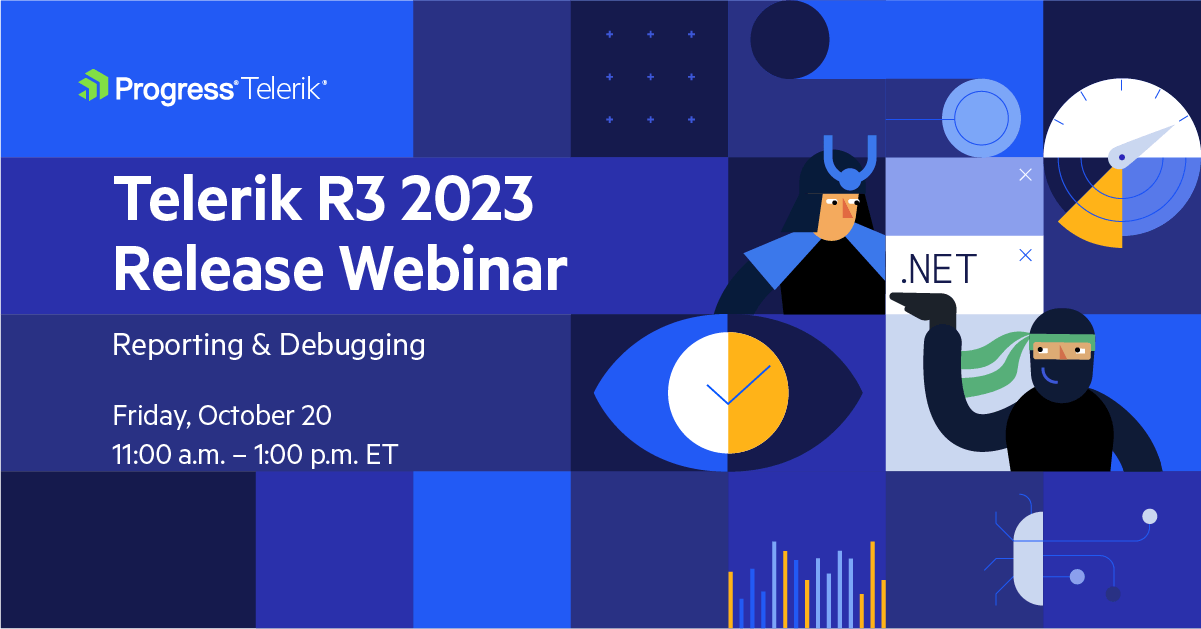 Discover all updates across Telerik Reporting and Fiddler Everywhere. Tune in 11:00 a.m.–1:00 p.m. ET Friday, Oct. 20.
Join Us on Twitch
Let's get together at Livestream Release Party on October 17, 11 a.m. – 12:30 p.m. ET to hear the release news and hang out with your dev friends.
And the best part about the release webinars?
The live webinars and Twitch sessions are a great opportunity for you to ask questions before and during the webinars. We'll be waiting to hear from you on X, formerly Twitter—just use the #heyTelerik and #heyKendoUI hashtags. Another great option is the live chat during our release session on CodeItLive, our Twitch channel.
Sign up today to make sure you don't miss these great events with our experienced developer advocates and experts:
Ed Charbeneau, Microsoft MVP, speaker, author of "Blazor: A Beginner's Guide" and host of "The Blazor Power Hour"
Sam Basu, Microsoft MVP, speaker, DevReach co-organizer and author of numerous articles on .NET MAUI and Xamarin.Forms
Alyssa Nicoll, Google Developer Expert and Angular Developer Advocate
Kathryn Grayson Nanz, Developer Advocate with a passion for React, UI and design
Rick Hellwege, Principal Sales Engineer, reporting guru and innovator with a passion for experimenting with the latest technologies and frameworks
Simona Yaneva, Product Manager Associate, passionate expert in all debugging tools
Can't wait to see you soon! 😊
Dates corrected September 19, 2023.