12 days. Two user groups, three conferences, two days of training/coaching for a customer, five customer site visits, one interview, several community engagements.
I'm pretty sure I'm missing something there, but that's a fairly accurate summary of my trip to India these last two weeks. Our country manager, Abhishek Kant, lined up an extremely full itinerary (because I told him to!) for my extended trip. We spent a lot of time having great conversations with customers, other organizations, community members, and each other.
India's an amazing place, and I'll have a post about the more personal aspects of my trip over on my FrazzledDad.com blog in a day or two, but I did want to share a few things about the trip here from the work perspective. Well, that, plus a photo of one of my favorite food stops during the trip: a food cart outside the Taj Mahal, where DJ got me an awesome potato dumpling smothered in chick peas with gravy, spices, onions, and chilies. My kind of food!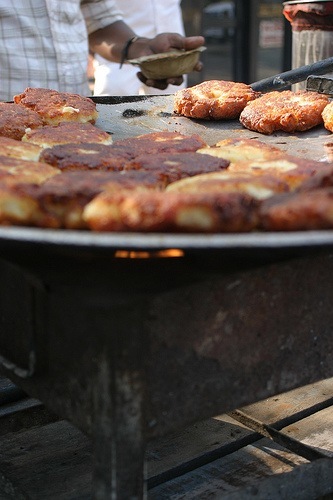 I spoke at three different conferences while on my trip: STC Bangalore 2012, Agile Scrum India, and our first-ever Telerik Testing Professionals Conference (TTPC) in Bangalore. The TTPC turned out to be a great first-time even with almost 90 folks showing up for a half-day of content and discussions. (ToolsJournal.com posted up a neat summary of the TTPC which you can read online if you're interested.)
The folks at QAI were kind enough to have me up on stage for a shared keynote session, and Agile Scrum gave me 90 minutes to talk about tester-developer collaboration.
I also had some amazing conversations with a number of companies, some of whom are using Test Studio, some who aren't. (In case you haven't noticed, I like to talk smart testing and I'm not particularly concerned if the discussions involve Test Studio at all—I learn something from every good discussion, regardless of the testing tools we're talking about!)
I helped pass on some useful tips to the organizations, and I got reminded of some extraordinarily useful approaches from others. As always, I learned a few new things, too! Some specific things I'll be blogging about in the upcoming weeks gleaned directly from those chats:
Dealing with complex databases where you can't control the data, like production retail systems. How do you come up with rational input and expected conditions? I've got some neat ideas from one of our customers.
Dealing with complex configuration data. I've been meaning to blog about this for months and keep procrastinating or forgetting. No longer!
Multi-tenancy/language situations. Interesting approaches for this.
Dealing with difficult environments.
One of the biggest benefits of these kinds of trips is the amount of product feedback and ideas we collect. I've got over 30 pages of notes in my iPad (I use Penultimate for note taking, BTW), and there are a ton of feature ideas to pass back to the product team.
There's plenty of new content that will follow over the next couple weeks. Stay tuned!
In the meantime, I'll leave you with one final photo: the kitchen crew cooking chapati at the roadside dhaba we stopped at twice during our day trip to Agra.