Are you completely new to functional web testing? Don't know where to get started? If so, please mark off your calendar for a th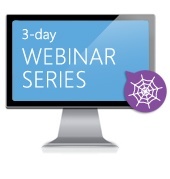 ree day series of webinars June 26th, 27th, and 28th. I'll be hosting these webinars from 11AM – 12PM Eastern US.
This series is targeted to individuals or teams just getting started with web automation—although more experienced folks may learn a few things too!
I'm still fleshing out the agenda and content, but here's a few of the things you can look forward to learning about:
Automation's purpose/fit in your overall quality and testing strategy
What a web page looks like under the covers, and how Test Studio interacts with it
What a page's lifecycle is, and why you need to know about it
Understanding element locators, and why it's so important to understand them well
Dealing with dynamic content like AJAX
Designing and implementing great test cases
Why you'll need close collaboration with your entire team
Learning to build a backing framework
Keeping your tests reliable and lean
Learning why it's important to not test everything—and learning the sorts of things to not test!
Data driving tests to flesh out coverage
Working with baseline data sets
Understanding teardown and setup actions
Working with source control
Surviving and keeping your sanity as your test suite grows in size
These webinars are intended to be "Lunch and Learn" sessions: informal but with a lot of information flowing. I'll be leaving plenty of time for questions, too! Register today!