Greetings, fellow testers. A bit ago, I gave you a little peek into the next version of Test Studio in a post entitled Coming Soon. As you may have gleaned by that screenshot and the link to our Roadmap, we're hard at work improving the recording experience. Right at the top of the list of ways to do that is to provide you the ability to record tests in Chrome, Firefox & Safari in addition to Internet Explorer.
The recording experience in these browsers will feature a new, light-weight recording surface with a brand new UI. We'll start with a new Recording Toolbar:
Choosing an element on your page, you'll have quick access to the DOM and commonly-used steps, validations, & actions via the new Expanded Recording Toolbar. Where applicable, you'll be given easy-to-use menus and choices for logical operators and comparison strings.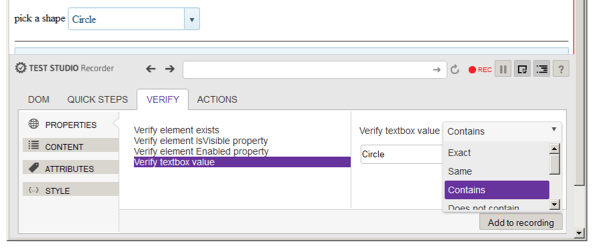 the disclaimer still applies: this is still a work in progress; these screenshots may or may not accurately reflect the final product as it will ship.
See also That's Neat: Recording in Safari, Chrome, Firefox
I hope you're looking forward to this new version — I know we're excited to be bringing it to you.
Peace,
Steven