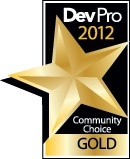 Another year, another award! We consider the Community Choice awards the Oscars of our industry, as it is the people using the technology that recognize the industry's best and brightest. To be recognized in 19 categories – ranging from charts and graphics tools to CMS, testing and more – is something we take great pride in. It is our mission to deliver more than expected and this recognition is a testament to the hard work our teams put in day in and day out, ensuring our customers are getting the best tools on the market to address their individual needs.
Gold
Best charting & graphics tool: Telerik RadChart for ASP.NET AJAX
Best content management system: Sitefinity by Telerik
Best ecommerce package: Sitefinity Ecommerce by Telerik
Best email control: Sitefinity Email Campaigns by Telerik
Best grid control: Telerik RadGrid for ASP.NET AJAX
Best memory management/profiling product: Telerik JustTrace
Best online editor: Telerik RadEditor for ASP.NET AJAX
Best SharePoint development tool: Telerik RadControls for ASP.NET AJAX
Best Silverlight product: Telerik RadControls for Silverlight
Best testing/QA tool: Test Studio by Telerik
Best utility: Telerik JustDecompile
Best free tool: Telerik JustDecompile
Silver
Best add-in: Telerik JustCode
Best component set: Telerik DevCraft Ultimate
Best navigation control: Telerik RadMenu for ASP.NET AJAX
Best project management/defect tracking product: TeamPulse by Telerik
Best scheduling/calendar tool: Telerik RadScheduler for ASP.NET AJAX
Best vendor tech support: Telerik
Bronze
Best printing/reporting Tool: Telerik Reporting
Thank you!