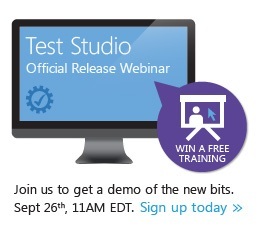 Test Studio 2012 R2 is nearly here! How close is it? I'll tell you tomorrow.
In the meantime, please join us for our release webinar next Wednesday, 26 September, at 11AM US Eastern. (Register here.) We'll record the webinar and post it to Telerik TV; however, attending the webinar gives you the chance to ask questions and interact during the webinar. And one of you attending live will be lucky enough to win a free Instructor Led Online Training Session worth $349!
The R2 release adds significant functionality around our Load and Performance testing, plus there are some great additions for making your tests more stable and powerful. Additionally, you'll get to see how we've improved the browser configuration experience – heck, we've automated it for you, and you're now able to quickly validate browser configuration at any point after installation!
Join us and see all the great things coming out with this latest release of Test Studio!