We end a year with many challenges but also with a lot of achievements. Now, we look to a new and promising 2021 starting with the Telerik and Kendo UI R1 Release and Webinars in January. Hurry up and save your seat today!
The first release of 2021 for Telerik and Kendo UI is coming as planned on January 20, bringing major updates across our Telerik .NET and Kendo UI JavaScript product lines. Our goal is and always has been to help you build, test and deliver even the most technically complex projects quickly, with ease and for the lowest cost.
Join our Developer Advocates and product teams for the live R1 2021 release webinars and Twitch demo session to learn the exciting news.
Find out what's new in your library of choice!
You can register for more than one webinar.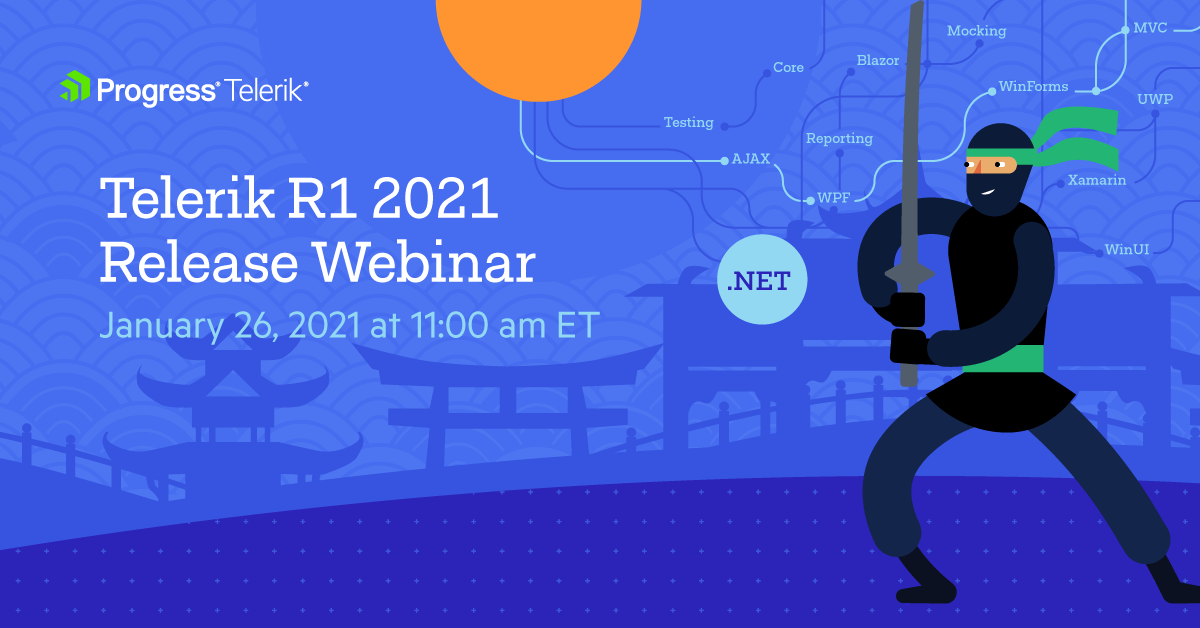 Telerik R1 2021 Release Webinar: The Richest Blazor UI Library with Industry-Leading Truly Native Components & Tools, Next Level Report Engine by Telerik Reporting, Support for .NET 5 Official & More!
The webinar will cover all new updates across our .NET web, desktop and mobile products, plus reporting, testing and mocking tools.
Save Your Seat Tuesday, January 26 I 11 am – 1 pm ET
Here are some of the highlights we will cover in the Telerik Release Webinar: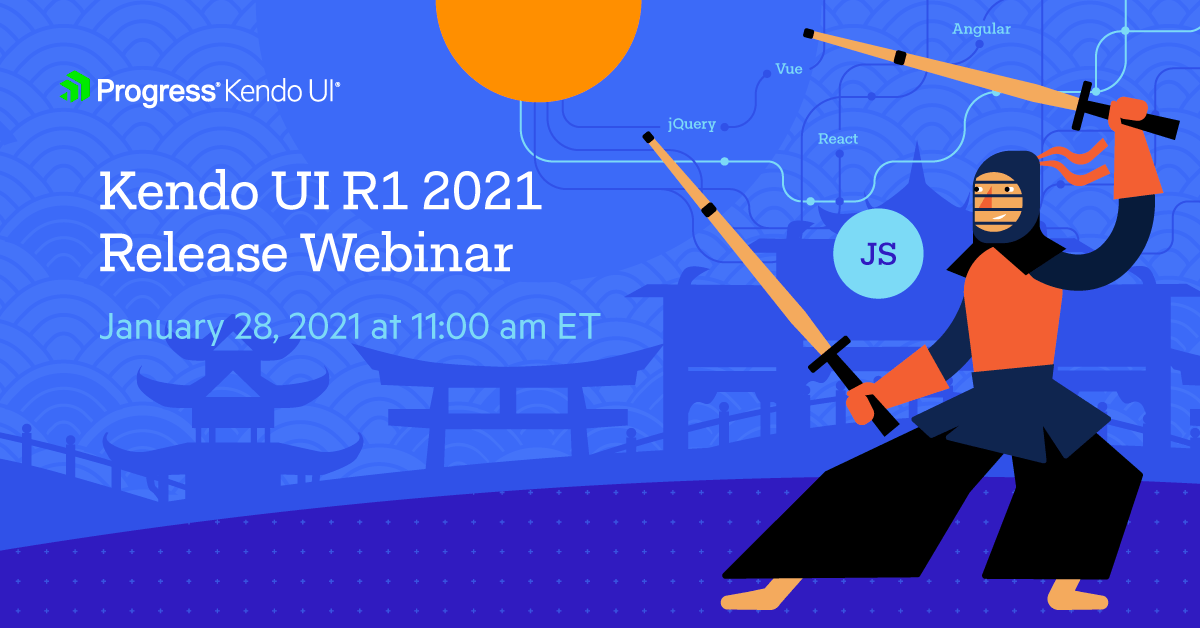 Kendo UI R1 2021 Release Webinar: 24+ New Native Components across jQuery, Angular, React and Vue, Plus, Angular 11 and React 17 Support!
The webinar will cover all new updates across our JavaScript web products.
Save Your Seat Thursday, January 28 I 11 am -1 pm ET
Here are some of the highlights we will cover in the Kendo UI Release Webinar:
24+ new components across all Kendo UI libraries
Kendo UI for Angular and KendoReact add TileLayout, DropDownTree, MultiColumnComboBox and many new updates
Angular 11 support
React 17 support
The webinars will be complemented with a full-day Twitch session on January 29, where you will be able to see examples of using the new components and features and ask your questions to the speakers via the live chat.
We're All Ears!
The live webinars and Twitch sessions are a great opportunity for you to ask questions before and during the webinars. We'll be waiting to hear from you on Twitter—please use the #heyTelerik and #heyKendoUI hashtag to join the conversation—and on CodeItLive, our Twitch channel, via the live chat.
Sign up today to make sure you don't miss these great events with our experienced developer advocates Ed Charbeneau, Microsoft MVP, speaker, author of Blazor: A Beginner's Guide and host of Blazing into Summer week of Blazor events, Sam Basu, Microsoft MVP, speaker, DevReach co-organizer and author of numerous articles on Xamarin.forms, Alyssa Nicoll, Google Developer Expert, TJ VanToll, host of React Wednesdays, and Carl Bergenhem, speaker and host of a ton of JavaScript events.
Healthy, happy & successful 2021! See you then!