I'm happy to announce that the latest R3 2019 release of Telerik UI for WPF and Telerik UI for Silverlight is now available online and it is loaded with tons of new components and features. It brings a few brand-new controls – SyntaxEditor, FilePathPicker, ToggleSwitchButton, new Visual Studio 2019 inspired theme as well as design time and toolbox support for the .Net Core version of the WPF suite.
Fasten your seat belts and let me guide you through this awesome R3 2019 release. 🐱‍👤
Design Time and VS Toolbox Support for .Net Core
Later this month at .Net Conf 2019, Microsoft is expected to release the official version of .Net Core 3. On the WPF side of the new framework it is expected that full design time support for the WPF project will be added with the latest VS 2019. We have worked in close collaboration with Microsoft to make sure that the .Net Core version of Telerik UI for WPF supports all of the design time capabilities you can find in the full framework version, including toolbox support, working with the design canvas, smart tags support, properties windows and more, even before the official release of .Net Core 3.
We are also adding Visual Studio toolbox support for .Net Core 3 – when you refer our Nuget packages all the included controls there will show up in the toolbox. If you don't know where to start and what packages to refer – you could add our single package that contains all the controls. This way you will be able to review and choose from the full variety of our controls. (For more info about our Nuget packages check this article)
For more info check out the .Net Core support section in our help docs.
SyntaxEditor (Beta)
The time has come! We are releasing RadSyntaxEditor – this is the new text editor control that is designed for displaying and editing code. It provides syntax highlighting and works with ease when huge files (with thousands of lines) need to be loaded and displayed. We have included built-in highlighting support for the most popular languages – C#, VB, JS, SQL, HTML, XML and of course XAML as well as support for creating custom language definitions and highlighting options.
Here are the key features of this initial release:
Syntax highlighting
Built-in support for C#, VB, JS, XML, XAML, HTML, SQL
Great editing experience
Code outlining
Code completion options
Overload lists
Undo and redo
Find and replace UI
Zooming
Line numbers
Different built-in palettes
Localization
Keyboard shortcuts
Great performance
I would like to hear from you about the features you want to see for the official version. So please give it a ride and share your feedback here or in our Feedback portal. Be sure to check out the WPF Demos of the control here and the full documentation here.
Happy coding with RadSyntaxEditor! 👩‍💻👨‍💻
New Visual Studio 2019 Theme
It is time for a new theme - meet the Visual Studio 2019 Theme! It is inspired by the latest version of Visual Studio as the name implies and delivers a cleaner and modern look and feel to WPF applications. Like our other our themes, we designed the theme to be highly customizable – by setting a single property of the Visual Studio 2019 palette you would be able to totally change the appearance of your app. For example, you can change with ease the opacity when disabled or main color of the controls!
Check how cool these controls look below:


And the BusyIndicator control in action: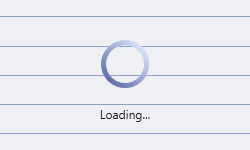 Pretty cool, huh? 😊 Make sure to play around with theme in the Color Theme Generator application and check out the documentation here.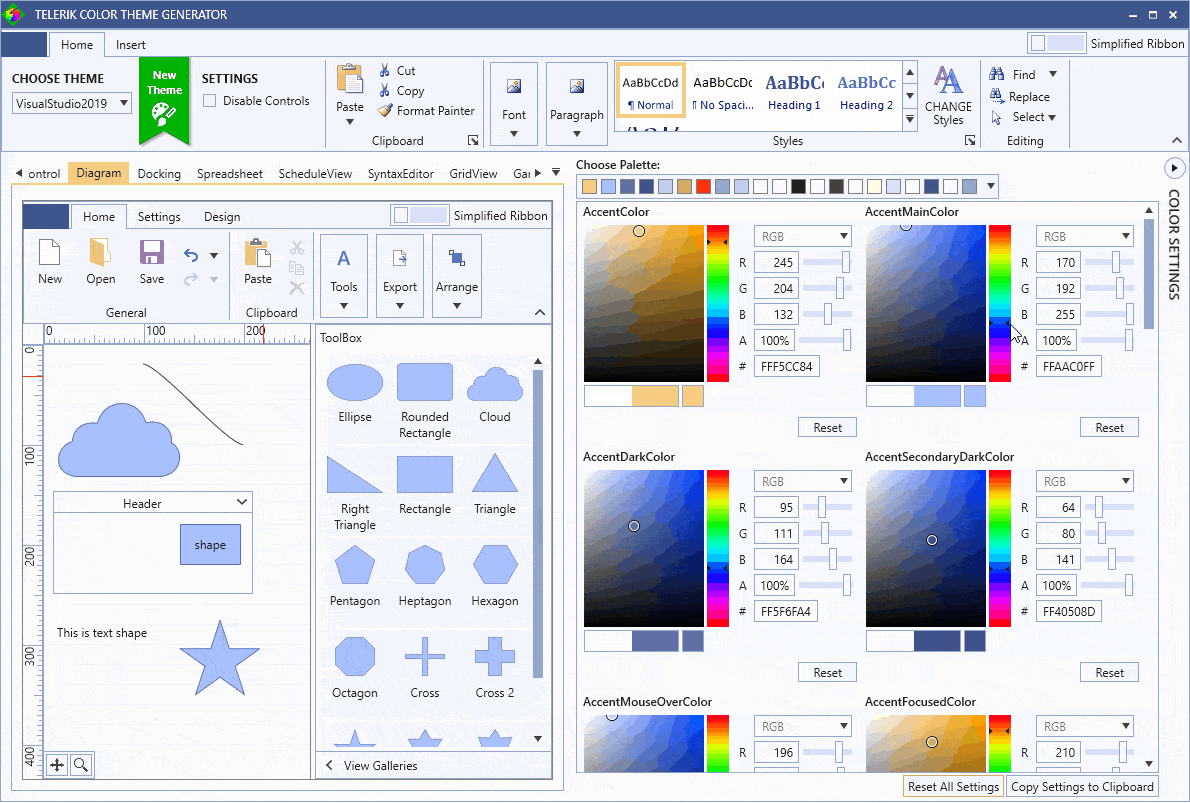 We are preparing a dedicated post about the new theme - so stay tuned! 🎨
WebCam (Official)