The Q2'11 Telerik Developer Tools release has finally arrived! Welcome the new components and features are integrated into our AJAX and MVC suites and announced a couple of weeks ago:
AJAX Q2'11 Beta | MVC Q2'11 Beta
But wait, that is not all...there is more :) We put a few hidden gems up our sleeve to get you even more thrilled when you get your hands on the fresh downloads. Wanna know what they are? Read below to find out.
MVC Line Chart
The brand new MVC chart introduces support for line series in addition to its features commenced with the MVC Q2 2011 Beta release. Moreover, you can combine bar and line series in one chart.


AJAX RibbonBar Features
Our AJAX RibbonBar now supports Export/Import from XML, Application Menu, Split Buttons selection and richer client API.




See demos
New Image Editing dialog for Telerik AJAX Editor
The Telerik AJAX editor image editing dialog has been dropped in favor of the new RadImageEditor component which replaces it and supplies some handy image editing features directly in the browser.





See demo
Multi-Select with CheckBoxes for Telerik AJAX Combo
This long-anticipated feature which allows you to select multiple items via checkboxes has been added to the combobox with Q2'11.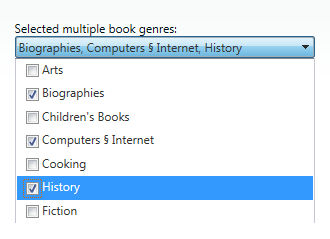 See demo
AJAX Password Strength Checker
The AJAX TextBox and InputManager are upgraded with password strength plug-in which supplies a visual indicator reflecting the strength of the password entered by the end users.
AJAX Scheduler Keyboard Navigation
In addition to the PDF export announced with the Q2'11 AJAX Beta, our AJAX Scheduler is enhanced with keyboard navigation feature, especially useful when you prefer to navigate using shortcuts and augmenting the accessibility of the control.

See demo
Enhanced Mobile Support
The AJAX ListBox and TreeView controls already have drag and drop support, while the AJAX grid has enabled column reorder and drag to group functionality in mobile browsers.


You can find the release installments under your Telerik accounts and rush to the recharged online demos and documentation to feed your curiosity.
AJAX
Trial Download | Paid Download | Release Notes | Online Demos | Documentation
MVC
OS Download | Commercial Download | Release Notes | Online Demos| Documentation

Have fun with the Q2 2011 release and do not forget to let us know what you think about it!