Based on information from Telerik Analytics, Schneider Electric's software development team embarked on a refresh of their product's user interface. Here is the story of how they successfully created an optimal user experience for their customers.

Scott Kingsley is the Software Development Manager for Schneider Electric's Data Center Infrastructure Management (DCIM), a solution that is widely used by facilities and IT managers to analyze, operate, plan and optimize their data centers. He wanted to improve the experience of DCIM's users, but at first his team lacked the data to understand ​the best way to do ​it.
Kingsley's team used Telerik Analytics for about three years to gain an understanding of how data center managers use its DCIM solution. Based on the usage insights they gathered, the team then embarked on a refresh of the application's user interface (UI) to enhance the user experience.
Usage insights provided by Telerik Analytics help determine the value of each feature, and how much screen real estate to devote to that feature on the UI. As Kingsley's software development team worked on their UI refresh, Kingsley wanted to use a prepackaged widget library and decided to leverage the power of Kendo UI to create an optimal user experience.
Since using the Kendo UI framework to revamp the UI, Schneider Electric's data center infrastructure management application has gained numerous recognitions from industry experts. Recently, in Gartner's first-ever Magic Quadrant for DCIM tools, Schneider Electric was named as a Leader in the category.

"I attribute our success with the solution in large part to our use of Telerik solutions," said Kingsley.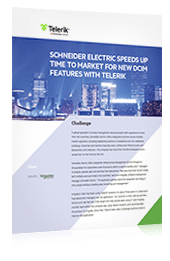 Learn more about our products: