The new Fiddler Everywhere version comes with a new Apple Silicon build, an improved user login experience and Extended Offline Support, and many new highly requested features!
With the new Fiddler Everywhere 3.4 release, you can find a new option to decode values directly in the product, a functionality to bypass or skip decryption for specified domains, a new JavaScript inspector, and more! You can also take advantage of the new and improved flow that allows you to use the application offline for a limited time without losing your work in progress. For Mac users with Apple Silicon chips, we now offer a different build of Fiddler Everywhere! Keep reading to learn more.
New Apple Silicon Build
We have been working on a separate Fiddler Everywhere package explicitly built to run on Mac machines with M-series chips—M1, M1 Pro, M1 Max, M1 Ultra, M2 and any new Apple Silicon processors. If you are using a machine with the Apple Silicon chip, you can now download the specific version from our Fiddler Everywhere Download page.
The new build addresses some performance issues you might have faced previously in Fiddler Everywhere and provides a smoother work process within the application. Automatic updates are available for the Apple Silicon version as well, ensuring your app is always up to date.
Extended Offline Support
The new releases introduce functionality that extends your in-product access even if you go offline. For a limited time, you can use all features that do not require cloud access, such as capturing and analyzing local (or already captured) traffic, applying Rules on the captured requests, comparing sessions, and more. If you do not have internet connectivity, the app will no longer log you out automatically—it will continue to run, and you will not lose the data you have worked on during your session.
You will notice a new icon at the top navigation bar of Fiddler Everywhere, which shows you the state of your app and whether you have a connection to our servers. If you don't, you will also see a counter that shows how much time you have before the app asks you for credentials to re-authenticate. At this point, you will need to have your network connectivity restored to continue using Fiddler Everywhere.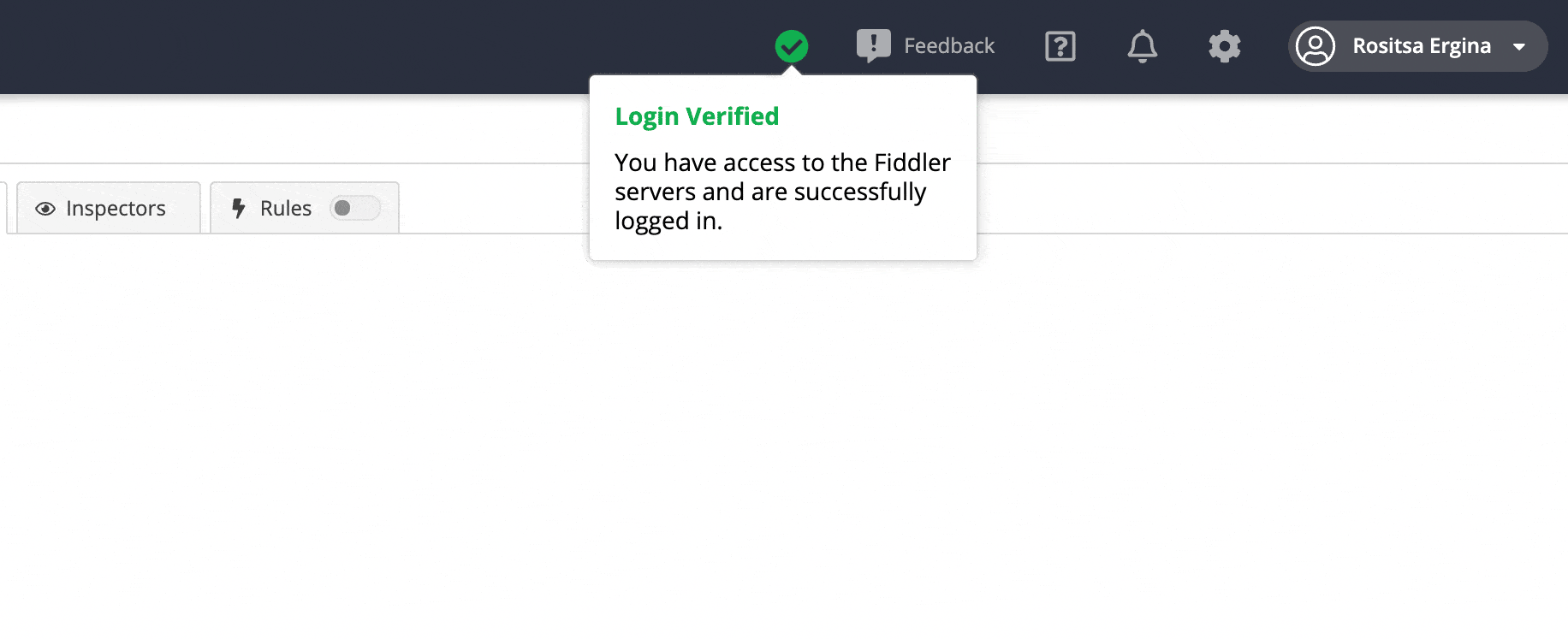 Skip Decryption for Domains
We have further improved the bypass of domains functionality based on your feedback and insights! From now on, the domains you specify in the bypass list will be ignored in the operating system bypass list and from Fiddler's internal list, which sessions need to be decrypted. So, Fiddler will not replace the HTTPS certificate of such sessions anymore. This will help resolve common issues with applications that use certificate pinning.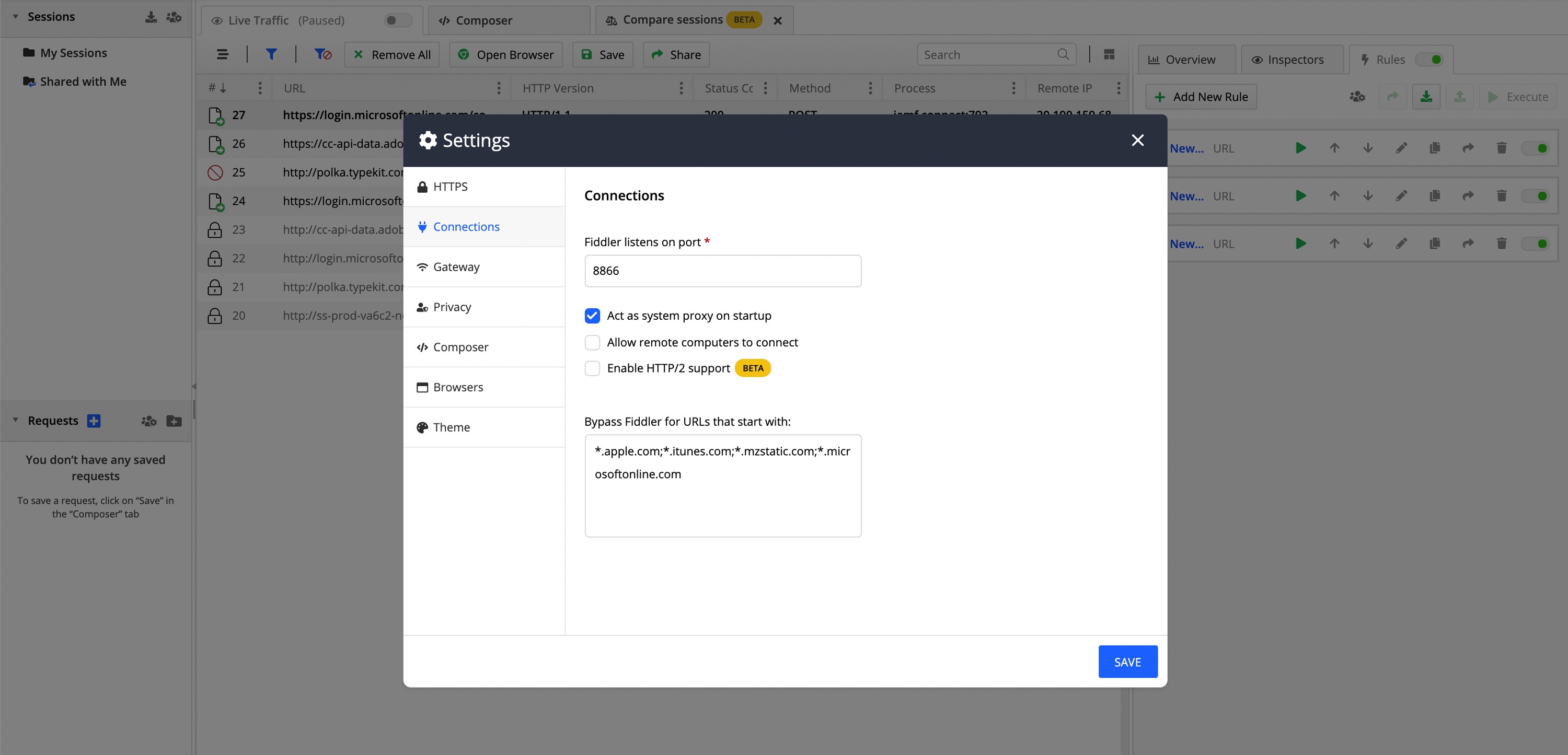 When specified in the bypass list, no traffic from this domain will be captured in Fiddler Everywhere, whether you are using the system traffic capturing or the Open Browser button option. If you want to debug iOS or Android devices, Fiddler Everywhere will capture only CONNECT tunnels from the specified domains. In addition, the CONNECT tunnels can be filtered out from the Live Traffic grid through one of the multiple filtering options we provide.
You can add which domains to ignore in one of two ways:
Go to the Settings dialog and choose the Connections tab—you can point out the domains in the Bypass box.
Use the context menu option—right-click on any captured request from the Live Traffic grid for which domain you want to skip decryption and choose the Bypass option. This will automatically add the domain to the bypass list.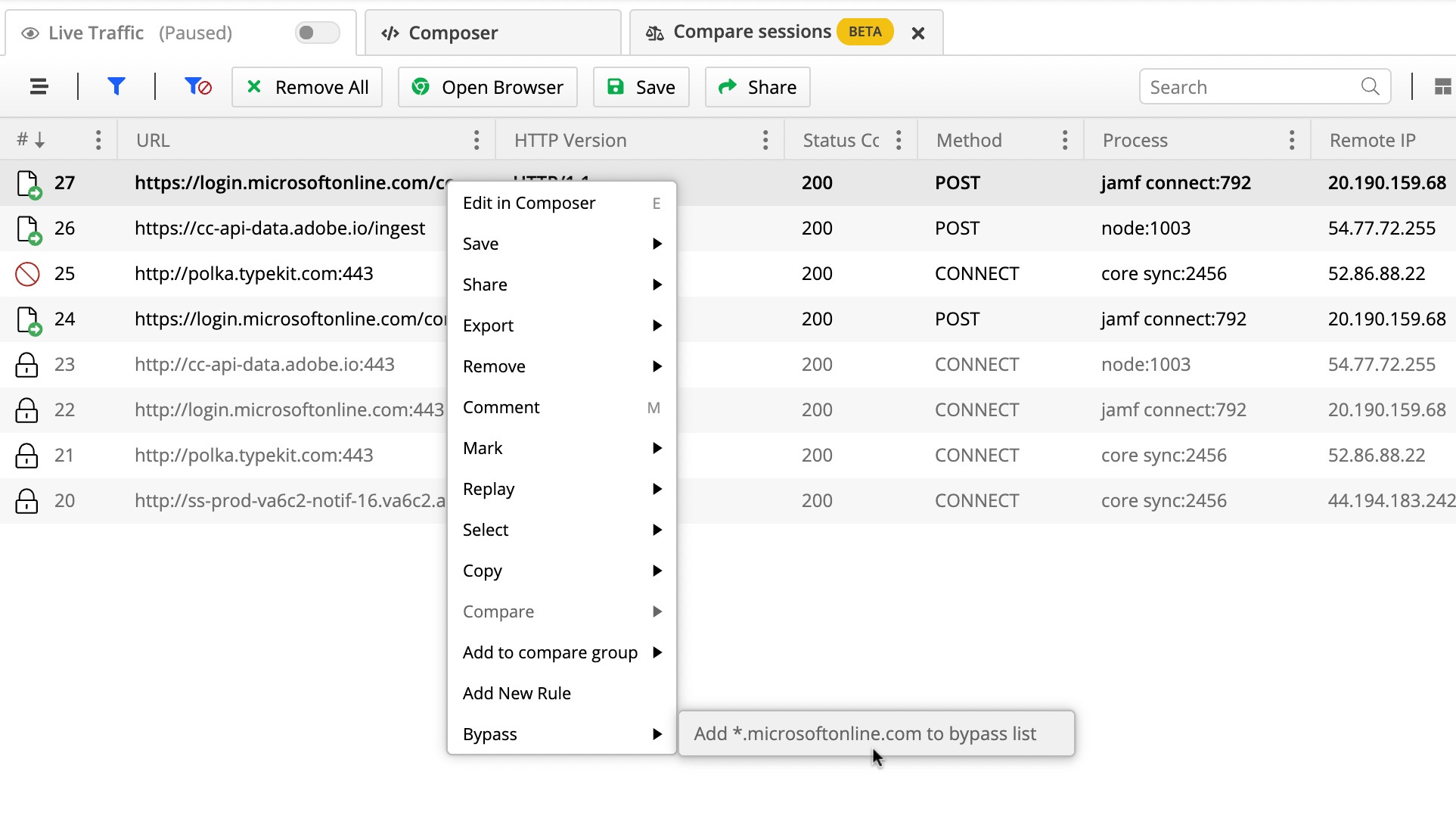 Option To Decode Values
In the new Fiddler Everywhere version, you can decode values from different formats without using external tools. You can initiate the option by selecting a value from the Request or the Response dialogs in the Inspector and right-clicking to choose "Decode Selection." You can decode values from the following formats: Base64, Escape sequences, Encoded URLs, Hex and Encoded HTML.
As mentioned, the decode selection works on values from any tab of the Request and the Response sections. When you click to decode the value, you will see a tooltip with the original value at first and respective buttons that allow you to choose one or multiple formats from which you want to apply decoding. For convenience, you can also copy the original or the decoded value and this is now all possible right out of the box with Fiddler Everywhere.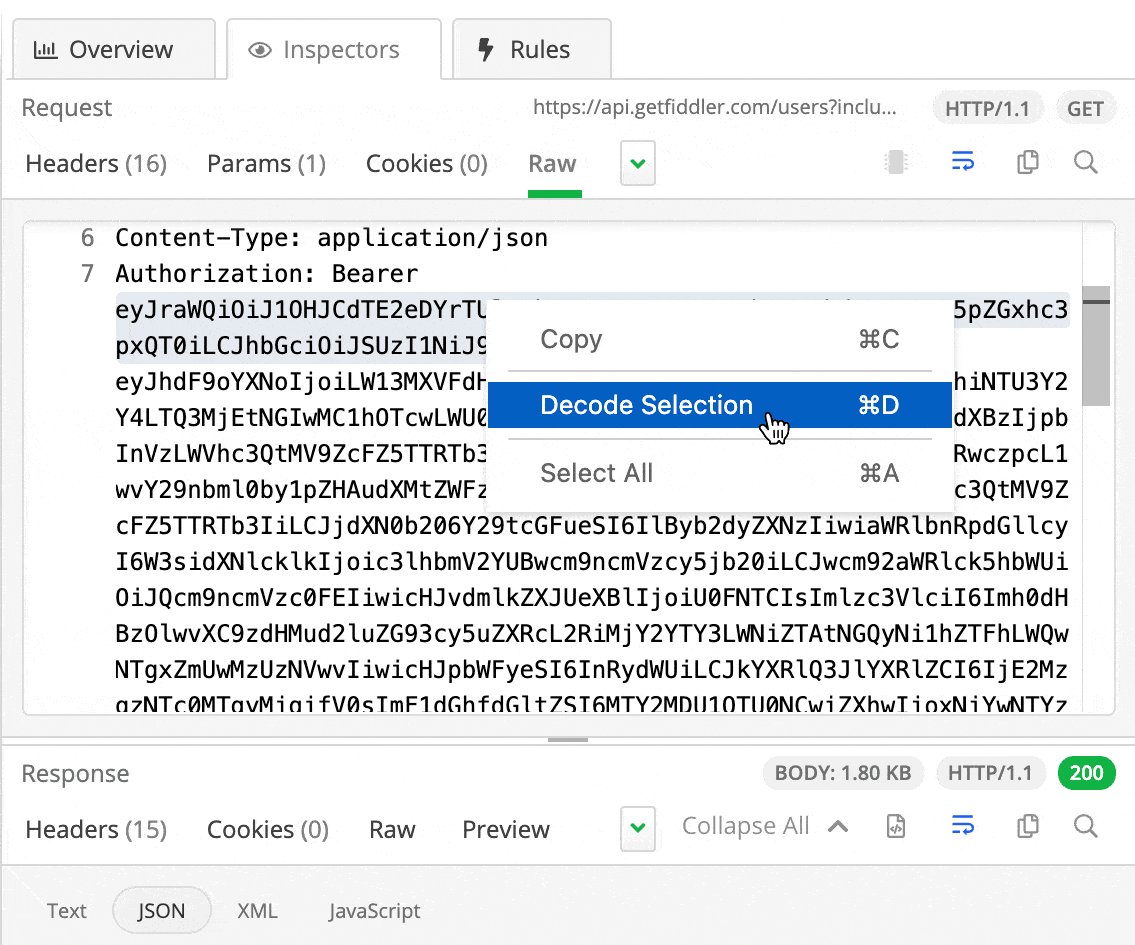 System Theme
Another feature we added to Fiddler Everywhere is for the app to recognize the OS theme you are using, and apply it in the app. If you suddenly experience a theme change, it is because Fiddler Everywhere will detect your system setup and apply the Default Light or the Default Dark theme, respectively.
Keep in mind that we have two more themes available in the app to choose from—Light Blue and Dark Blue. If you do not want to use the Auto theme, you can open Settings and select your preferred appearance through the Themes tab.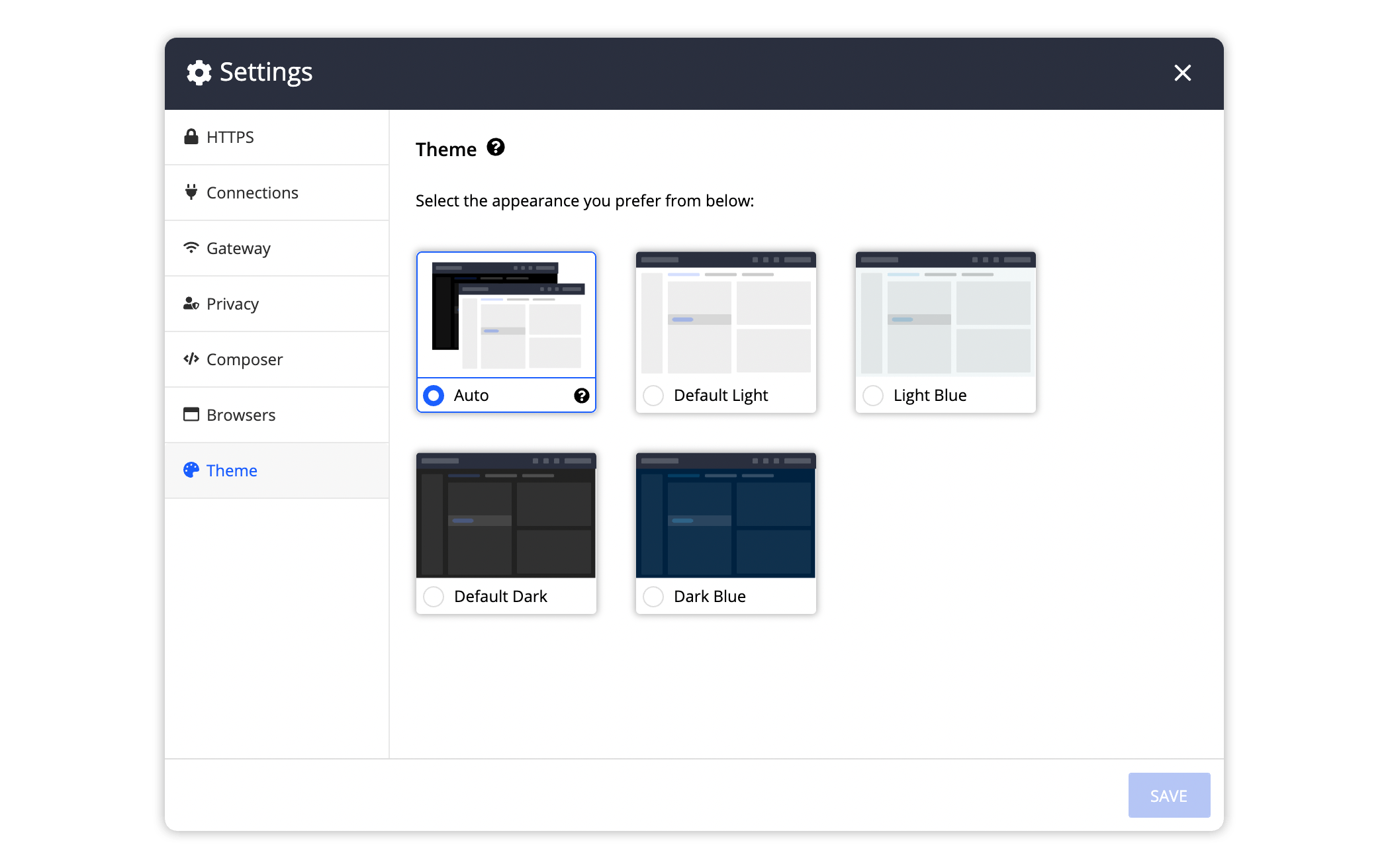 New JavaScript Body Inspector
In Fiddler Everywhere, you can now find a new JavaScript tab in the Request and the Response Body inspectors. As JavaScript is a common type of data you can analyze during your debugging process, we now provide out-of-the-box highlighting, selection and formatting of this data.

More Enhancements
In addition to the new functionalities that Fiddler Everywhere offers with the 3.4 release version, we also introduced several improvements, such as:
The Rules and Advanced Filters match conditions are now synced with the names and types of columns available in the Live Traffic grid—this way, we are providing a better and more consistent experience when using those features.
Several new content types are now considered as JSON. Double-clicking on a session with one of those types will automatically select the best inspector—in that case, the JSON tab.
Quick Search is now available for WebSocket messages—in the WebSocket inspector, you have the option to search keywords for more accessible analysis of WebSocket messages.
Wrap-up
Our mission is to deliver features that will make your usage of Fiddler Everywhere better, easier and more productive! On that note, we encourage you to continue sharing your feedback and feature suggestions in the Fiddler Everywhere Forum, and in our in-product feedback form.
Make sure you check out Fiddler Everywhere and take advantage of all that's new from the 3.4 release. If you are new to Fiddler Everywhere, download the most suitable package based on your OS and chip version and try it out for free!