This post is part of a series featuring our Developer Experts—community members who represent the best of our products. Feel free to read about our other featured experts and meet more DEs.
Johannes Hoppe is our latest interviewee. Hoppe is a freelance developer based out of Germany. On the side, he also writes books and speaks at local technical conferences.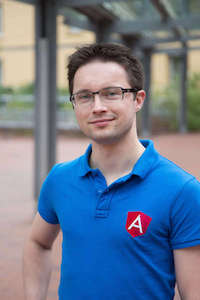 Johannes Hoppe
What is your background, professionally?
I'm a freelance web developer, book author and speaker for technical conferences from Germany. I lead the .NET User Group in Rhein-Neckar, too.
Where are you based and why?
I live next to Heidelberg—I studied here and like the area. It's warm and sunny here, with a nice countryside for rides and vintners everywhere. I walk twice every day with my dogs in the woods, it's really great.
With whom are you working?
I'm an IT consultant by day. So, every year or so I switch both the team and the project. At night, I do a lot OSS, although managing the amount of PRs and open issues is a challenge right now.
What projects are you working on now?
We're currently working on a completely new Industry 4.0 portal for a DAX-100 company using Angular with Kendo. My biggest private project is our Angular book. We are currently polishing the code examples for this book and its new website. There is always work to do for this publication!
What's the most interesting project you've done recently?
Which of our products do you use and why?
I'm focused on Kendo UI v1 and v2. I also do a bit of NativeScript and work with Telerik Platform here and there.
What are some challenges you are encountering now in your work?
We have a ton of AngularJS 1.x code which needs to be migrated, which is no fun.
From your experience, what's the biggest software pain point that your partners/clients encounter?
That's clearly the migration from AngularJS 1 to Angular 2/4. You really need a lot of budget and resources to do this properly. Also, a lot of known Angular libraries have no adequate Angular 4 counterpart. A second heavy pain point is the lack of OData in ASP.NET Core. OData works great for third-party controls like the Kendo Grid. The missing roadmap for OData+Core prevented two of my last customers to fully switch to .NET core. It's really unfortunate that this essential feature is missing.