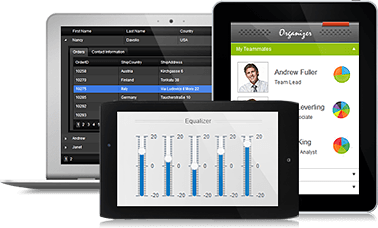 The day has finally arrived! Kendo UI v1 is now, as I type, officially available on KendoUI.com. This marks the end of the official Kendo UI beta and begins the next phase of Kendo UI's life as an official, commercially available product.
To fully understand today's release, make sure you attend tomorrow's release webinar. You can register for the webinar now and learn more about the event in this blog post.
We'll cover a lot in the launch event, including licensing and pricing, the various components of Kendo UI, what's new from Kendo UI Beta 2, and you'll get your first guided look at the Kendo UI Mobile preview. If you have any questions about Kendo UI, start with tomorrow's launch event and then let us know what we missed. (I'm sure there will be plenty, and we'll be happy to answer as many questions as we can.)
Launch Essentials
While I previously covered some important changes in the Kendo UI structure that arrive with today's release, let me quickly recap:
Kendo UI is now available in three distinct products:
Kendo UI Web
Kendo UI DataViz
Kendo UI Mobile [Preview]
The online demos have been updated with the latest release bits for each of these products and they now reflect this new product structure, so be sure to check-out the newest demos to see everything in action. There's some fun new stuff, like Editing support in the Kendo UI Grid and the new HTML5-powered Scatter chart.
Official Licensing
I'll talk more about this tomorrow, but I know you have questions today about Kendo UI's post-Beta licensing.So here's the most important licensing details:
Kendo UI (and each of the sub-products) is available under a dual license: GPLv3 and Commercial.
GPLv3 is perfect for GPLv3 compatible open source projects (consult your legal team for guidance)
Commercial is perfect for just about everything else
A commercial free trial is also available to help you evaluate Kendo UI
At launch, Kendo UI Web is available for just $399! That includes our professional support, access to all major and minor updates, plus some other bonuses like access to the Kendo UI custom script builder. As an added bonus, for a limited time, every purchase of Kendo UI Web will include a free license for Kendo UI DataViz! That means you get Kendo UI Web and Kendo UI DataViz (plus a year of updates!) for just $399.
This deal is available now, so jump over to the purchase page if you're ready to get your Kendo UI commercial license(s).
Telerik Customers, you will have access to Kendo UI Web in both the Telerik Premium and Ultimate Collections! Kendo UI DataViz and Kendo UI Mobile (when it ships in early 2012) will only be available in the Ultimate Collection (or separately for purchase on KendoUI.com). So make sure your Telerik bundle subscriptions are active to ensure you get the latest Kendo UI bits.
Tip of the HTML5 Iceberg
The entire Kendo UI team is working very hard right now to make sure release and launch go as smoothly as possible, and we hope you enjoy all of the updates we've prepared for you. Over the coming days and weeks we'll be sharing lots of additional information and examples, so make sure you're connected with KendoUI on Twitter and bookmark the KendoUI Blogs.
Enjoy the first-ever Kendo UI release and help spread the word by telling a few of your HTML5 friends (please)!