Hot on the heels of our ​last release, ​the next update to UI for WPF and UI for Silverlight is coming soon. ​We've packed it yet again with some cool and highly requested new features. Let me walk you through the most anticipated new features in the Q1 2016 official release.
New Controls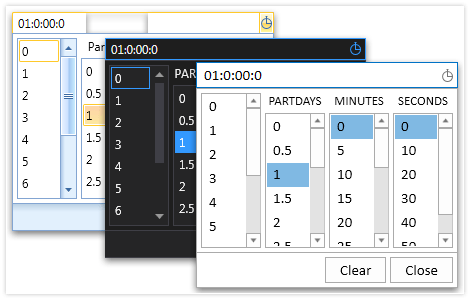 The control which helps you to pick timespan values in your desktop applications​—RadTimeSpanPicker for WPF—will be shipped in its official version with Q1 2016.
New Theme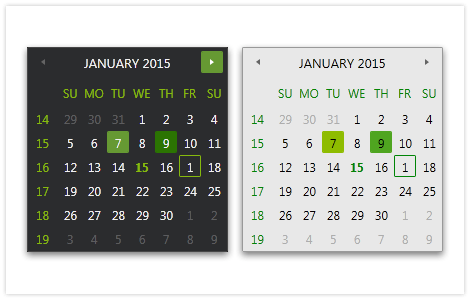 Our new Green theme was inspired by the desire of our clients for a new flat theme. We have integrated corner radius to the theme, which can be adjusted as desired by the user, and adds a nice smooth feel to our controls. The theme comes in two variations—Dark and Light, with a green accent to it.
New Features in Existing Controls
We are working on introducing a very exciting new functionality in our Touch Manager. We are going to expose a public API which will enable you to introduce custom touch gestures in your WPF application.
The Text Search functionality in RadGridView will enable string matching over the provided data source. An interface will be available for filtering the matching rows and highlighting the exact occurrences. Complex search conditions and string exclusion will be supported.
One of the most requested features for RadRichTextBox—adding the ability to repeat the table header row on every page—is currently in development. We'll introduce a property determining whether the header rows of a table are to be repeated on every page. This ​will be very convenient for documents with large tables spanning multiple pages.
Multiple Selection in RadTileList will support selecting multiple tiles simultaneously, operating with the whole set at once.
One of the main use cases for using spreadsheets in your application is the ability to export large datasets to XLSX. We are working on a new API which will allow the generation of XLSX documents with minimal memory consumption and excellent performance (think of a document with a million cells exported ​in just a few seconds!). This is achieved by skipping the somewhat complex and almighty model of RadSpreadProcessing. The cells are created, formatted, written to the XLSX file stream and disposed consecutively one by one, which significantly reduces the memory consumption.
The Start and End of the TimeRuler in TimeLine view in RadScheduleView can be applied to each day.
We Value Your Opinion
As a customer-oriented company, your feedback plays a key role in planning the development direction of our controls and features. Please, do not hesitate to share any thoughts, opinions and ideas in the Feedback Portal, where they can be liked and prioritized by the community.