It's been a whirlwind couple of weeks around here as we get ready for the Q1 Launch of Kendo UI, but that hasn't stopped us from venturing out into the community to spread the HTML5 and Kendo UI Love. Last week, Brandon and Burke made the trek to Louisville, Kentucky to deliver an HTML5 Workshop at the CodepaLOUsa conference and, by all indications, the folks in attendance had a good time and learned a lot. For the record, we did too.
Prior to CodepaLOUsa, several folks from Telerik had a chance to attend SxSW Interactive in Austin, TX. I (Brandon) also had the distinct privilege to sit on a panel, "The State of Browser Developer Tools," with Paul Irish, Mike Taylor, Garann Means and Brendan Eich. We had a lively discussion, had over 600 in the audience—which is awesome for a 9:30 AM panel at SxSW—and got tons of positive feedback from those in attendance.
The State of Browser Developer Tools Panel at SxSW Interactive. (L to R) Brendan Eich, Mike Taylor, Paul Irish, Brandon Satrom and Garann Means. Photo courtesy of Chris Ruppel.
Kendo UI was also a sponsor of the annual Austin JavaScript SxSW Party, with Carl Bergenhem, Josh Holt and I representing. This year's party was held on a Riverboat on Lake Austin, living up to its reputation as one of the best evening hangouts at SxSW. Carl, Josh and I had a blast getting to talk JavaScript, the web and Kendo with some of the most brilliant minds in the JavaScript world. We also had bacon chocolate chip cookies. Yeah, they were awesome.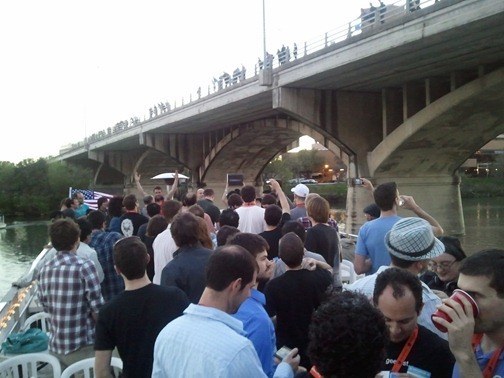 Austin JavaScript Party @ SxSW
While attending SxSW, I took an opportunity to chat with some folks about topics that relate to the world of Kendo UI. I captured a few of those conversations on camera, and I'll share them here in the coming weeks. The first video, which I've embedded below, is an interview with Robert Shoemate, Development Lead for Telerik's Test Studio for iOS. Test Studio for iOS is a new tool from Telerik that provides native automated testing for iPad, iPhone and iPod apps, no jailbreak required. With this application, you can record and run full-tests of your applications, automatically catch regressions, and eventually sync your test results to a shared repository. Of particular interest to Kendo UI users, Test Studio for iOS works with mobile web applications as well, meaning that you can use the tool to create full-featured tests for those apps built with Kendo UI Mobile.
I spoke with Robert about Test Studio for iOS, and you can check out the video here or at the Kendo UI YouTube channel. As a note, this was recorded on the SxSW Expo Hall floor, so expect some background noise while you watch. And by some, I mean a lot.
If you haven't already, be sure to check out Test Studio for iOS Beta today, and be sure to visit the Test Studio team blog as well.
SxSW was a blast, and we had a great time spreading the Kendo UI love around Austin. Did you get a chance to see Kendo UI in action at SxSW (or even at CodepaLOUsa last week)? If so, leave us a comment here and let us know what you thought!
Finally, don't forget to register for the launch webinar March 22nd At 10 AM CST for your chance to win an iPad, a Galaxy Tab, a Blackberry Playbook and an iPod touch. Not just one, but all of them. All you have to do to be eligible to win is register!