One of the new controls we added to the Q3 2009 RadControls for ASP.NET AJAX suite is RadRating. Even though this is the first release of the rating control, we made sure that it is packed full of excellent features and it has the same quality you have come to expect from the Telerik ASP.NET suite - cool skins, wide cross browser support, automated tests, and more.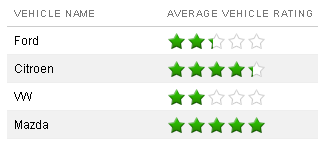 You can see all of the control's features on its overview page, but I will list some of the major ones here as well: whole item/half item/exact precision; four possible orientations; customizable number of items. Naturally, you can easily combine the new rating controls with other RadControls and quickly create powerful applications. The new online demos for RadControls Q3 2009 feature a Rating and Feedback options on each example page. They were very easily implemented by combining the RadRating and RadToolTip controls with the power of RadXmlHttpPanel for easy communication with the server.
We hope that the new RadRating control will help our customers and be a valuable addition to the RadControls for ASP.NET AJAX!