We've updated the look and feel of our documentation to help you achieve your goals and better respond to your feedback. Check out what's new.
Redesign Again? Why?
Nobody loves changes - this is in our core human nature and we know it. However, UX standards are evolving at a high speed these days. It's similar to the speed with which new JS libraries and frameworks are popping up. Over the years we have redesigned our documentation sites a few times, as we always try to deliver the best experience not only in our products, but in our resources as well. They are part of the product offering too and you as developers are spending some time there, right?
The New Way
In the latest version of our documentation, which you can see today, we built a whole new infrastructure. This enables us to easily write and publish more and more new resources, release new features and, importantly, address gathered feedback from you and fix potential issues. And last, but not least – to make your whole journey better and help you achieve your goals easily.
We decided to execute the project lean, and released the new documentation site product by product. Those of you who were on that journey from the very beginning know that we gathered feedback about the new design. And now is the time to say THANK YOU! Thank you to all of you who gave your time to share your ideas, suggestions of what we can improve and do better, bug reports and votes.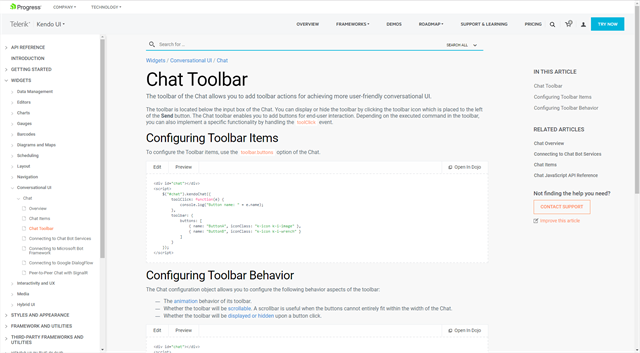 Here are some of the features we have enabled for all of our documentation:
Filter search results by resource type – API reference articles; knowledge base articles; documentation article
Request technical support directly from the documentation site – you can now address your issues or request a missing feature directly from the documentation by contacting some of our Technical Support Engineers
Easy way to contribute – you can now fix a typo, wrong hyperlink or even write content by editing the article directly
Easy way to navigate inside an article aided by table of contents
At the End…
There is no end – we are always working hard to deliver more than expected so if you have any comments, ideas or just want to give us a thumb up – do it 😊.