Announcing Progress Champions—a unified program to recognize and honor our friends in the developer community.
Developer relations is often best done by friends in the developer community. Developers learn from each other's experiences, and it's easy to share a love for tooling that makes developers more productive. Progress has always recognized and honored outstanding folks in the software community—influencers who lead with success, share knowledge and drive the developer community forward with empathy.

The Progress Ninja program celebrated our best friends in the developer community, recognizing experts in the Telerik .NET UI family, Kendo UI JS suites, Fiddler and productivity tools. It's time for a big make-over. Say hello to Progress Champions!

We're transforming our individual "MVP" offerings to a unified program structure. This will allow us to create a stronger, more impactful presence within the developer community. We're starting off with Developer Tools and Sitefinity, with the ultimate goal to include the entire portfolio of Progress products. Progress is proud to acknowledge and honor our exceptional friends in the community. Together we aim to make developers and enterprises in our industry more successful.
So, who are Progress Champions? In short, the best among us. While every Progress Champion is unique, there are some common traits:
Champions are developers, designers, trainers, advisors, partners and influencers
Champions are an active and integral part of the software development community
Champions are experts in products/frameworks/tools from Progress Software
Champions are respectful and work to include everyone
Champions continually share knowledge, educate and inspire others to be successful
Champions foster innovation and creativity within enterprises and the community
Progress Champions represent the very best in our community. Their commitment to excellence and collaboration is what moves us forward, and we are proud to be a part of their journey towards continued success. Progress Champions is an annual recognition program, with nominations occurring in November/December and announcement of the elite Progress Champions group at the start of the calendar year. We celebrate our Progress Champions with a range of exclusive perks and value our continued collaboration.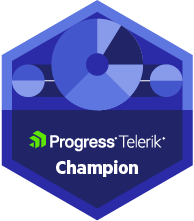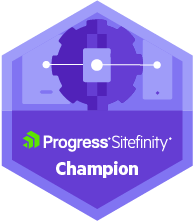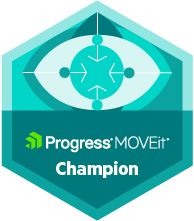 Every Telerik/KendoUI/Fiddler Ninja is now a Progress Champion. You are awesome and we're honored to have you as a friend.
The Progress Champions program showcases excellence in the developer community and the passion to educate others to be more successful. If you work with Progress technologies or know someone awesome, please nominate.
Want to know more about the program? Drop us a line at champions@progress.com. Upwards and onwards with Progress Champions.