We're less than a week out from the Q3 Telerik Kendo UI Release (November 19) and the release keynote (November 20). Cody had a great post announcing our theme this time around: "Data Gone Wild? No More."
Why That Theme?
Each quarter, we have a core theme that drives and unifies our efforts for new features and enhancements in Kendo UI suite. As you may already know, Kendo UI releases six times a year, with three of those being major updates, and three being service packs. That's a lot of releases, and it means that Kendo UI sutie is constantly improving. It also means that we have to carefully align our efforts with the needs of the community to be sure that we are spending our time on the most necessary features and not adding bloat.
That's where the release theme comes in.
This quarter we heard loud and clear that folks are building massive applications that are powered by massive data stores. Those data stores are quite often "technical debt collectors," in that they contain information and business data that has since changed, restructured, moved or archived. That translates into a real problem as applications are ever evolving, and the data becomes a boat anchor on what the application is actually capable of doing.
That should not be the case.
While Kendo UI suite has long offered powerful data management tools in the form of the Grid, TreeView, ListView and the underlying DataSource, our customers told us that they were pushing the limits of what the browser can do with complex datasets, and they needed additional widgets and features.
That's why this release has a focus on some of the new features and widgets we've added to make your life as a "data cowboy" much easier and more elegant. Your data may be a mess on the backend, but your frontend applications will be able to properly work with that data, no matter the size or structure, all within your browser using Kendo UI suite.
That's not even close to being everything in the release though, as we've got some really exciting announcements for you. That brings us back to my original question:
Can You Guess What This Is?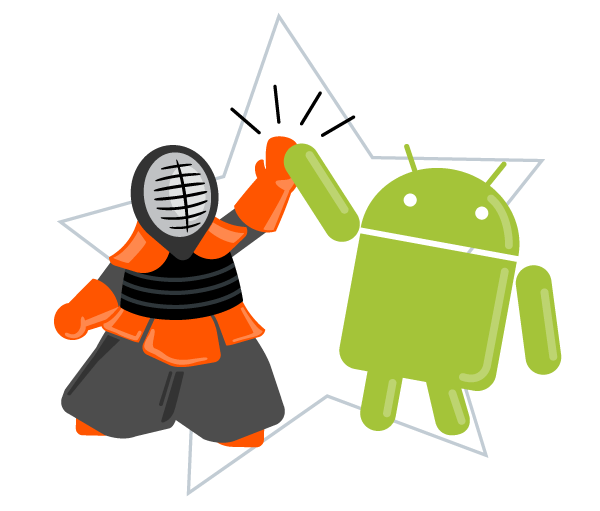 "It's the Kendoka high-fiving the Android robot, Burke." Yes! I know that, but what does it MEAN!?!? That I cannot tell you. You will have to join us for the live Q3 webinar keynote to find out.
On top of that, we're giving away some amazing prizes, like an iPhone 6, a Moto 360 Smartwatch, a Surface Pro 3 and a GoPro Hero 4 camera. Once again, it's a whole load of awesome prizes that I am not eligible to win, but YOU ARE. It's just not fair.
Make sure you register TODAY to reserve your seat. Every time we do one of these things, we run out of space, so the early bird gets the webinar slot.
Join Cody Lindley, TJ VanToll, John Bristowe and myself for an epic Q3 Kendo UI webinar. I promise, this is the one you don't want to miss.