There are a lot of things going on with our local and global economies right now. As businesses attempt to navigate them—for the sake of their customers as well as their bottom line—they're going to need web designers' help. In this post, we look at four things web designers can do to ensure business websites and mobile apps adapt to the changing landscape.
Around the end of the year, many digital publications rushed to put out their lists of web design trends for the year. While those roundups are helpful in figuring out what UIs should look like, they don't really get to the root of what's going on or why we're designing digital products differently from year to year.
So rather than focus on typography, colors and the like, I want to look ahead to the big business trends of 2023 and how they're going to impact the way we build digital products.
4 Business Trends That'll Impact Digital Product Design in 2023
The world around us is changing fast. Some of these major life and business disruptors may be with us for a short while and some for the long term. Regardless of how long we'll be feeling the impacts of them, businesses need to adapt accordingly.
As such, we'll be seeing the following business trends pick up speed in 2023:
1. Product Sustainability
An Accenture survey from 2019 asked customers what motivates them to buy from certain businesses over others. Price and quality topped the list. I don't think that'll ever change.
That said, the report reflected an increasing emphasis on corporate sustainability from the consumer's standpoint. Here are some of the more telling statistics:
83% think it's important for companies to create reusable or recyclable products.
72% said they're buying more eco-friendly goods than they were five years ago.
More than 50% said they were willing to spend more money on goods that are reused or recycled.
Companies have been coming out in droves to respond to consumer demand. In 2019, Forbes did a report on the 101 companies committed to sustainability. There are many different ways in which organizations have been working over the years to reduce their carbon footprint. For instance:
Coca-Cola is moving toward more sustainable sourcing of ingredients.
Honda is cutting emissions via hydrogen fuel-powered vehicles.
Kimpton uses all-natural cleaning solutions in its hotels.
In 2022, Deloitte surveyed over 2,000 leaders. Nearly two-thirds of the respondents say they're using more sustainable materials, while about half have begun using energy-efficient and climate-friendly materials and equipment.
So what does this have to do with you? Well, there are a couple of things you can do as a web designer to support your clients' sustainability initiatives.
The first is to help them create landing pages that explain how they're making more sustainable products—for the planet as well as their users.
Apple, for instance, put out a press release to announce its goal of 100% carbon neutrality: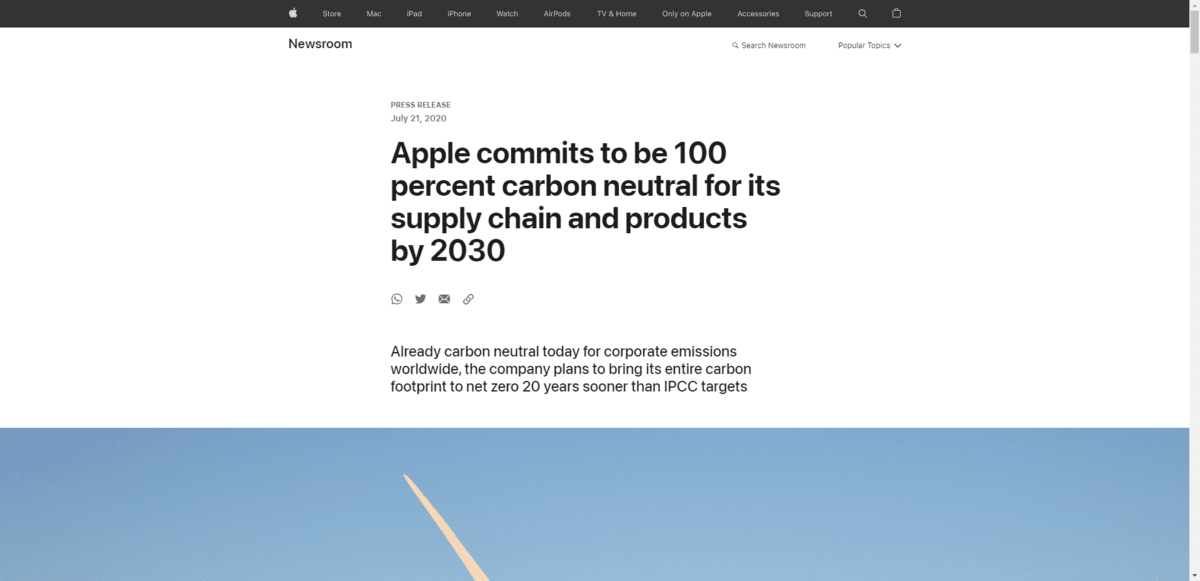 Unlike the typical press release that's about 200 to 400 words on a blank white page, Apple's designer created a beautifully designed landing page to make the announcement.
Sustainability-related pages can be a more permanent and prominent part of a website's structure, too—especially if sustainability is built into the identity of the company and its products. You'll find a nice example of this on the Our Ingredients Story page for DERMA E: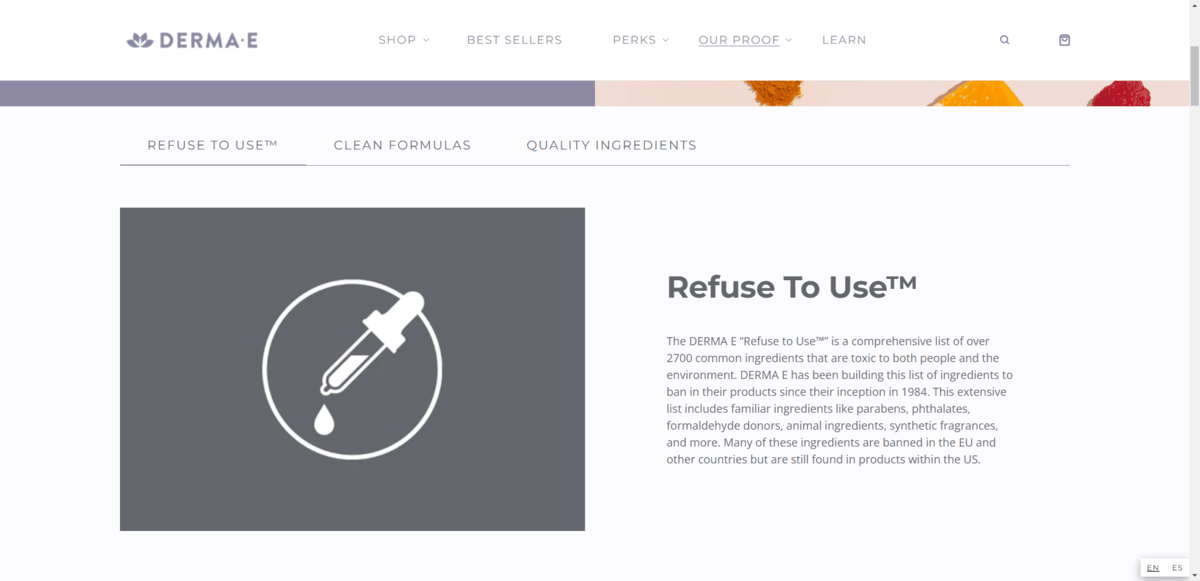 It's a simple enough page, but it does a great job of explaining how the company is committed to using ingredients that are safe for users and the environment alike.
One other thing you can do to help your clients is to ensure their digital products are sustainably built. That means doing things like using eco-friendly hosting, building MVPs and creating lightweight products. Making smarter choices about what you build and what types of features you include in your products will also help contribute to your clients' sustainability goals.
2. Inflation Workarounds
Inflation is affecting everyone right now. Unfortunately, economists are predicting that this inflationary period could last for years.
What are businesses, in particular, to do with this news? Just sit back and swallow their losses?
According to the Harvard Business Review, there are three approaches commonly taken in response to inflation:
Raise prices on customers, which in turn angers them since they're already paying more on everything else.
Keep prices steady and reduce profit margins. However, this can upset investors as they end up losing money.
Cut corners in order to cut costs, but then sell an inferior product or offer a shoddy order fulfillment process to customers.
A decision needs to be made and action taken in order to survive inflation and a recession. What your clients choose to do with their businesses is on them. Perhaps they'll find a creative solution that keeps everyone more or less satisfied for the time being.
Regardless, you should be ready to step up and help your clients integrate their solutions into their websites and apps. With the most recent economists' forecast, I expect that many businesses are going to take action on this around the start of the year if they haven't already.
As for what that could end up looking like, it depends on what type of digital products you build. It also depends on where the company is being hit hardest.
For example, if you build websites for small business owners and freelancers, they might not be dealing with supply chain issues and costs. For them, however, it's the overall cost of doing business that's gone up. In that case, you could do things like:
Automate processes through their website that they were doing manually (like scheduling appointments).
Better optimize their site for search so they don't have to spend time hunting for prospects.
Convert their one-off pricing model into a subscription offering.
Ecommerce companies dealing with rising supply chain costs and fulfillment delays will likely need more creative solutions to their problems.
For smaller retailers, it might be as simple as designing their website in a way that reduces returns and refunds. For others, they may need to spend more money up front in order to get the relief they need. If that's the case, then you should work with clients to research the features and tools they're considering and then do a risk-benefit analysis to see if it's safe to implement.
All of your clients would benefit from finding smarter and cheaper website tools, too. For instance, you could replace things like web hosting plans, online schedulers, premium plugins or extensions, and other tools with cheaper or free alternatives. At least for the time being. So long as it doesn't raise costs elsewhere (like in terms of manual labor and hours), then the tradeoff will be worth it.
3. Digital Accessibility
There aren't a ton of reports out there that cover accessibility from the corporations' side, which is unfortunate. Perhaps if it were given as much attention as sustainability, there wouldn't be such a pervasive problem with it.
I think that in the years to come, organizations are going to start looking for areas of their businesses where they're bleeding money. Inflation, supply chain issues and a looming recession are going to make it impossible for them to ignore their products' inaccessibility and the costs associated with it for much longer.
Consumer data regarding digital accessibility backs this up.
The 2022 WebAIM Million report analyzed the top one million websites for accessibility issues. Here's what it found:
There is an average of 50.8 accessibility errors detected on the home pages of these sites. This is a 1.1% decrease from the year prior.
Homepages have become more complex between 2021 and 2022, jumping from 887 elements to 955 elements. This is a 7.7% increase.
1 out of every 19 elements on a homepage will provide issues for users with disabilities.
Now, these are the top websites in the world. It's likely that leading web designers and developers built those digital products. What does that mean for companies who couldn't afford to pay big bucks to top-tier designers to build and support their websites?
In the end, inaccessibility will prove costly for every business, whether you run a major site like Amazon or a tiny, local operation.
The Click-Away Pound has done two surveys in the UK on this matter—once in 2016 and again in 2019. Here's what they found in the most recent survey:
69% of disabled users will click away from a website after they encounter errors on it.
Those click-aways are valued to cost businesses £17.1 billion (roughly US$19.29 billion).
83% of those surveyed said they try to limit online shopping to sites without barriers to access.
Only 8% of users will contact a website when they encounter an accessibility issue.
75% of users with disabilities rank accessibility over price in their spending decision-making process.
You don't need your clients to explicitly ask you to make their digital products accessible in 2023. If you're truly interested in designing the best products for their users and the most profitable products for their businesses, then accessibility and ethical design need to be part of your process.
I'd suggest reading through the WebAIM and Click-Away Pound reports as they provide a ton of user-backed data on the major issues that appear. Like crowded pages, poor legibility and low contrast.
In addition, it might make sense to add an accessibility menu to your digital product as Baymeadows Vision Center does: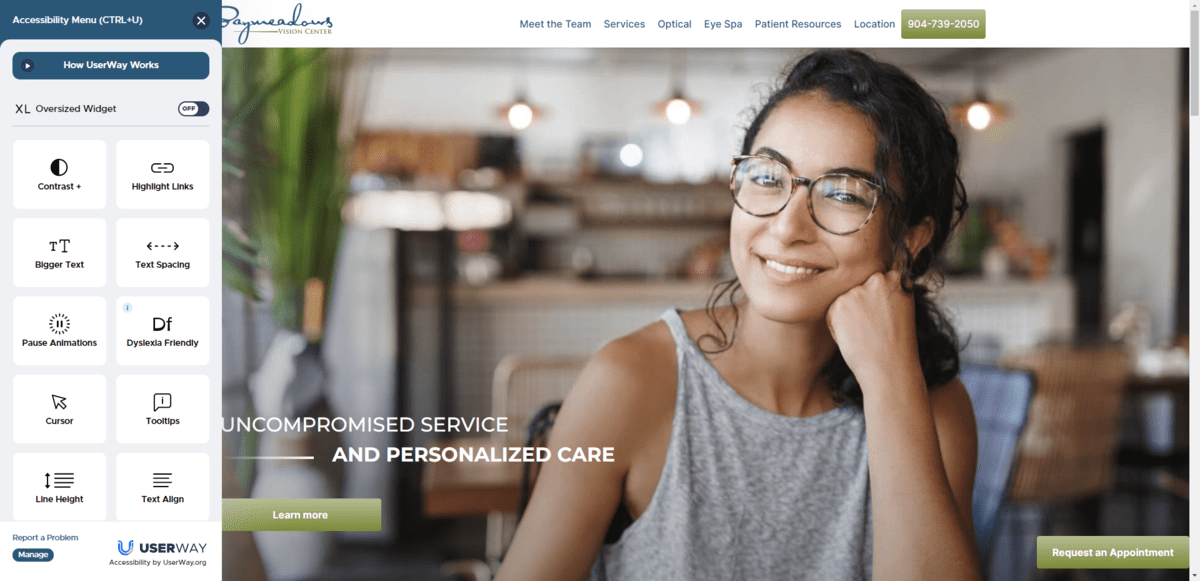 Sometimes it's just not possible to design a website or app for every circumstance where users with disabilities want a little extra help. By providing them with a tool that gives them control over things like text size, spacing and color, you won't have to.
I'd also suggest that, if you're working with a client who's committed to accessibility in all things, that you create a landing page for it. That's what Vanguard does: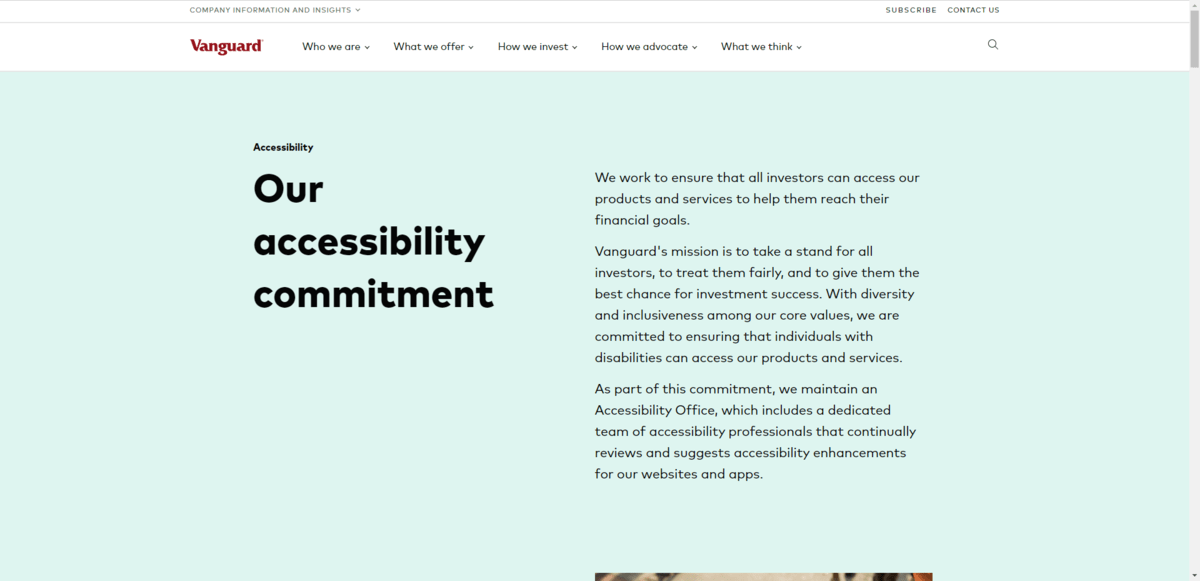 As consumers go looking for proof that a brand is trustworthy and one worth spending money on, they're going to seek out pages related to corporate responsibility. This involves things like sustainability and accessibility. If the brand can honestly make the commitment to initiatives like these, then these landing pages would be beneficial.
4. Employee Retention
You've probably heard of the Great Resignation or the Big Quit by now. It's a trend that began in early 2021 as employees voluntarily quit their jobs.
There are many reasons why this is going on. Let's look at some recent Gallup data that provides more context:
21% of employees feel engaged at their jobs.
33% feel as though they're thriving in their overall well-being at work.
44% experience stress on a daily basis.
Stress, burnout, disconnection. Add to that the pain of inflation. It's no surprise why employees are leaving their jobs in droves.
With the rise in employee attrition rates comes a rise in costs. According to Gallup, low employee engagement alone costs the world economy $7.8 trillion. And when employees up and quit? It brings a whole lot of disruption in addition to monetary losses to businesses as well as the economy.
Because it's not just about trading Employee X for Employee Y. Productivity and morale are impacted the second an employee becomes disengaged. Quitting then throws everything into turmoil with other employees having to pick up the slack until a replacement can be found, trained and integrated into the operation. It's a costly and tiresome practice that has put exponential pressure on companies as employees leave en masse.
All right, so how is this business trend going to impact what you do? For starters, it means paying close attention to another landing page on your clients' websites: The Careers page.
This page will need to do more than just announce job openings. Check out the Careers page on the Chick-fil-A website, for instance: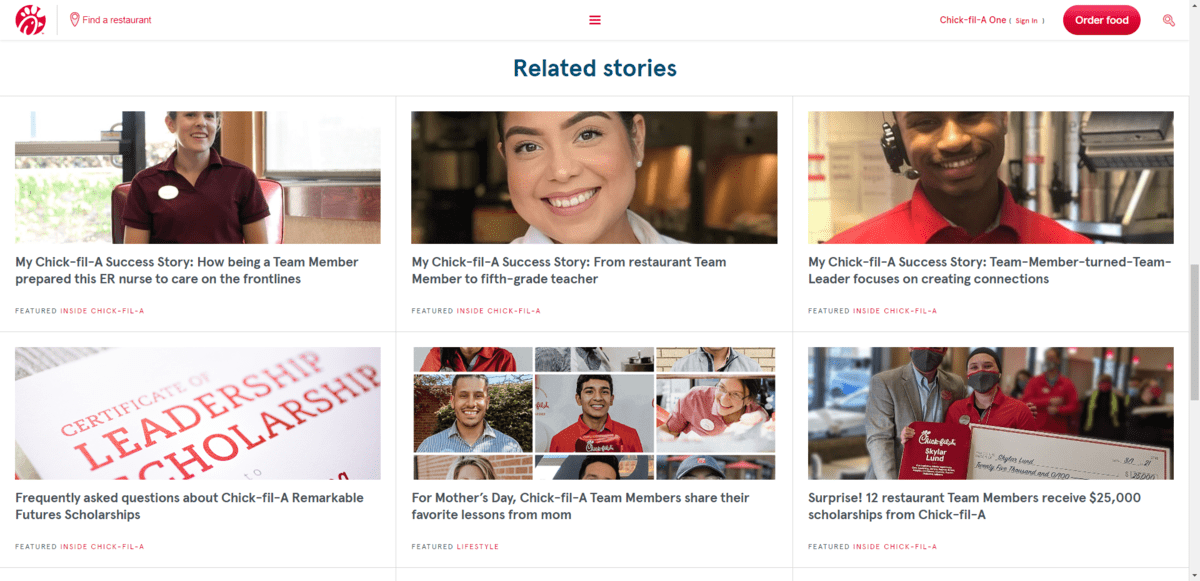 There's a section just below the fold called "Related stories." What prospective employees will find here are inspiring stories of employee success, satisfaction and scholarships. There are no stock photos. What you see are the real employees who take pride in their work and whom the company in turn rewards and celebrates.
While any company can promise that they have a great work environment and outstanding corporate culture, those are just words. But you as a designer have the ability to weave real employee stories—with visuals—into that narrative so that prospects know it's the real deal.
It's also a good idea to trade stock photos for real company photos wherever else they appear on your site, especially on the homepage. Prospective employees are going to be looking for red flags on websites and hiding the true face of employees or their work environment could end up being one of them.
Granted, this won't be relevant for every site you build, like ecommerce sites. However, when a business is trying to recruit employees for a team, this strategy will be important.
One other thing: Keeping your clients' sites well-maintained will make their employees' lives easier. If they're constantly encountering bugs when they try to upload blog posts, answering annoyed calls from customers who can't get the live chat to work, or having to manually do what the site is supposed to, it's only going to add to their stress.
Wrap-up
There are a lot of challenges that businesses face, in general. And there's a lot that their digital products can and should do to help ease those challenges.
These business trends and the complexities surrounding them are no different. While you won't be able to help your clients directly with supply chain issues, employee attrition or anything like that, you can tailor their digital products to what's going on and help their businesses better adapt.