As Q3 is approaching we give you a sneak preview of what's coming in November.
What's new in the box:
RadChartingKit
Our brand new ChartingKit control empowers users to understand and analyze complex data and ensures great performance for your data visualization applications. The new architecture comes to serve the numerous requests for improvements in our existing RadChart control.
We decided to build this new control from scratch to achieve the best results that could not have been done with the architecture of the old RadChart.
The new ChartingKit reuses the charting engine from our Windows Phone 7 Chart and guarantees flexibility, advanced customization options and unique performance.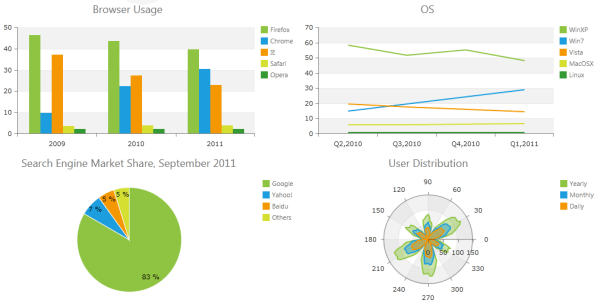 Check out the ChartingKit demos
RadEntityFrameworkDataSource (WPF only)
This control ensures seamless integration between Telerik data controls and Entity Framework. Binding to RadEntityFrameworkDataSource is straightforward and absolutely codeless. Thanks to this new control your app will stay responsive as all data operations will be executed on the server.
Check out the EntityFrameworkDataSource demos
RadVirtualizingWrapPanel
RadVirtualizingWrapPanel boosts the performance of your ListBox/ListView when binding to a large amount of data. The control generates only the visible items and positions them in a sequential position from left to right and top to bottom, breaking the content to the next line at the edge of its containing box.
Check the VirtualizingWrapPanel demos
RadBarCode

RadBarcode allows you to accurately track your physical products with native high-quality vector-based images that follow the most popular and widely-adopted barcode symbologies.
Download the Beta Release under your accounts.
Note that now we're shipping new RadControls for WPF installations that install both WPF 3.5 and 4.0 controls.
Check out the beta demos at:
Silverlight Beta Demos | WPF Beta Demos
As always we will greatly appreciate your feedback on the new controls and features we provided with this beta release. You can use our Beta Forums to post any findings and questions. We will gladly reply.
Silverlight Beta Forum | WPF Beta Forum
The upcoming official Q3 release will introduce even more new controls so stay tuned for more in November.