The Telerik UI for WinForms R1 2016 SP1 is here, featuring improvements to VirtualGrid and much more. Learn more about the latest upgrades.

With this blog I would like to introduce you to what's new in the R1 2016 SP1 release of Telerik UI for WinForms. During the past month, we continued to develop further enhancements throughout the suite, and continued to improve and add to our newest control—RadVirtualGrid, which debuted in our previous release.
Here are some of the highlights in this release.
RadVirtualGrid
AutoSizeColumnsMode—With this mode, the grid will size the columns in a way that automatically fills the available real estate, depending on the size of the content it contains.

Save/Load layout with flexible serialization API—With the new serialization API, the control's content can be serialized to a file/stream and then deserialized. This makes it possible to preserve user settings and restore them afterwards. In addition, the API allows for fine grain customization on what should be serialized, providing the opportunity to remove some of the default items being serialized and to add additional ones.
Cell and row validation—The CellValidating and RowValidating events provide functionality to validate the cell/row contents. This functionality is also complimented by an error indicator displayed in the indent cell, used to notify the user of a validation error.

Right to left support—The control now features RTL support, so it is now enabled for world-wide adoption.

Design time improvements—The design time functionality of the control is also improved. With the new Smart Tag, the most common control options are exposed for easier setup.
RadDiagram
RadDiagram's toolbox now features over 60 predefined shapes and connections. The Basic shapes have been complimented with new ones, and three new categories with shapes and connections have been added—Arrow, Flowchart and Container.
RadGroupBox
RadGroupBox's latest addition is support for mnemonics. Prefixing any of the characters in its header text with an ampersand will place an underscore underneath the character, and the prefixed character will play the role of a keyboard shortcut. When executed, this will select the first control in the group box container.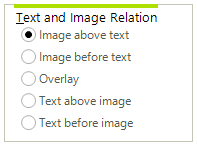 Go ahead and grab this update now—you can get the latest bits from your Telerik account. If you don't have one, you can also download a trial here.
As always, your comments are most welcome. Feel free to leave a comment below, and you can also use our feedback portal to review and vote for current ideas or share new ones.