Windows 11 theme has arrived, with great features to give your WinForms apps a modern stunning look. Designed for touch devices, the theme's controls are larger than our regular themes'. Built-in animations, corner radius, custom fonts and shadows that match Windows 11's Fluent design aesthetic are also here.
New year, new release, new awesome features. Yes, I'm talking about the R1 2023 release and its masterpiece—the Windows 11 theme—packed up with lots of great features that are a must if you're craving to give your WinForms apps a new, stunning look.
What to expect of our new theme in Progress Telerik UI for WinForms:
Touch-friendly design (larger control size compared with the regular themes)
Built-in animations
Support for corner radius
Custom fonts
Shadows
Well, aren't these the ingredients of a fluent aesthetic design to die for? You bet.
I believe you are already as eager as me to dive into the Windows 11 awesomeness. So, let's do it!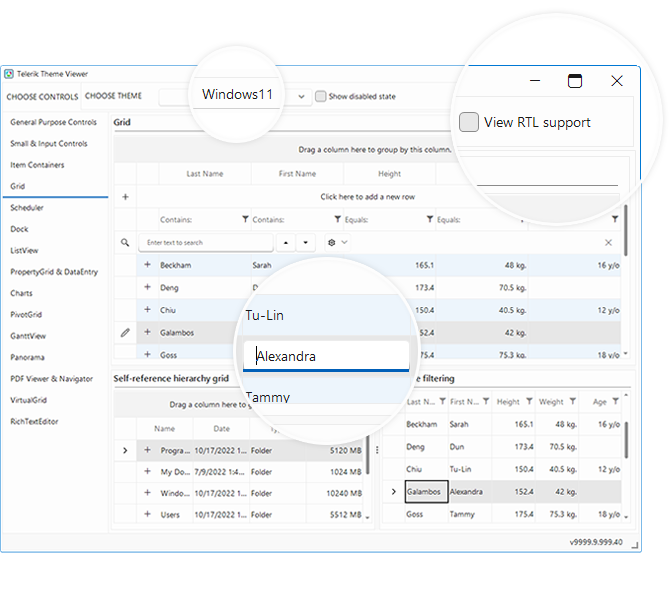 Colors
Let's start with the essentials of a theme—its colors. These feature mostly white or light grays for the borders and backgrounds. I can totally say that the Windows 11 color palette is context-appropriate and provides a calm experience, subtly enhancing user interactions, and emphasizing significant items only when necessary.
Modernized Icons
Familiar with the icons to a point of boredom? No worries. We thought about this while creating the new Windows 11 theme and introduced a new glyph font—TelerikFluentIcons. It features the same set of icons as TelerikWebUI but with a different appearance to follow the trend of the Windows 11 theme and embrace its modern look.
Selection Indicators
If you have already upgraded to the Windows 11 OS, one of the first things you might have noticed about it are the tiny indicators to the currently selected item in the settings menu. Well, this is a sure thing to see once you get to try out our Windows 11 theme, too.
Also, for the very first time, for this theme we are providing items with a rounded backplate in the selected state and an accent-colored selection indicator. Shall we see how this looks?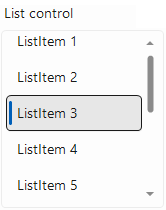 Creating a Custom Theme
Are you familiar with the VisualStyleBuilder? You are empowered to use it to bring a personal touch to the Windows 11 theme. Or you can create a whole new custom theme out of it to create a unique visual experience. How? By following these simple steps:
Go to the Tools section in the menu
Click Blend Color
Tune in to perfection
Save it to generate a new theme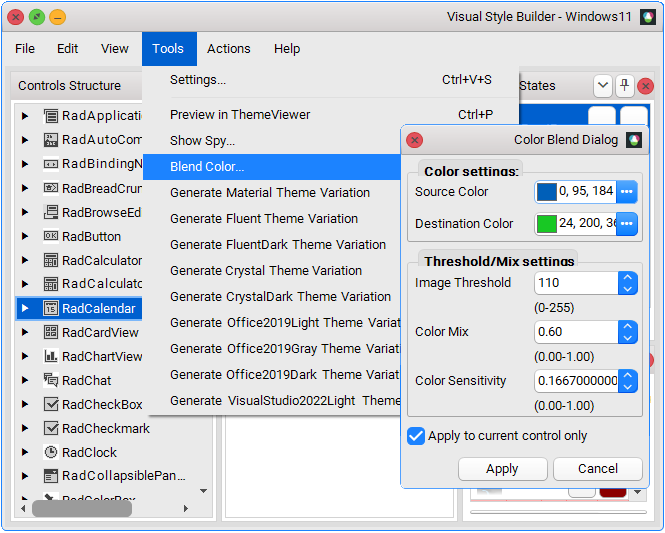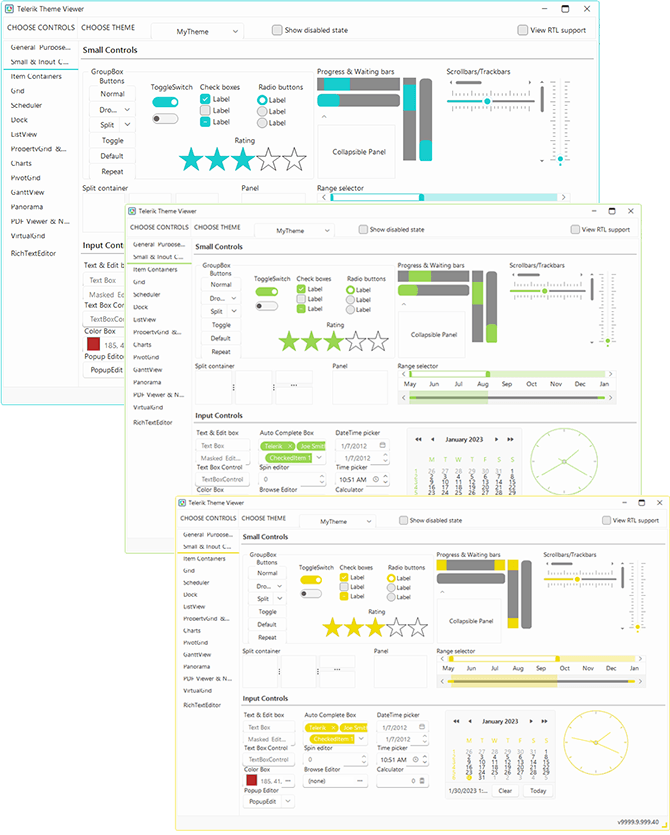 Sign up for a Trial
Feel free to sign up for our free 30-day trial, which gives you access to the components as well as our outstanding technical support at zero cost. Just head to the Telerik UI for WinForms overview page or click the button below to sign up for a trial today!
Time For Feedback
Oh, and one more thing. We would be more than happy to hear your thoughts and suggestions once you try the theme and the other release goodies, so please drop us a line in the comments section below or by visiting the Telerik UI for WinForms's Feedback Portal.
And stay tuned as Windows 11 Dark and Windows 11 Compact are coming soon, too. 🥳