In the second release of Telerik UI for WinForms for 2018, we will be adding a new control to the suite – the Image Editor, enabling various image editing capabilities in your WinForms apps.
The next release of Telerik UI for WinForms is just around the corner and I wanted to give you a sneak peek into one of the new controls that we will be adding to the suite – The Image Editor.
As we want to help you as developers in your day-to-day development, we closely monitor your feedback and suggestions through the WinForms Feedback Portal, and incorporate them into our roadmaps. The Image Editor was one of the most voted items in the portal over the past few months and as such we got down to business and will be shipping it with the Telerik R2 2018 release.
What's in the Box?
It is said that a picture is worth a thousand words and we, both as users and developers of applications, very often rely on images to visualize important elements or use them as a complimentary source of information. However, images come in all sorts and sizes and need to be manipulated in various ways in order to adequately present information in the way we want them to.
With the new Image Editor control in Telerik UI for WinForms, users will be able to perform some of the most common image editing operations directly in your application intuitively and quickly. Check out how it looks in the image below: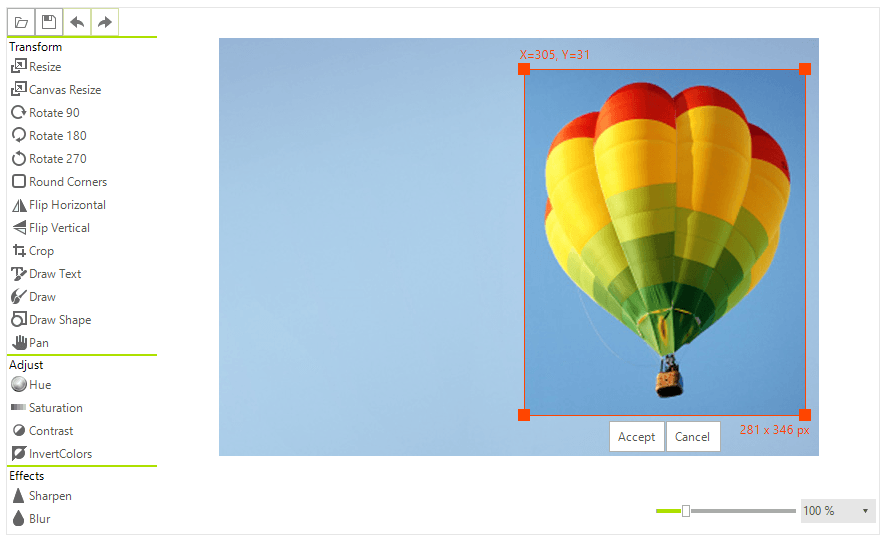 The list of features includes transformational editing, such as resizing, rotating, flipping and drawing, as well as other adjustments and effects. In other words, all the basic image editing capabilities, as well as a few niche ones (like how often do you sharpen images? :) ) Last, but not least, we will also be introducing integration with the RichTextEditor in the suite, so that image manipulations can be done straight into the control without having to rely on external apps.
Try the New Features on May 16th
We are constantly trying to enhance and increase the number of controls and features in the Telerik UI for WinForms suite, and believe that the Image Editor is a powerful improvement. We are very grateful to all of you for your constant support and feedback in the process – we couldn't have done it without you!
Of course, this is far from everything that we will be shipping with the Telerik R2 2018 Release, so be on the lookout and make sure to download the latest version from your account or through a fresh trial next week.
Learn More at the Webinar
In the meantime, make sure to sign-up for the Telerik R2 2018 Release webinar, where our developer experts and members of the product team will go over all the new goodies coming with the release across all product lines.