Check out the new continuous scrolling in Telerik Reporting, which delivers more data that is easier to work with in fewer actions: a better experience.
Scroll, scroll, scroll. We all love it. We all do it. Every day, everywhere. Facebook, Twitter or just in your favorite news site. Do not try to fool me that you do not scroll, because after a minute you will scroll. Scroll, scroll, scroll.
I am very happy to let you know that now you can scroll, and scroll, and scroll, in your beloved Telerik Report Viewer too. The new page mode gives you the ability to read the whole report just on a few scrolls. No need to click somewhere to navigate or enter a page number.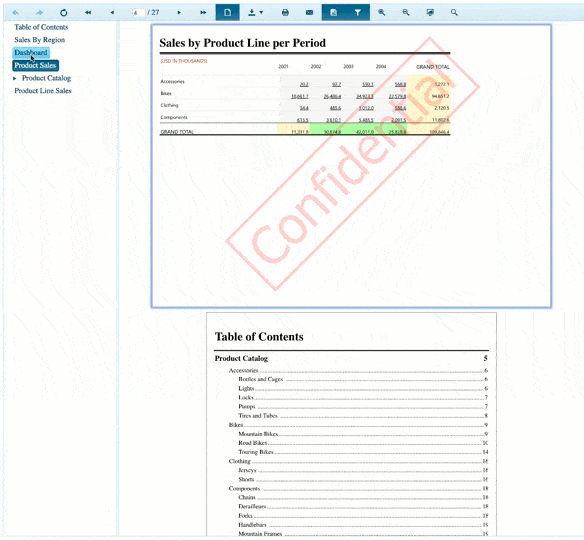 Benefits
There are a lot of reasons why you should move to continuous scrolling. Here's some of them that I found most interesting.
Fewer clicks - Scrolling is easier for users than clicking (and then scrolling again) and requires less action.
Better content exposure - Continuous scroll lets users find the content they might not otherwise see.
Great for mobile - Continuous scrolling is especially beneficial for any mobile or touch users.
Increase the number of content pieces (also known as page depth) – the user can see and comprehend more data just in one look.
Continuous scroll makes it easier to read the piece you're on, and then makes it easier to read the next.
How Does it Work?
Telerik Report Viewer page scroll mode has the behavior of a continuous scroll. When the report is ready, N pages are rendered in the viewport to fill in the visible part of your report viewer. A next or previous page is loaded on demand after you do what? That's right after you scroll.
How to Enable It?
After updating your Telerik Report Viewer to the latest version, the continuous scroll will be the new default page mode for your viewer. If for some reason we cannot imagine yet, you do not like the new page mode, there is an easy way to switch to the old single page mode by setting the following property to your Telerik Report Viewer.
pageMode: telerikReportViewer.PageModes.SINGLE_PAGE,
Expected Behavior
Of course, there is no need to tell you that all already known navigation mechanisms will continue to work for the continuous scroll mode. For example, if you are on page 2 and want to go to page 150, just type the wanted page in the navigation input in the Telerik Report Viewer toolbar. Do you love clicking? The beautiful buttons in the toolbar area will be there for you, to help you navigate to the next or previous page, or just to jump to the end or to the begging of your report.

To summarize. More data, easy to work with, fewer actions, better experience. That is the new Telerik Report Viewer page scroll mode. Upgrade and enjoy it.
Try it Out and Share Feedback
We want to know what you think—you can download a free trial of Telerik Reporting or Telerik Report Server today and share your thoughts in our Feedback Portal, or right in the comments below.
Start your trial today: Reporting Trial Report Server Trial
Tried DevCraft?
You can get Reporting and Report Server with Telerik DevCraft. Make sure you've downloaded a trial or learn more about DevCraft bundles. DevCraft gives you access to all our toolsets, allowing you to say "no" to ugly apps for the desktop, web or mobile.