Check out the new additions in the latest release of Telerik Reporting and Report Server—Web Report Designer Wizards, SVG support and many more.
The last major release of Telerik Reporting for this year brings new features, anticipated additions and stability improvements, and has something for everyone. If you like our Web Report Designer, you'll love the new Data Source Wizards and the numerous UX enhancements. We added SVG support to our PictureBox item for those of you that need vector graphics support in their reports. And the report preview cancelling in web viewers will come handy in situations where the remote processing needs to be stopped to save machine resources.
These and many more features are awaiting you in our new R3 2020 release.
Web Report Designer
In this release we continue to fill the gap between the Web Report Designer and its desktop siblings, focusing on better UX that facilitates the design report process. The web designer now has three new data source wizards for WebService, JSON and CSV data sources that will help you to configure the data retrieval faster.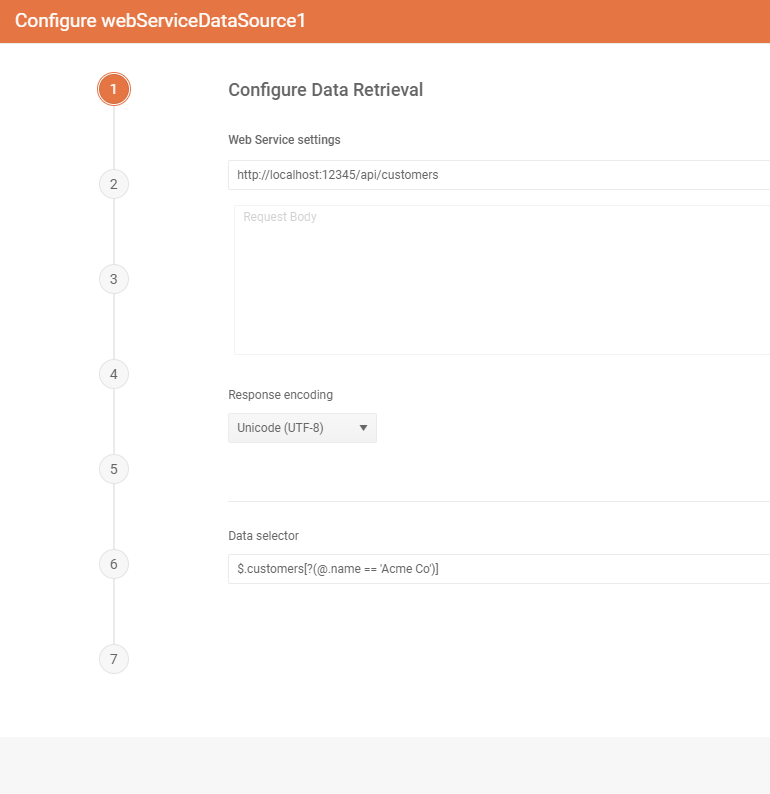 Another important addition to the designer's UX is the new Reset functionality. The small square on the side of each editor in the Properties panel shows if the value of a particular property is explicitly set or inherited and allows to restore it to its default value.
New WPF Theme—Office 2019
Our WPF Report Viewer is built with the latest Telerik WPF controls and naturally benefits from their new features. In R3 2020 we added Office2019 to the list of supported themes. It comes in three variations: Light, Dark and Gray that will give a refreshed look to your WPF application.

SVG Support
Displaying vector graphics in our PictureBox item is one of the most requested features in our Feedback Portal. This release we've added support for SVG files that will be persisted as markup in the report definition to ensure the best rendering quality for any image size. The vector output is preserved in all rendering extensions that support it, like HTML5, DOCX, XLSX and others.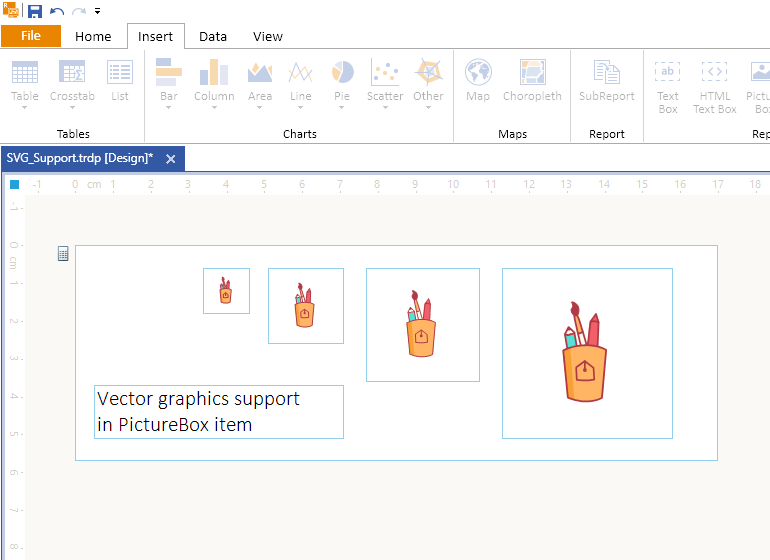 Cancel the Report Rendering in Reporting REST Service
Stopping a report that is being rendered is a simple task in scenarios where a local rendering engine is used. but gets a bit complicated when the report is rendered by a remote Reporting REST Service. This feature is also highly anticipated by the community and we're glad we managed to deliver it with R3 2020 release. Now the web clients like HTML5-based report viewers can send a cancellation request for a specific report to the REST service and the remote rendering engine will execute it whenever possible.

Performance Optimizations
We kept optimizing and fine-tuning our engine to deliver blazing-fast rendering speeds at low memory cost. This release introduces some neat optimizations like parallel processing of report pages and reduced memory consumption when working with images. As a result, large reports can be rendered up to 30% faster and images retrieved by user functions will occupy much less memory.
Report Server
This release doesn't include improvements specifically targeting Report Server, but since it uses the Reporting engine and optionally can utilize the Web Report Designer, the features above are also applicable to Telerik Report Server.
Fixed Bugs
Along with the improvements we kept eliminating issues from the previous releases of our product. The full list is available in the release notes for Telerik Reporting and Telerik Report Server.
Learn More and Get Started Today
Learn more in our upcoming Telerik Reporting Release Webinar on October 2nd (and live Twitch demo that follows it!) or just take them for a spin—try out the latest versions today with a free trial:
Try Reporting Try Report Server
You can pick these up as individual products, or as part of the great DevCraft bundles.
Telerik DevCraft
is the finest software developer tools collection across .NET and JavaScript technologies, which includes modern, feature-rich and professionally designed UI components for web, desktop and mobile applications, reporting and report management solutions, document processing libraries, automated testing and mocking tools from the Telerik and Kendo UI suites. DevCraft will arm you with everything you need to deliver outstanding applications in less time and with less effort. With the backing of
our legendary support team
, which consists of the developers who build the products, and a ton of resources and trainings you can rest assured that you have a stable partner to rely on for your everyday challenges in your software development journey.