Hi there,
We're excited to present you the brand new installer of the RadControls for ASP.NET AJAX Q1 2009 SP2 suite. The installer passed all the internal tests successfully. I'd like to mention that we plan to add even more stuff for the official version (scheduled for Q2 2009). The new installer is still in beta testing phase and the official download is still using the "old" installer. Both installers extract exactly the same DLLs, Demos, Resources, Documentation, etc.
So what's inside:
RadControls for ASP.NET AJAX Visual Studio Extensions are now shipped with the controls, allowing the creation, configuration and upgrade of a Telerik Web (WebSite or Web Application):

A new model of toolbox item installation, allowing more stable toolbox items and improving the developer experience.
Improved installation/uninstallation time.
Improved status messages and progress information during the install:

Following the new trends, the installer is now based on WiX.
And last, but not least, for your viewing pleasure – the improved UI :)
The download is available in your Telerik ClientNet account under the My Downloads section.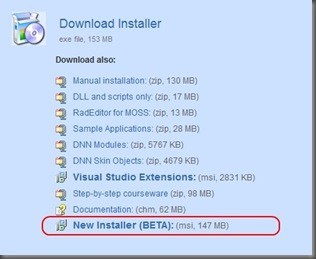 Try it now!
(You need to uninstall RadControls for ASP.NET AJAX Q1 2009 SP2 if you already installed them through the official SP2 exe installer)
Please, check out the forum, we welcome any questions and/or suggestions you might have.
Cheers
the Telerik VSXTeam