Two days after the Telerik AJAX Q3 2011 Beta launch we are presenting you the MVC Q3'11 Beta preview bits. Among the highlights are the new Metro skin for all Telerik MVC Extensions, improved mobile support, new Pie chart series type, keyboard support for the editor and a bunch of new features for the grid extension. The compressed packages for the Open Source and Commercial distributions are ready and steady for download.
Enhanced Mobile Support | Metro skin
With this early preview we are conveying improved mobile support for our MVC extensions in terms of drag & drop and touch support for the grid, treeview, slider, splitter and window extensions. Furthermore, the skins set receives an important update with Metro UI design inspired addition.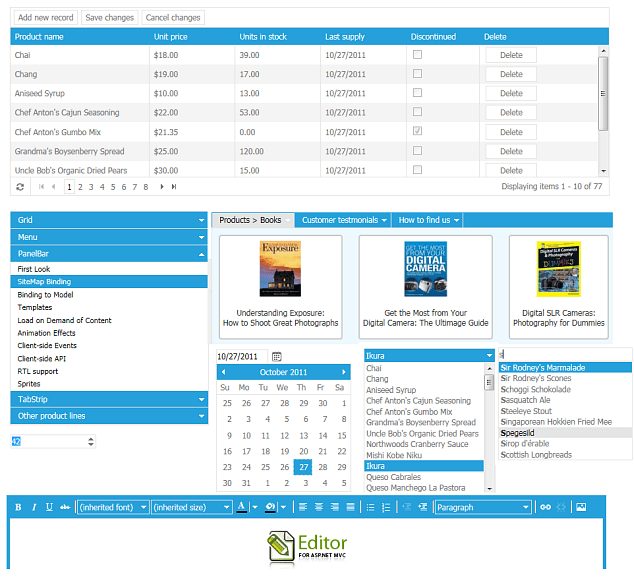 Head on to the live demos to see those in action.
New features for existing extensions
Pie Chart - a brand new chart type joins the bar, column and line 'species' that came out with the debut of the Telerik HTML5-powered MVC charting in Q2 2011. It comes with all anticipated goodies such as tooltips, labels positioning and angles, smooth animations, etc., and it is blazing fast!
Expect one more chart type (XY, or scattered) to make its first appearance with the official Q3 2011 blast.
Grid Features - With this release we are enhancing the grid with features like column chooser (client show/hide API is also integrated), built-in foreign-key column with dropdown editor, and the ability to execute custom commands using command columns.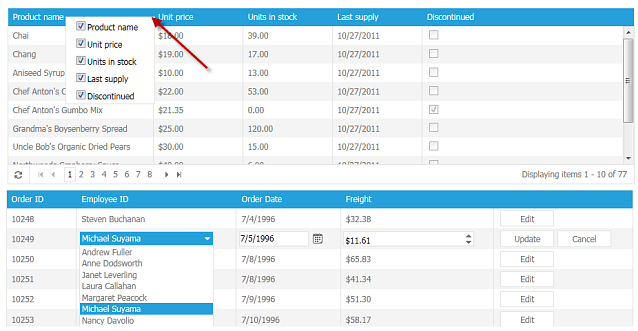 Editor keyboard support - the editor now benefits from intuitive keyboard support, which also amplifies its accessibility. Expect a demo showcasing this feature for the formal release in mid November.
The Beta's live demos, documentation and release notes can be found at:
Live demos | Documentation | Release Notes
I hope that you will enjoy all these charms which can make your MVC apps richer and more appealing to the end users. As always, do not spare us your comments and deliberations either by sharing them directly in this blog post or using the Q3 2011 Beta forum medium.
Are you into ASP.NET development? Download our AJAX and MVC components now to cut back development time and boost your productivity!