We are pleased to proclaim the immediate availability of the Q3 2010 BETA release of Telerik Extensions for ASP.NET MVC.
Our MVC suite grows with two new extensions:
TimePicker
DateTimePicker
We also added several major features for the MVC Grid - toolbar template, column header and footer templates and column reordering, and improved its binding mechanism. All this comes together with ASP.NET MVC 3 Beta support, added/improved RTL support and enhanced accessibility for all Telerik MVC Extensions.

Check our ONLINE DEMOS and RELEASE NOTES

The downloads are now available in your account (in case you have a license for Telerik Premium Collection or Telerik Extensions for ASP.NET MVC) or under the Open Source license here: both full installation (MSI) or manual installation (ZIP)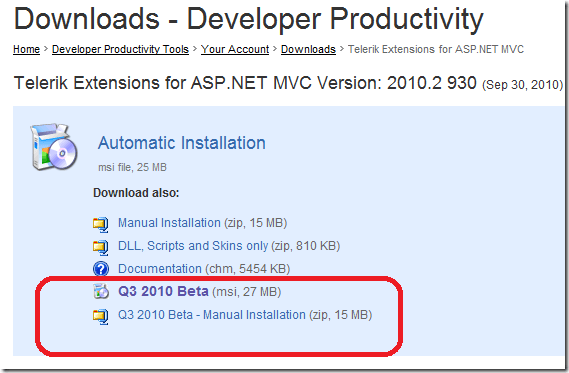 Details on the Q3 2010 BETA (also present on Telerik Labs)

TimePicker - The time picker extension combines input with attached timeview dropdown and allows you to enter time directly or select it from the popup. Major features include: Globalization, Built-in MVC client and server validation support, Animations, Rich client-side API and events.


DateTimePicker - The component joins the features of the DatePicker and TimePicker Telerik MVC extensions (having separate popups for date and time selection).


Grid
Toolbar, column header and footer templates - the grid template engine is enriched with this release and provides the choice to define the grid toolbar and header/footer templates in a completely custom manner.


Column reordering - side by side with column resizing introduced in the previous major release, our MVC grid now has integrated column reorder feature. Thus the users can rearrange the grid columns interface according to their preferences.

Last but not least, we improved the RTL support for the Telerik MVC extensions (added it for these which have not had such so far) and enhanced the accessibility of all components. Each extension has separate online examples that demonstrate both common features.

Do not hesitate to share with us your feedback for the new extensions and features introduced in the Q3 2010 Beta release in our public forums here.