The days are getting longer here, at Telerik Central, as we are working hard to bring you the next top-notch release.
Much attention is directed at RadScheduler and we have some good stuff coming down the pipeline. The beta is due today, so we have decided that it is about time to spill the beans.
Looks count, really. That is why we have decided to add a touch of class to RadScheduler and make it a stylish part of your even more stylish applications.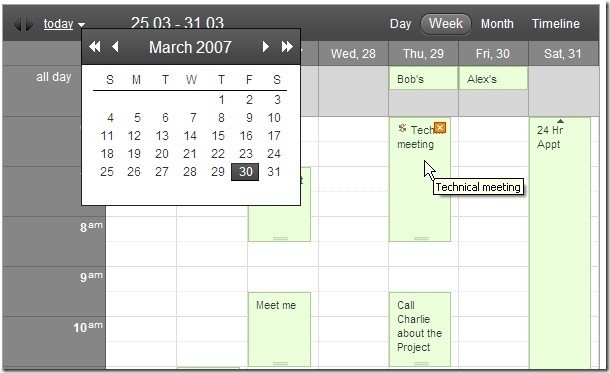 The changes are more than skin deep. The markup and the CSS were simplified and reduced in size for better performance.
A total of three skins will be available in the beta, namely Default, Hay and Office2007. The rest will be ready to shine in time for the full release.
Currently, grouped views can easily get crammed up. But this is no longer the case, as horizontal scrolling will also make its debut in this release. Just set ColumnWidth to the desired value and RadScheduler will do the rest:
The inline template has received some attention too. It is now rendered on the client in order to reduce the number of requests to the server. It can be resized and its not constrained to the cell that contains it.
The advanced template has also undergone some improvements. The inputs are now validated and the client script has been vastly improved. The refreshed design and the addition of animations add to a better user experience. We also provide VB version of the templates.
Last, but not least, we are very happy to announce that we have adopted jQuery and it is starting to make its way into our products, including RadScheduler. It is such a delight to work with and results in compact and maintainable code. It will also make implementing client-side features much faster. And we have the proof coming...
Regards,
The RadScheduler crew.