The R2 2016 release of Telerik Reporting is live. We deliver top requested features like interactive sorting, improved page breaks and more.

The R2 2016 release of Telerik Reporting is here. For this release we have delivered the top requested features in our feedback portal.
Interactive Sorting
In R2 2016 we now support interactive sorting action for all data items and groups. This means that all of the items/groups that currently support static sorting now support interactive sorting action. This includes table, crosstab, graph, map, choropleth, list, report and their groups. The sorting action is available in interactive mode for all viewers (HTML5, MVC, Web Forms [modern and legacy], Silverlight, WPF and Windows Forms) and in the report designers' previews.

Report Viewers Can Display Remote Reports
The WPF and WinForms Report Viewers can now consume reports from Telerik Report Server and Telerik Reporting REST service.

In the previous release, we integrated the HTML5 Report Viewers with Telerik Report Server. Now we continue our efforts and have enabled the Telerik Reporting desktop report viewers (WPF and Windows Form) to consume reports rendered in Telerik Report Server or Telerik REST Service. As a result, you can feed your WPF or WinForms app with reports stored, rendered, and cached remotely.

This will enable you to update each report remotely without the end user having to upgrade the already installed application. Additionally, you can use all of the Report Server caching capabilities and schedule complex reports for pre-rendering. Thus, when requested the report will be delivered without any delay.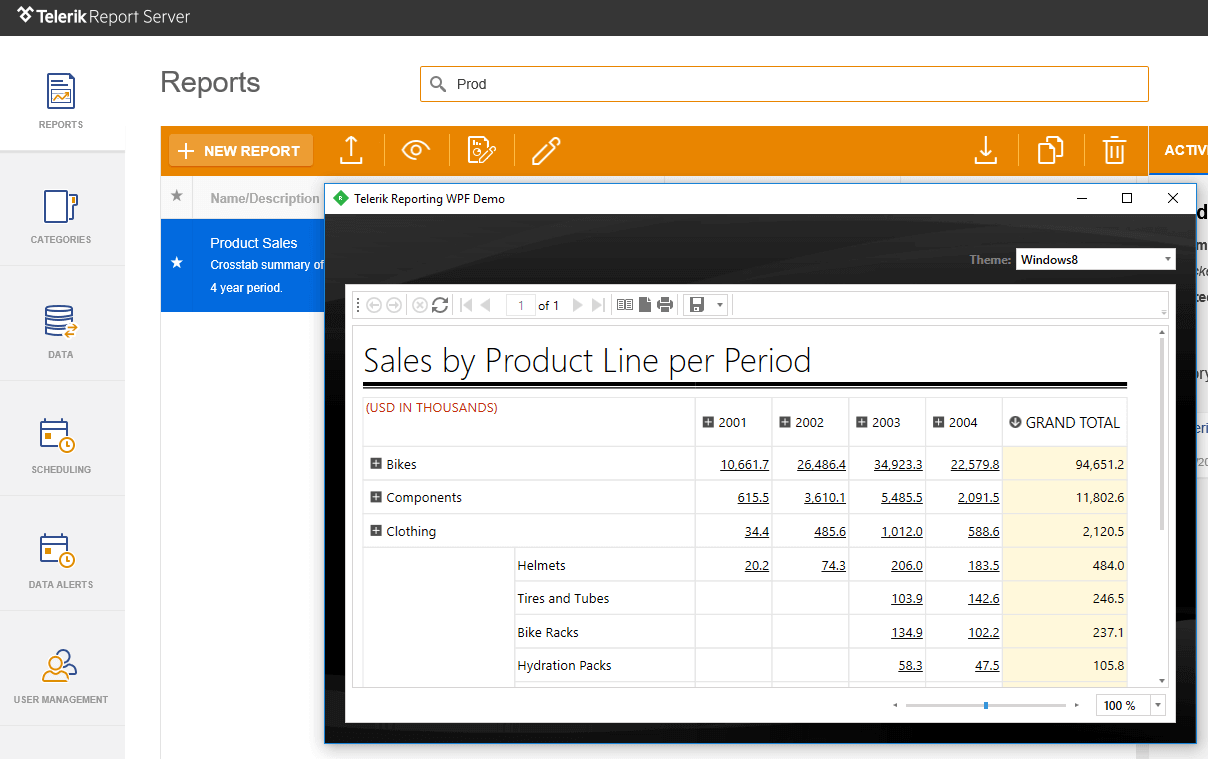 Automatic Page Breaks in Nested Tables
This is another highly requested feature. Generally Telerik Reporting has always supported nesting data items, even if they use different data sources. Now we have improved our vertical and horizontal paging, and when building nested tables, the row/column of the parent table will automatically insert page breaks when the nested table content doesn't physically fit into the current page. This way you can nest any number of tables, crosstabs and lists without worrying about unwanted blank space.

We hope you enjoy our latest upgrades. Feel free to grab a free trial today, and we look forward to hearing your feedback through our portal or in the comments below.