Join us in September for our free workshops on modernizing through migration—one with Blazor, and one with .NET MAUI. Save your seat today!
Planning to Modernize or Migrate Your App with Blazor or .NET MAUI?
To keep developers like you productive, today's .NET world inhabits solid frameworks, matured tooling across platforms and a rich ecosystem. Modern .NET runtimes empower developers to go deep on specific platforms, while sharing code with cross-platform solutions, and with .NET 8 around the corner, app modernization must be on top of mind for many of you.
Migration efforts are often viewed as technical debt since the time cost is high. Time spent learning how to use new technology can burn cycles and for that reason alone, dev teams often are resistant to adopt new technologies.
But with every change, there is also an opportunity. Your migration could be fast, painless and successful if it is planned well, implemented with care and communicated extensively. We could help you to transform the change into opportunity.
If modernization and migration to Blazor or .NET MAUI are in your plans, you are in the right place to start. Our developer advocates Ed Charbeneau and Sam Basu have prepared two Modernization Through Migration workshops in September.
Let's take a closer look at each of them. Save your seat today, learn how easy it is and try it for yourself.
Modernization Through Migration: A Blazor Workshop on September 13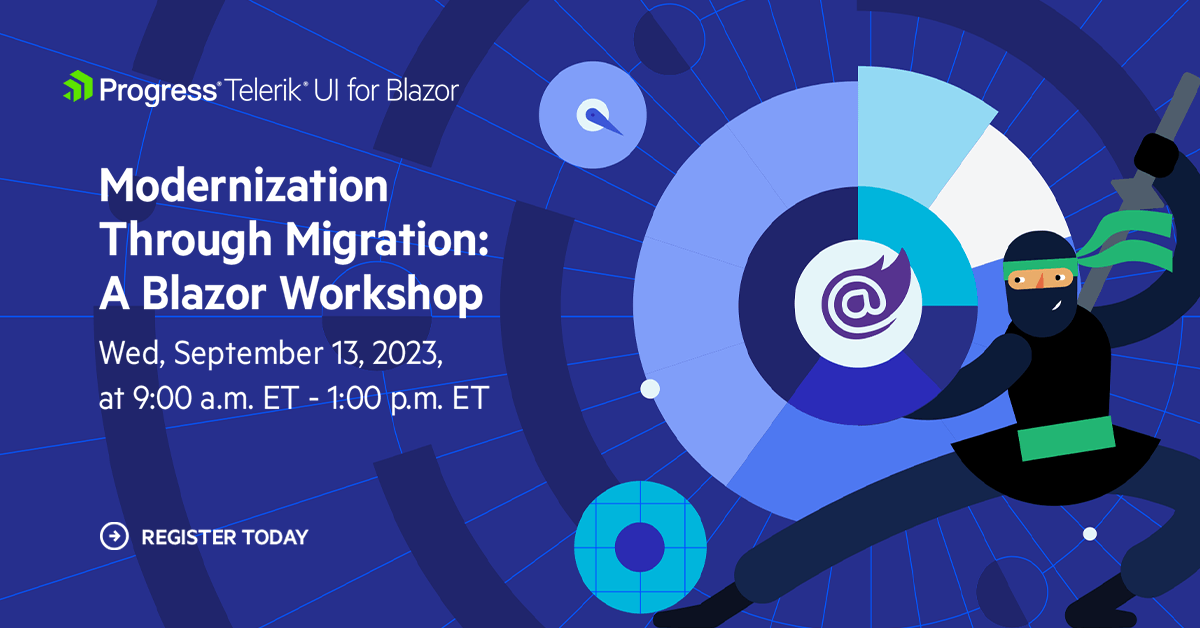 Utilizing Blazor's component-based programming model, cross-platform compatibility, seamless integration with other .NET technologies, and an incremental approach, you have the ability to modernize any web application with minimal disruption to your business operations.
In the Blazor workshop, you will understand the scope of migrating your .NET apps, explore the Microsoft Upgrade Assistant, start a new Blazor server project, learn how to easily migrate web forms application to Blazor and everything new around the framework. Additionally, you'll create a DataGrid with full editing. Don't miss this great opportunity and save your seat today.
Modernization Through Migration: A .NET MAUI Workshop on September 7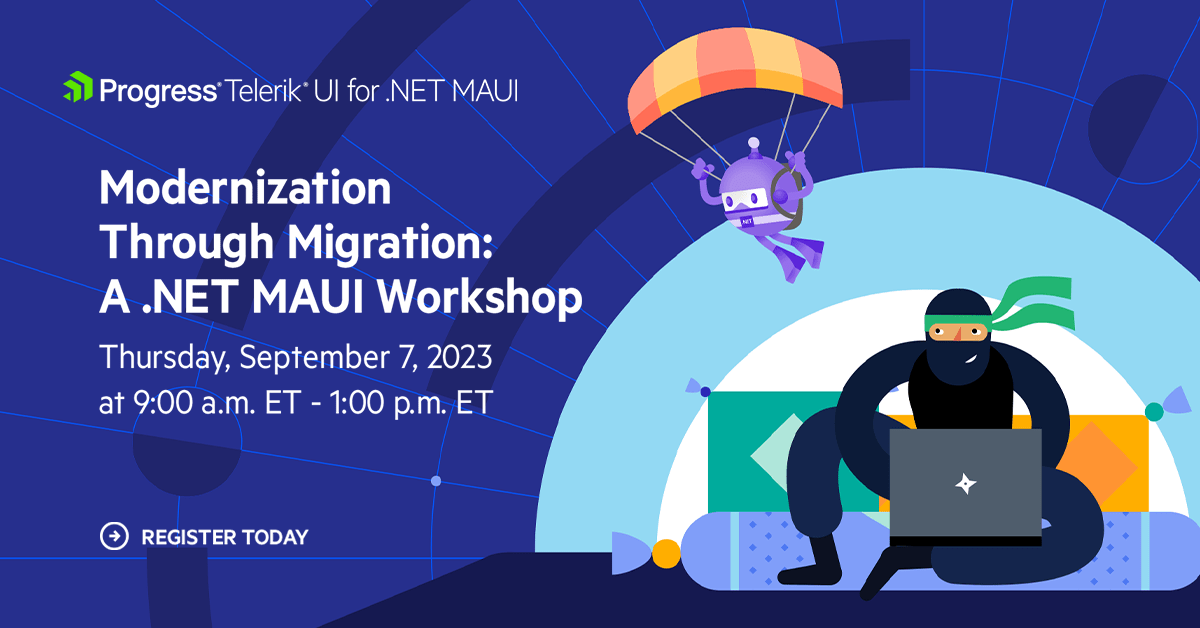 By migration to .NET MAUI, you can enhance your application development experience through the adoption of a modern, cross-platform framework that offers native UI controls and exceptional performance.
In the .NET MAUI workshop, you will dive into .NET MAUI, learn how to easily migrate from Xamarin.Forms to .NET MAUI, investigate considerations from WPF/WinForms to .NET MAUI journey, explore opportunities of Blazor Hybrid and everything new about cross-platform development. Don't miss this great opportunity and save your seat today.
Our Hosts Invite You to Join Them in September
Ed Charbeneau – Ed is a Microsoft MVP and an internationally recognized online influencer, speaker, writer, a Developer Advocate for Progress, and expert on all things web development. Ed enjoys geeking out to cool new tech, brainstorming about future technology and admiring great design.
Sam Basu – Sam Basu is a technologist, author, speaker, Microsoft MVP, gadget lover and Progress Developer Advocate for Telerik products. With a long developer background, he now spends much of his time advocating modern web/mobile/cloud development platforms on Microsoft/Progress Telerik technology stacks. His spare time calls for travel, fast cars, cricket and culinary adventures with the family.
Happy summer! 😊 Can't wait to see you soon!