Ok, you still might want to watch the talks—they were quite good! But we're all busy people, so I thought you all might appreciate my notes from all twenty-seven React Europe talks.
The notes should help you quickly get a sense of what each talk covered, so you can decide if you want to watch the full video or not.
I have exactly one hour, which talks should I watch?
That's a very specific question, but I have an answer.
First you should watch Recoil: State Management for Today's React, as Dave McCabe presented an interesting new way of handling global scope in React apps
Next, watch Excalidraw: Cool JS Tricks Behind the Scenes, as Christopher Chedeau discussed the challenges him and his team solved building a really useful drawing app.
Technically, watching these two talks will take 81 minutes, but if you watch at 1.25 speed on YouTube you can get it done in an hour. 😉
Do you need to shamelessly plug anything before providing your useful notes?
What a convenient question!
We on the KendoReact team held a virtual hackathon at the event, which led to a lot of awesome React apps built with our UI components. We wanted to give a special shout out to the winner, Steeven Regnault, as he built a fun little game using KendoReact and Recoil.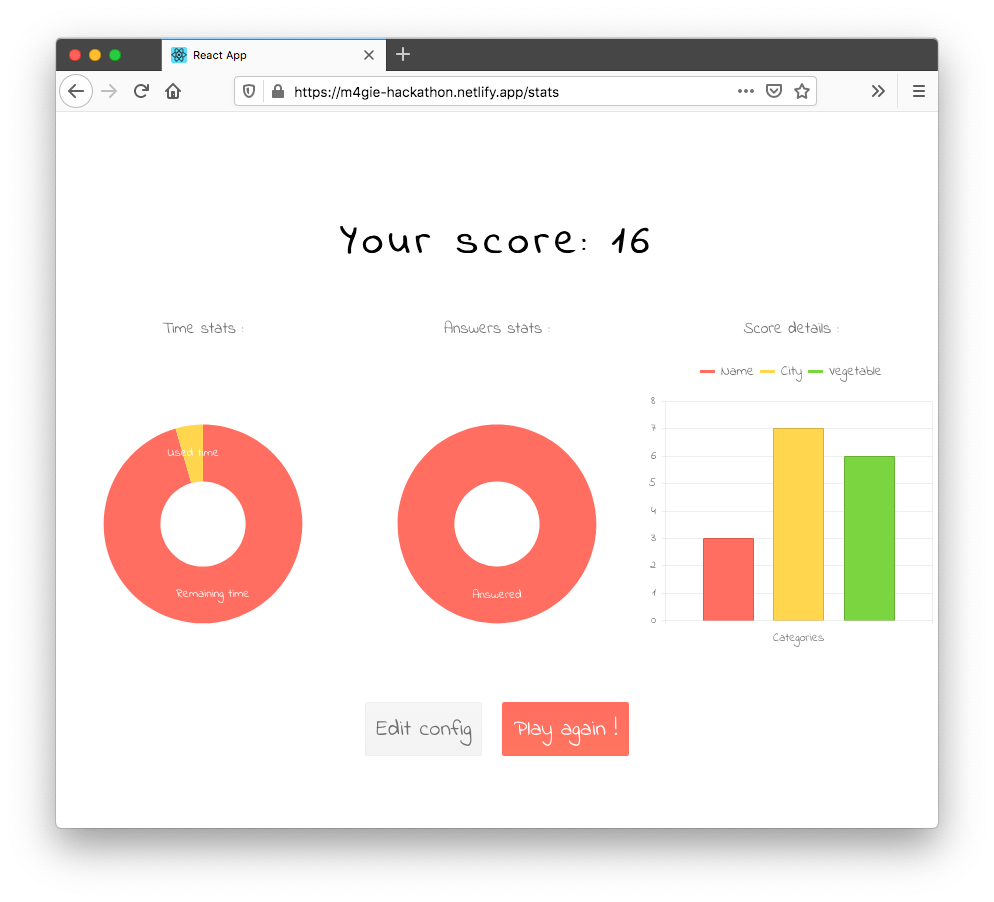 Ok, on to the talk notes. Enjoy! 🙂
State of React Animations
The Latest in Next.js 9.4
Bringing WebGL to React
Gatsby's Roadmap and its Future
Render Props are Not Dead
Rejecting bongo kittens, achieving 3D blooms, and other lessons learned
Beyond Responsive Design: Building Mobile-Optimized Websites in React
Transforming GraphQL
Kubernetes by Keytar
Expo: Universal React
Hijacking CSS With TailwindCSS
Recoil: State Management for Today's React
Excalidraw: Cool JS Tricks Behind the Scenes
Design System and Accessibility
Detecting the unexpected in React applications
Let's Make Development Fast Again!
Blitz.js & the Future of Fullstack
Learn React Hooks By Building An Auth Based To Do App
Gamedev on React + WebGL
Scalability - React Native Architecture at Wix
How does Material-UI build components?
Using Expo OTA Updates in your React Native app
JavaScript ∩ WebAssembly
Data sync for realtime or offline apps with React and GraphQL
Jamstack + React Native
Relay Concepts
The End!
Well, those are all my notes. Let me know in the comments if you found this article useful, as I might replicate this for future events. 😉