The Demo App for Telerik UI for WinForms has just received a major update, and now features the modern Fluent design and support for high DPI. Check out the demo and try it out.
Back in May 2017 at Build, Microsoft announced the Fluent Design System. The promise was to bring a more intuitive and easy-to-use interface to be the successor of Microsoft's Metro design, and it focuses on light, motion, material and scale elements to make interactions more coherent with the user interface. After we officially introduced the Fluent theme for the Telerik UI for WinForms suite back in R1 2018, the next logical step was to modernize our existing Demo Application. In R3 2018 we devoted a lot of effort to this, and have completely redesigned the shell of the well-known Demo App.
Metro-inspired vs. Fluent-inspired Demo App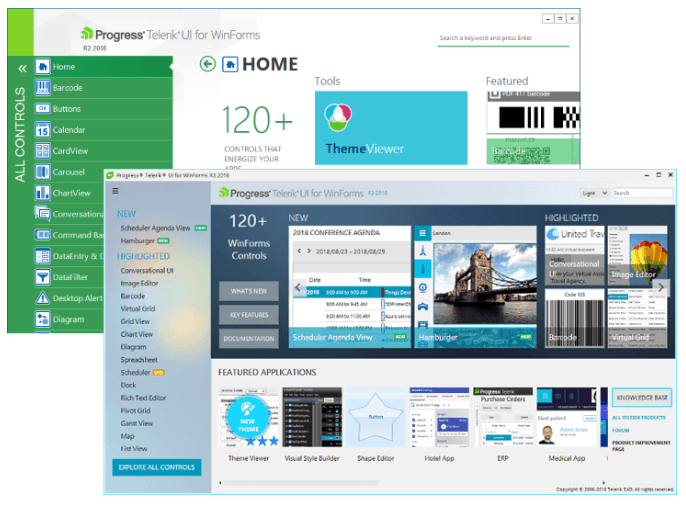 The app now has an awesome new design naturally inspired by the latest design threads around Fluent. It also supports high DPI to enable automatic resizing of the containers and their hosted controls when the application is run on higher than 100% DPI scaling. The new Demo App offers a cool "hamburger" menu for easier navigation and a dark mode as well for the fans of the "dark side."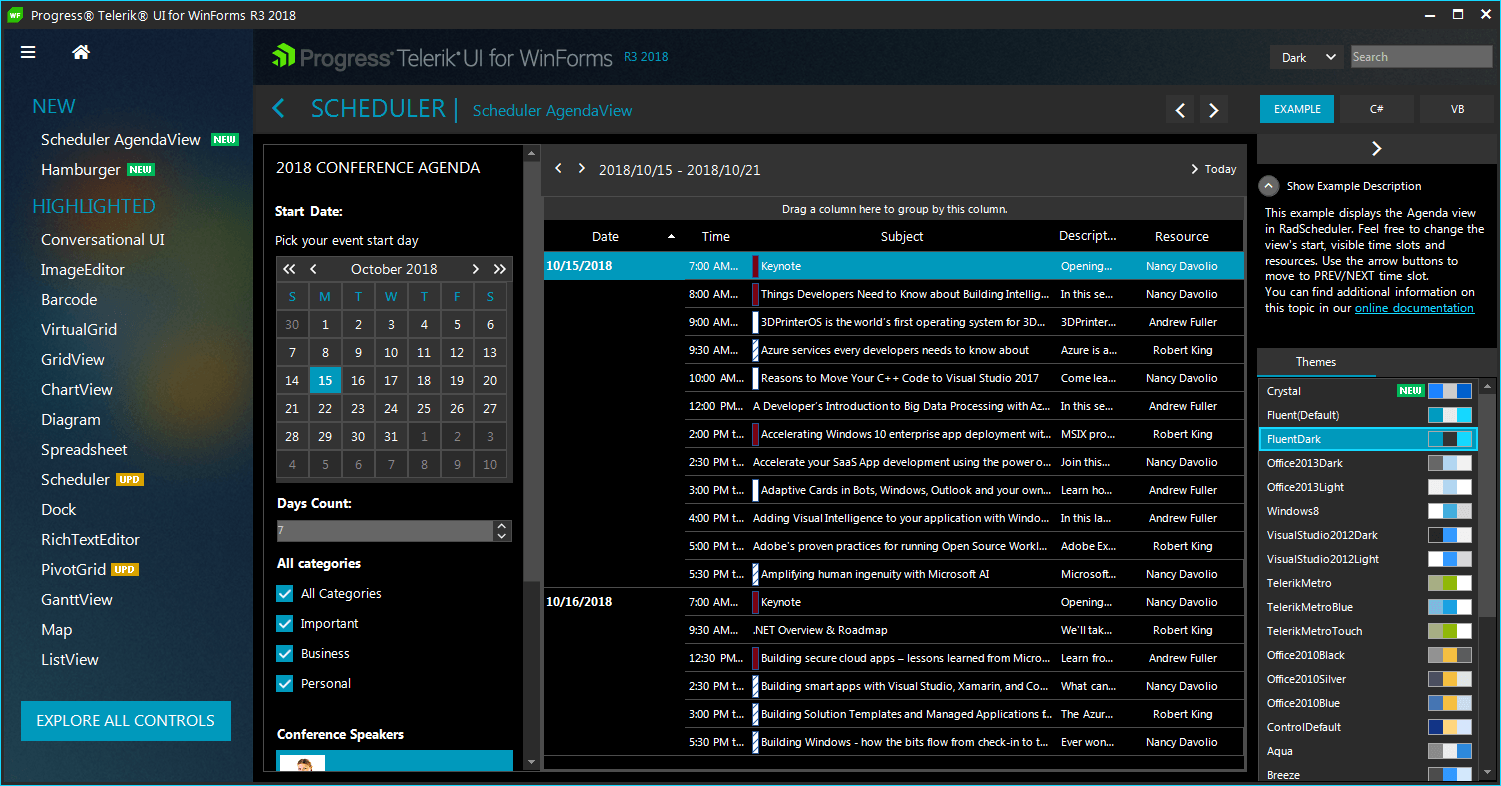 Apart from bringing in the latest UI and UX paradigms, the Demo App can also serve the purpose of an example for achieving an auto-sizing layout. This is extremely important when your application scales under higher DPI.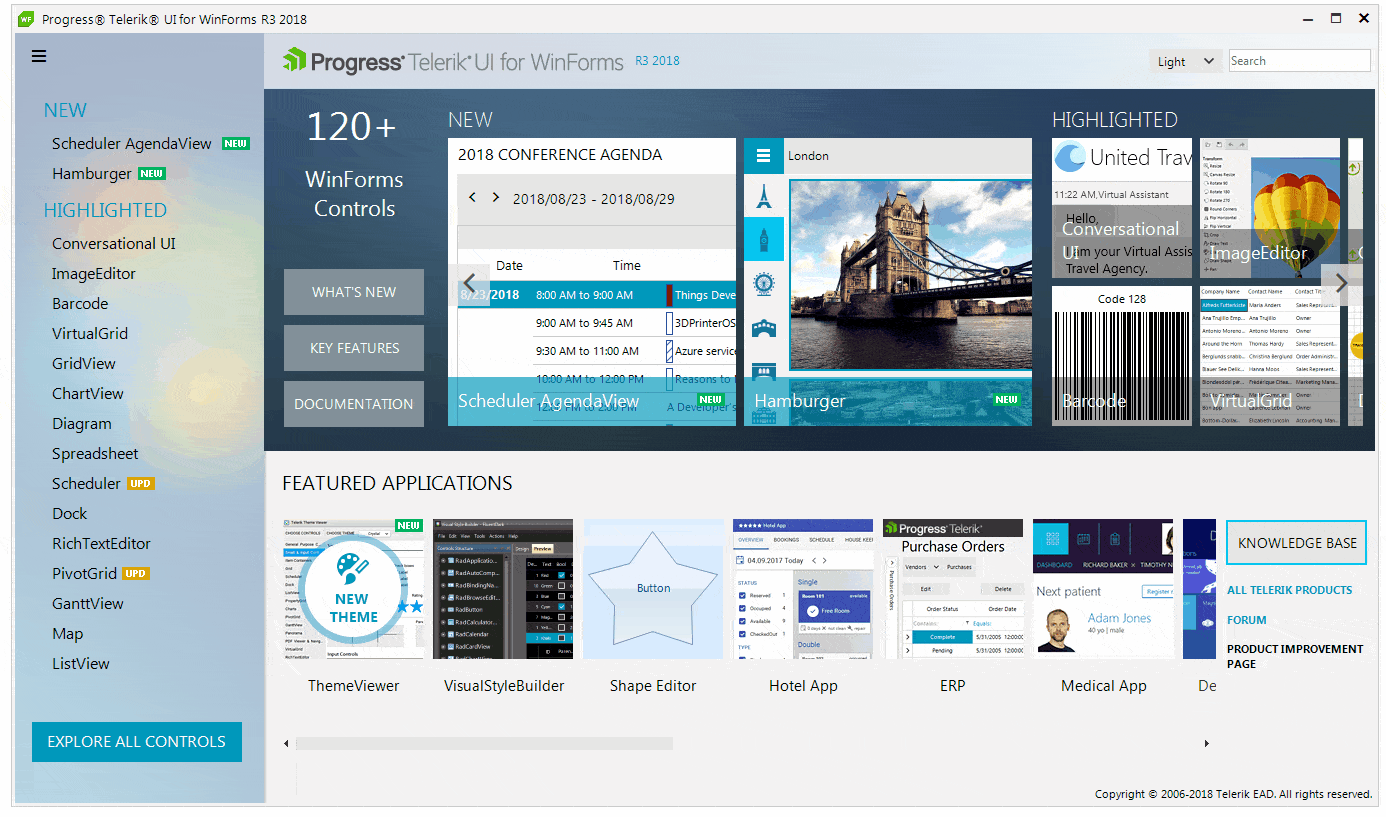 On the right side there is a themes panel which allows you to completely change the design of the currently opened example by applying the selected theme to it. You will probably notice the new Crystal theme at the top, which is a Mac OS-inspired theme, delivering that well-known look and feel to your application. It is the latest addition to our themes pack. One of our commitments as a UI components vendor is to always bring new beautiful theming options for your desktop applications. Go ahead and test it by downloading the all-new Demo Application now or inside the ThemeViewer tool.
Try It Out and Share Your Feedback
You can learn more about the Telerik UI for WinForms suite via the product page. It comes with a 30-day free trial, giving you some time to explore the toolkit and consider using it for your current or upcoming WinForms development.
Lastly, we would love to hear what you think, so should you have any questions and/or comments, please share them to our Feedback Portal or in the comment section below.