Q1'11will definitely be huge to RadControls for WinForms!
First, it will be the first 3rd party component suite to offer Microsoft Active Accessibility (MSAA) and Coded UI test support, which by itself is huge enough. Second, it will introduce a brand new control - RadWizard. Third, it will offer two major improvements to RadScheduler for WinForms, which will cover in this blog. And, if this isn't enough, we will also give you a brand new version of our TreeView control (which we will cover in a blog next week, so stay tuned).
The two major improvements of RadScheduler for WinForms will surely be appreciated by end-users and developer alike, because they will improve the usability of the control and will make you, the developer, look better!
Many of you have requested the ability to save and share various view settings across different views in RadScheduler - a feature that decreases coding time, and at the same time saves the users' settings of each scheduler view. Basically, the view state will be persisted automatically when switching to a different view, so there will be no need to write additional code to achieve this behavior. When the user changes the selected cell or appointment and then changes the active view, the new view will contain the newly selected cell/appointment.
The second feature we will add in Q1 is another end-user feature -
inline editors
- which makes the process of creating a new appointment possible without opening the
Edit Appointment Dialog
. The feature works exactly like in Microsoft Outlook - the user selects a cell or a sequence of cells and starts typing
. Upon pressing Enter or clicking outside the appointment the appointment is created automatically: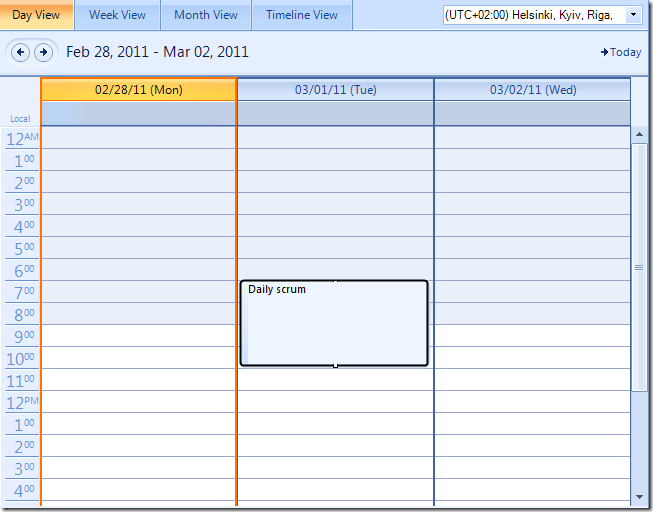 We hope you will like these new features and we will be happy to hear your feedback.