Out latest release of the RadControls for Windows 8 HTML suite features the new RadScheduler. With its wealth of features, like multiple views and grouping, we hope that the scheduler will allow Windows 8 and 8.1 developers to easily create new and exciting applications.
The RadScheduler control enables you to display day, week, or month views, customize them using your own templates and group them horizontally and vertically. It is built from the ground up with touch support in mind.
In addition to offering a multitude of presentation options, the scheduler also features editing of events. You can move or resize existing ones and edit details in a lightweight flyout pop-up. Support for additional event resources means that you can define and group anyway you want. And if that is not enough, the whole edit experience can be changed using templates as well. All events support recurrences and can repeat indefinitely or end after a specific date.The RadScheduler uses a data source very similar to other RadControls for Windows 8 HTML controls like RadGrid or RadChart. You can feed it with JSON, object arrays, even a Data Storage local database.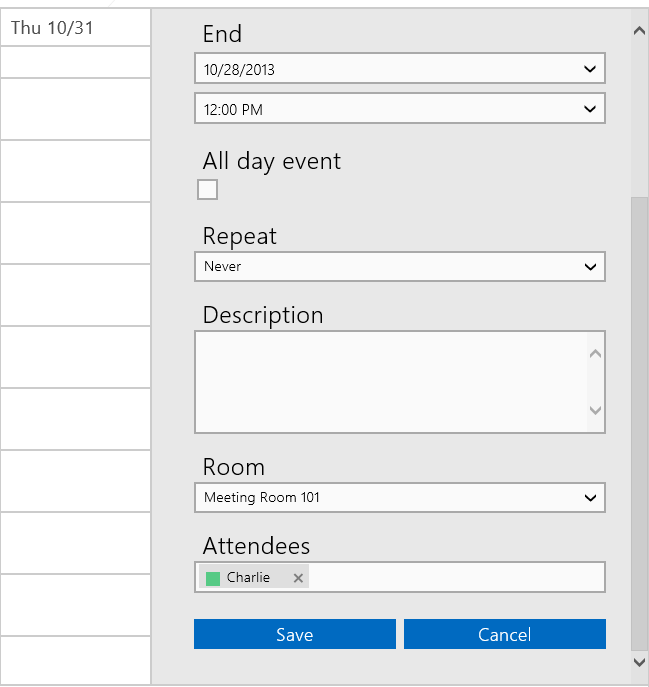 Every single part of the RadScheduler UI can be customized via its robust API. You can define templates for small elements like the the date header or all day events display all the way to the whole editing flyout. The control can also easily be localized in a different language.
Resources play a very important role in the definition of the scheduler events. They can even have their own dynamic data source.The control determines how to display them to the end user automatically - for example a simple list will be rendered as a dropdown, but if you specify that multiple values can be selected, it will be rendered as a RadTokenInput. Resources also allow you to group the scheduler events, which makes for a much better display in some views. For example, your application can have separate columns for each resource in Day view and show all events together in Month view.
Like the RadMap control for XAML, the scheduler is still in CTP stage and we would be happy to hear your feedback on our portal or in the public forums, so we can build the RadScheduler to fulfill all your requirements. A number of demos of the control are included in our Telerik Controls Examples (HTML) App, available on the Windows Store.