I am excited to tell you that the CTP of Telerik Report Server is public, and you can download it immediately to give it a spin. Although it's far from full-featured, we'd love to hear what you think about the path we've taken so far.
What is Telerik Report Server?
Telerik Report Server is an end-to-end ,ready-to-use solution. It enables you, your colleagues and your company, as a whole, to store all your reports in a single location and access them from anywhere, on any device. It makes report sharing an easy task. It's powered by the Telerik Reporting engine for processing and rendering the reports, which you can manage and view in a light-weight web application, built with responsive design.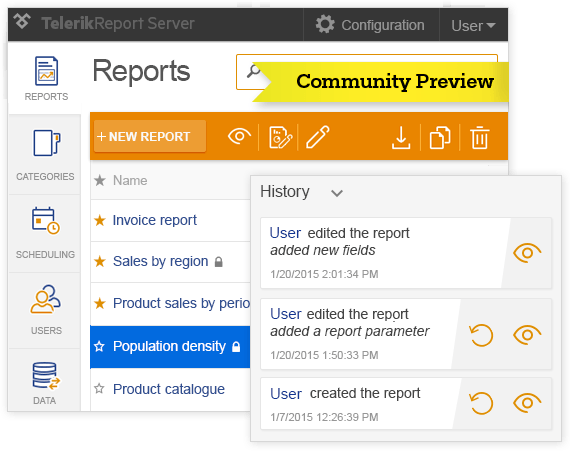 Authentication is required, of course. The CTP comes with simple login, and user management is not available yet. For the official version ,we plan to offer at least Windows Authentication. The server admin will manage users and determine their permissions and roles. You can find more about the available features and the product roadmap here.
Why You Would Use Telerik Report Server
Telerik Report Server will help you solve the following problems, among others:
Your company needs a single storage for all company reports. You might have plenty of existing reports created with Telerik Reporting (.trdx files), located in known and unknown places or embedded in different applications, that you need to easily access and keep track of. Or, your company just found the need for more and more reports for making data-driven decisions. You need a solution that enables making, storing and consuming reports.
The people that use the reports need to be able to share them between each other. More often than not, more people in a company need to have access to same or different reports in their daily job. Thanks to the soon-to-come built-in user authentication and management, this is secured with a report server.
Your company has reports that need to run by schedule--daily, weekly or monthly. Again, report scheduling is not a trivial task to implement on your own. The ability to put reports in users' email boxes every morning or send invoices to clients on monthly basis will be available out-of-the-box with Report Server. It's not available in the current CTP, but it's on top of the to-do list.
You need reports to be accessible from anywhere and to load fast. That's why the application for uploading and viewing reports is a web app, with responsive design. And, it has built-in caching capabilities.
How to Set It Up
Download the CTP of the Report Server. Check the installation instructions available in the zip package. Basically, you need to deploy it on the server's web application on IIS, and that's it.
Configuring the Storage
By default, the report definitions are stored on the file system. But you can configure the storage type to one of the following options: File system, Redis or Microsoft SQL Server.
Creating and Editing Reports
If you are an existing Telerik Reporting user, I bet you have plenty of .trdx files you'll be happy to store on the Report Server. If not, The Report Server CTP distribution zip ships a Trial version of the Telerik Report Designer. It's a desktop end-user application with a WYSIWYG design-time surface for designing reports.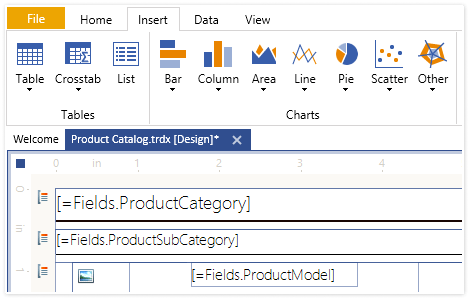 Once created, upload the report definition (.trdx file) to the Report Server. If you need to edit a report, download the report definition file, edit it locally with the desktop application, and upload it, where uploading will create anew revision and add a record to the report history.
Viewing and Sharing Reports
Click the View icon for the selected report, and you'll see it bound to the latest and greatest data. Then, you can export it to 20+ offline formats, such as PDF, MS Word, Image and many more.
Help Us Define What's Next
We do have immediate plans for the next few features, including user management and scheduling. But we really need to know what you think about what we've done so far. Tell us your top needs, so we implement those first. Simply leave a comment below, or post your feedback and feature requests in the forums or directly on the feedback portal.