The next release from Telerik is on its way and in the next couple of days we will announce here what we have been working on, and what you can expect. Your feedback on the feature list of the controls is very important right now - we are on the final road, but there is still a time for a slight modifications and tweaks in the controls. If you see something that we have missed just let us know.
First of the controls that we are announcing is the Rad Masked TextBox for Silverlight and WPF. This is one of the controls that is so common, that you can see it basically in every business application.
The control that we are building have support for DateTime masks, Numeric masks, and a set of most commonly used masks. Ofcourse as it is build in Silverlight we support all the operating systems and localizations that are supported from the Silverlight platform. On top of that we added full MouseWheel and Keyboard support needed for formatting the masked data. We are also supporting Validation and Mask watermark functionality.
Enough said - a picture is worth a thousand words. Here are some screenshots to see what is coming.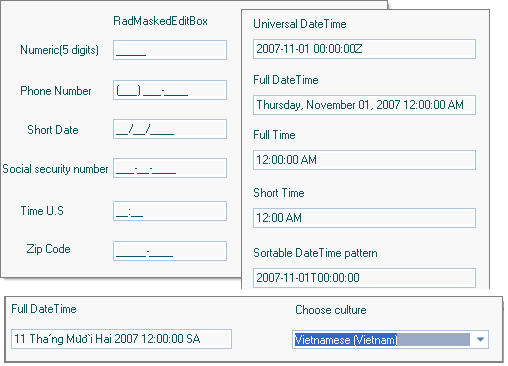 Let us know if you need a specific feature so we are sure that it is our list!