It's that time of year again! Join the Progress Telerik and Kendo UI teams at Microsoft Build 2018 - we have new technology to share, a party to host and cool prizes to give away.
With Microsoft Build fast approaching, can't wait to connect with you. Here's the skinny on where to find the Telerik and Kendo UI teams from Progress and some of the cool stuff we have planned for you.
The Party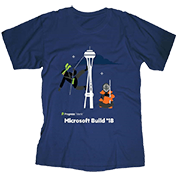 Kick off your week in Seattle at the Progress Telerik party on Sunday, May 6th from 7 pm till 10 pm at the Tap House Grill. Join us for drinks, hors d'oeuvres, and good conversation. Oh and swag? We've got that too! The Progress Telerik party is the only place you will be able to get your limited-edition Progress Telerik Build t-shirt. If we spot you wearing it during the conference you could win prizes on the spot. Mark your calendar and register today.
The Booth
In addition to our core products, our engineers have been working hard on some new, yet unseen innovative technology that we plan to unveil at Build. Come by our booth (#E53) in the Microsoft Tools section to learn and play with these new tools and see what's coming in our next major release. We'll have product team members on hand who can talk about what's new in our Telerik tools for Xamarin, WinForms, WPF, UWP, and ASP.NET AJAX, MVC, and Core. We'd also love to share with you our latest Kendo UI JavaScript tools and walk you through our PWA support.
Ways to Win Cool Prizes
There are so many ways to walk away with cool Progress swag and even have a chance to win an HTC VIVE VR System or a Prusa i3 MK2 3D printer. Here's how: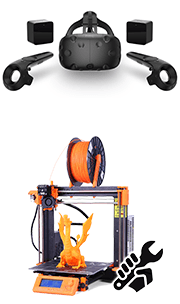 Come to the Progress party on Sunday, May 6th and get your limited-edition Progress Build t-shirt
Wear the t-shirt throughout the week and, if spotted by our team, you could win prizes on the spot
Let us scan your badge and you'll be given some easily-packable goodies and be entered to win the HTC VIVE VR System (drawing at 4:00 p.m. on
Wednesday, May 9; must be present to win)
At the booth, tell us you love .NET and we'll give you a Progress Telerik Build button. Visit the mobilize.net, DocuSign, and .NET booths and tell
them the same. Collect buttons from all four then return to either the Progress, mobilize.net, or DocuSign booth and be entered to win the Prusa i3
MK2 printer (drawing at 3:00 p.m. on Wednesday, May 9 at the DocuSign booth; must be present to win)
The .NET Foundation, Eat-Sleep-Code, and More
With a whole host of Progress people at Build, you're bound to run into one of us somewhere outside the booth. If you want to be more deliberate about your encounters outside of our booth or party, swing by the .NET Foundation booth and talk to some of our folks about our open source UWP controls or swing by the broadcast studio to catch Ed Charbeneau's Eat-Sleep-Code podcast live!
Not Going to Build?
Not going to Build but want to get in on the action? Follow us on Facebook. We'll be live streaming throughout the week and would love to interact with you there. Additionally, check our blogs – we'll be blogging from the show each day.
Want to Know More?
Want more info about how we can connect at Build and who from Progress will be there? Make sure you visit www.telerik.com/build-2018. Hope to see you there!