A reporting solution can provide key business intelligence for your business at a manageable cost, but there are many factors that go into choosing the right one.
There is little doubt that Business Intelligence (BI) is integral to the successful management of your business enterprise, whether large or small. In today's fast paced and highly competitive environment, an in-depth understanding of the state of the business can be crucial to your company's ability not only to survive, but also to thrive.
BI provides the capability for viewing and monitoring key indicators, as well as to forecast significant events that can impact your business. It also allows your management team to crystalize business trends and to make informed decisions and implement strategies to adapt quickly to internal or external forces.
A full-featured Business Intelligence platform can be extremely costly and complex to integrate, requiring extensive hardware and IT resources to set up and maintain, as well as a steep learning curve for administrators and end users. A more economical and flexible alternative may be to make use of a Line of Business (LOB) Reporting Solution that can be more easily integrated into existing applications and processes. The solution should provide flexible report authoring and viewing, as well as print and export options to enable report sharing.
Here are 10 Key Considerations for effectively choosing a Line of Business (LOB) Reporting Solution for your business needs.
Flexibility

Being able to easily and quickly embed reporting functionality into existing line-of-business desktop or web applications without having to undergo a major restructuring of the application provides huge savings. It avoids the need to provision additional hardware and allows in-house developers, already familiar with the application, to add the reporting functionality.

Economical Licensing Model

A licensing model that is purely developer-centric and which avoids runtime fees based on report creation, viewing and usage will help in budgeting the cost of adding reporting functionality in existing applications. You should be able to limit licensing requirements to the developers working specifically on implementing reporting functionality in the apps, and to reassign existing, or add new ones when staffing changes are needed. In this way, the licensing costs can scale as reporting requirements and application usage grows.

Extensive Data Binding Capabilities

In the complex business environment, data that feeds reports often originates from a myriad of sources: Relational or NoSQL databases, Business Objects, OLAP cubes or Web Services. Reports often need to merge data from one or more of these sources. Connections need to be easy to implement and carefully secured to insure the safety of proprietary data.

Easy Report Authoring

Empowering business users to create and analyze ad hoc reports without having to jump through hoops to secure costly licensing or to rely on developer assistance provides crucial time and cost savings. The designer should be easily accessible, intuitive, and require minimal training. It should be easily configured with secure access to line-of-business data and have options for publishing and sharing the reports.

"Feature-Rich" Reports

Management expects reports that crystallize business results and trends and that allow them to understand the underlying causes and circumstances. This often requires carefully formatted and highly stylized reports that present rich graphics with dashboard-like displays, and which support interactive features such as filtering, sorting and drill down and drill through actions to supporting data in linked reports. The ability to embed sub-reports is a must-have, while the option to combine a collection of reports within a single report book delivery is certainly a big plus.

Embedded Report Access

Being able to embed reports within your line-of-business desktop applications, as well as within your websites is a must. Reports need to be easily accessible by end users from whatever device they use to access your application. Field staff, remote workers and commuters often employ a tablet or a smartphone to access data. Having the ability to access and interact with reports from within a responsive viewer is crucial. This minimizes scrolling requirements and maximizes the report viewing area based on screen size.

Extensive Export Options and Faithful Printing

Reports should support export to all widely-used formats, and especially to Excel, PDF, and Word. When designing reports, you must have tooling to ensure that, when printed or exported, they render exactly as formatted. Layout, paging and print options need to be definable and faithfully preserved in the output.

Optimal Performance

Generating large and complex reports that contain rich graphics can be resource intensive. It is crucial to have a highly-optimized report engine that can build the report on the server with minimal memory and processor usage. A reporting solution that provides caching support for commonly requested reports can help to minimize server resources and expedite loading time.

Accessibility Compliance

Every user, regardless of physical, sensory and cognitive disabilities, constraints and/or technological barriers should be able to access and interact with reports. This is becoming a mandate for many financial and healthcare concerns, in addition to the longer standing requirements for governmental departments.

Report Management Framework Options
If you have an existing framework that handles user authentication and manages report availability and distribution options, you should be able to seamlessly integrate reporting within. But, if not, you should have the option to employ a "turnkey" end-to-end report management solution. This report server should be able to act as a secure repository for reports, and should provide role-based access to features such as report authoring and editing, viewing, and scheduling reports for delivery to a subscriber base.
Looking for a Reporting Solution?
If your desktop or web application is running in a .NET environment, you should certainly consider Progress Telerik Reporting and Progress Telerik Report Server.
Reporting is a mature and robust reporting solution that is flexible and performant, offering an economical per-developer based licensing with no end-user costs. Your in-house developers can quickly integrate reports in responsive HTML5 and .NET web apps (ASP.NET, MVC, Core), Azure, WPF and WinForms desktop apps. It offers a complete feature set for report creation, styling and interactivity. You can export the reports in more than 20 formats, including Word, Excel, PDF, PPT, image, CSV and more. And, the powerful, yet intuitive desktop and Visual Studio integrated designers, insure "pixel-perfect" printing and rendering.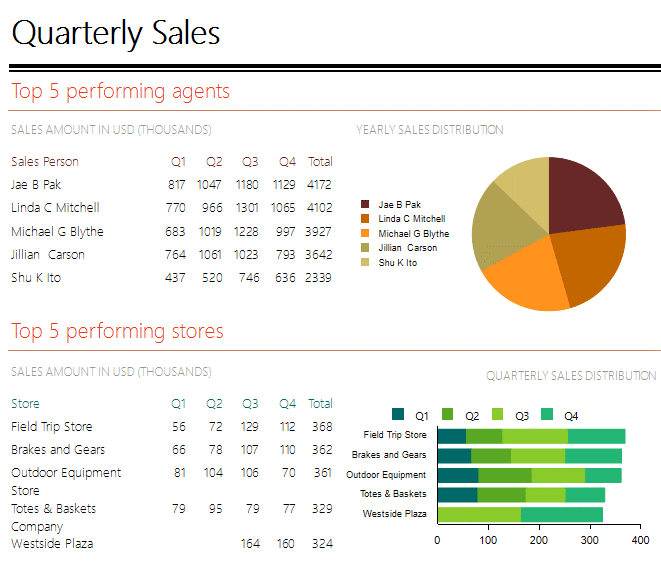 With Reporting you get sophisticated features like conditional formatting, report books with table of contents, custom interactivity actions, PDF security, events in all viewers, great report rendering, private fonts, continuous form paper printing and more. Plus, the featured HTML5 Report Viewer is both fully responsive and accessibility compliant.
Report Server can be used alone or in association with Reporting to provide an end-to-end report management solution.Report Server provides a full framework for enabling in-house developers and/or business users to create, publish, version and manage access to Telerik Reports. Its extensive and highly configurable security features control authentication to the server, and fine-tuned role-based permissions limit access to features such as data source implementation, report creation and sharing.
The intuitive Integrated Report Designer is feature-rich, allowing for richly styled, template-based and ad-hoc report creation, editing and publishing. The report scheduling and "Smart" data alerts features enable immediate and timely access to reports that can help to crystalize data insights needed by Enterprise officers and managers to make informed decisions and implement strategies to insure the Enterprise's success.
Get your fully functional free 30-days trial of Reporting now. Enjoy!