Learn the top six line of business features in a report management solution that can support any business.

Telerik Report Server is a powerful .NET report management solution powered by Telerik Reporting, which helps transform raw data into actionable business insights and then store or distribute these insights within the business. A special emphasis is placed on creating reports in a user-friendly manner, storing reports on-premises and quickly distributing reports to people with appropriate user access.
Featuring an intuitive Standalone Report Designer, a powerful API and a single report repository with user access, Report Server allows enterprises to create, manage and store reports with ease, as well schedule and distribute them with different levels of management authorization.
Telerik Report Server is fully-packed with a great variety of Line of Business (LoB) features that ensure seamless and timely advanced report management. Let's review six of our favorite LoB features in more detail.
Report Scheduling and Delivery
Many businesses operate with a huge reporting load on a daily basis and need automated report scheduling. Report Server lets you schedule and run reports either all at once or on preliminary scheduled intervals. Once scheduled, the reports can automatically be delivered to your end users via email in your choice of formats (PDF, Excel or HTML), printed or saved locally for further actions. Your end users don't need a license to receive reports and there is no limit to the number of users you can reach. There is also no limit to the number of tasks you can schedule.
Report Server supports upward of 15+ formats for presenting reports, including Word, Excel, PDF, PPT, Image and CSV.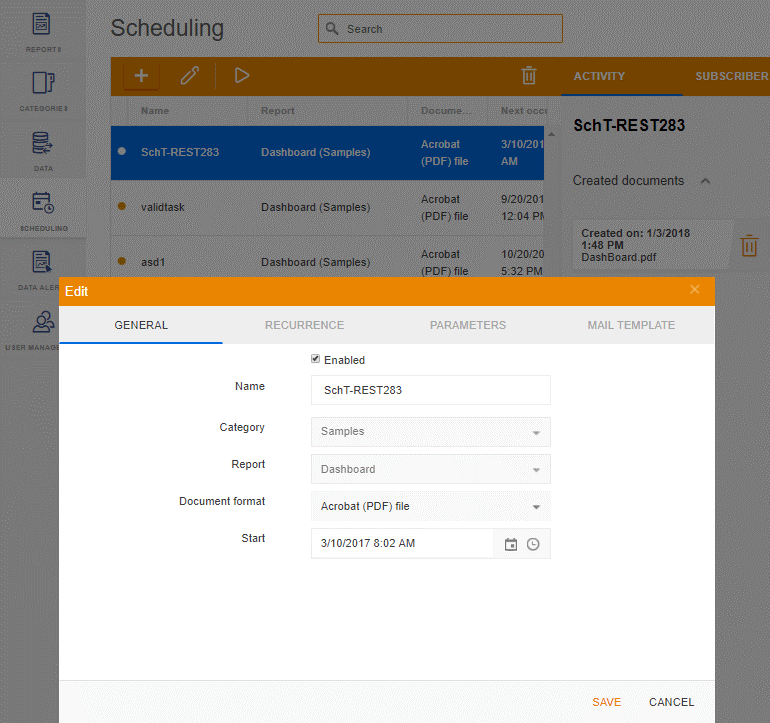 User Management, Authentication and Authorization
Report Server provides flexible solutions for user management and authentication with many hierarchical levels of management. Access to reports is limited to registered users. Administrators can easily create and manage user roles with predefined permissions, add new licensed users and assign them to user roles or set individual user permissions.
Active Directory Integration
Report Server provides support for the Active Directory Federation Service (AD FS) authentication provider, enabling your users to authenticate using their Windows domain or Azure AD credentials. The integration is quick and seamless, giving you full control in assigning roles, whether it's administrator or read-only.
Data Alerts and Email Notifications
With Report Server you can stay informed about the most pertinent report data, regardless of how much information you collect. You can be alerted and notified via e-mails when any changes have occurred to take informed business decisions.
Viewing Reports
Report Server lets you deliver interactive reports directly to your business application (responsive HTML5, Angular and .NET web apps, Azure, WPF and WinForms desktop apps). The reports can be viewed directly in one of the six supplied report viewers, where we guarantee a uniform look regardless of the platform (web, mobile, desktop). The report viewer controls require a Telerik Reporting or Telerik DevCraft Ultimate license. You do not need any additional licenses for viewing reports embedded in your application.
White-Labeling
You can easily rebrand Report Server with your own brand to boost your brand visibility, customer satisfaction and loyalty with a fully developed, field-tested solution that's updated regularly.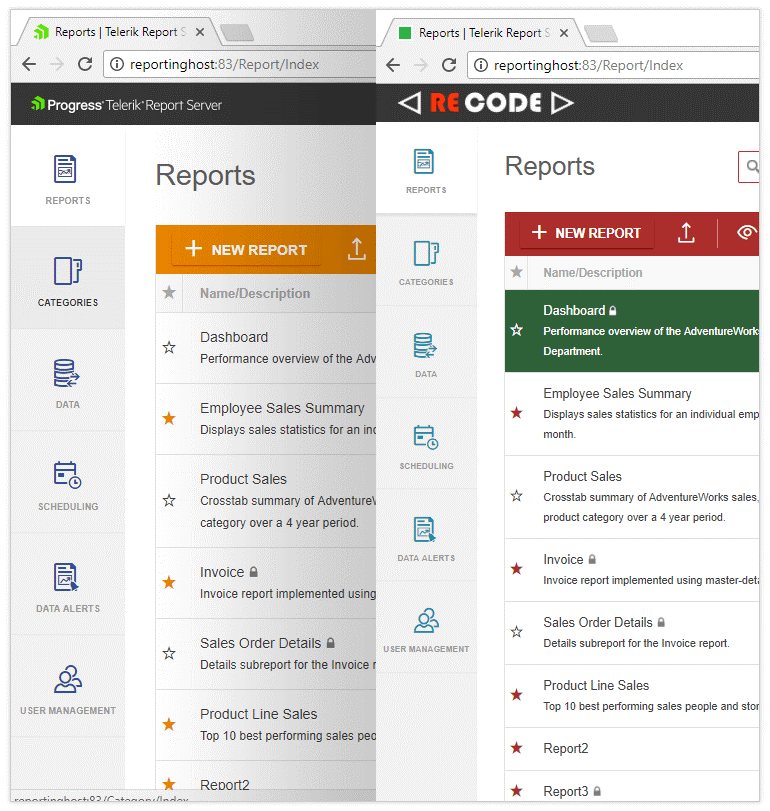 Get Started Today
Start managing your reports today. Get a free trial of Telerik Report Server and don't forget that the free trial comes with free support.

Start Your Free Trial
Tried DevCraft?
You can get Report Server as standalone product or with Telerik DevCraft Ultimate. Make sure you've downloaded a trial or learn more about DevCraft bundles. DevCraft gives you access to all the toolsets, allowing you to say "no" to ugly apps for the desktop, web, or mobile.
New Release Coming Soon
Stay tuned for some new features coming very soon as well - our next release is coming on September 12th!