Today's new XAMLflix tutorial is on RadDiagrams.
RadDiagrams is more than a control; it is an entire integrated system for adding diagrams to your Silverlight or WPF application.
With RadDiagrams you can create anything from a class diagram to a mind-map to a diagram of your home.
This week's tutorial covers:
Getting Started with RadDiagrams
Editing RadDiagrams
Custom Shapes for RadDiagrams
In Getting Started With RadDiagrams you'll see how easy it is to get started using RadDiagram. You'll begin by creating a new project, and you'll complete a sample application. You'll learn about Panning and Zooming and adding connections between elements
In Editing RadDiagrams you'll go beyond the fundamentals and take a look at several more advanced features, including adding the ability to cut, copy and paste shapes and connections inside a diagram.
Custom Shapes For RadDiagrams shows you how to spin up your own Geometry property and how to use your own Path data.
Wrap-Up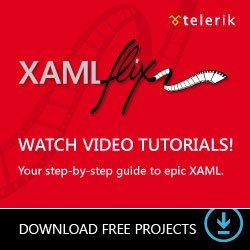 I hope you've seen that despite the enormous power of RadDiagrams, you can get up and running quickly and easily.
RadDiagrams is only one of the controls offered in the Silverlight/WPF suite. Download your own copy of the Silverlight and WPF control suite.
Questions? Concerns? Topics you'd like me to cover? Please either add a comment to this blog post or drop me a line on twitter: @jesseliberty